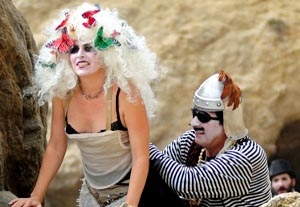 Randy Sean Schulman doesn't speak on stage during his new play
Luminous Birch
, currently running at the Greenway Court Theatre in Los Angeles, but he spoke with Back Stage before the play's opening night April 3. His production is the third in his silent-play trilogy that began in 2000 with
Infinity
and evolved into the Ovation and Back Stage Garland Award winner
La Gioconda
in 2003.
Luminous Birch
, however, turned out to be more than just a "third act." This time, Schulman filmed a silent movie that plays in the background and from where his character emerges onto the stage, showing us a different aspect of his character.
Back Stage
: What was the genesis of
Luminous Birch
?
Randy Sean Schulman
: I had been actor in L.A. since I was a kid. I went to San Francisco State and graduated with a journalism degree in 1993. I studied theatre there, as well. I spent a few years in Los Angeles, working as a journalist, and then started back acting with the Actor's Lab in '96. Through the lab, I developed my first silent show,
Infinity
, which ran for six weeks. We developed a group called the Collective and in 2000 took
Infinity
to the Court Theatre on La Cienega [in West Hollywood, Calif.].
Back Stage
: Were the plays always planned as a trilogy?
Schulman
: I had always felt the silent shows were going to be a trilogy, but I just didn't know how it was going to unfold.
Back Stage
:
La Gioconda
was in 2003. Why the six-year delay?
Schulman
: I had started focusing more on writing fiction and a novella.
La Gioconda
had taken me away from that for a while. The Collective had dissolved after
La Gioconda
; we had produced four shows in a very short time and just needed to go our separate ways for a while. So, after writing a couple of scripts, this show just started bubbling up. It took a couple of years to get the music and the story right.
Back Stage
: Are any actors from the first two plays returning in
Luminous Birch
?
Schulman
: Yes. From
La Gioconda
: Nina Ameri, Nichole Britton, and Delcie Adams. And we have a great new addition with Roy Johns, creator of [precision drummers, jugglers, magicians and clowns] the Mums, who plays our villain.
Back Stage
: How did you go about auditioning actors for a silent play?
Schulman
: I didn't.
Infinity
came from a group of actors where there was a lot of trust already. It was four actors playing 12 characters.
La Gioconda
had more actors playing multiple roles and dozens of costume changes. It was more instinct than audition. For this, it was the same. We worked organically off of these folks who were playing these roles. I was very fortunate to be surrounded by them.
Back Stage
: If it's not mime or dance, how would you describe a silent play to someone?
Schulman
: I would say it's just very simple specific movement integrated precisely to the soundtrack and lighting. It's the synergy between the three that allows the story to be told without dialogue. It's incredibly visual and gives the audience the opportunity to listen to their own imagination.
Back Stage
: What inspired you to do silent plays?
Schulman
: At the Actor's Lab, J.D. Lewis allowed actors to express themselves in different ways. He asked me one day to play three different characters in one scene. I got three music tracks together and played a bull, a matador, and his lover in a four-minute scene. It was so well-received and people wanted to see more.
Infinity
evolved from that.
Back Stage
: What do you do between shows? And how do you finance the show to get it going?
Schulman
: I work at MTV. To get this going, we started a big campaign on Facebook for donations. We have over 500 members helping us out. It's been a great way to exercise grass-roots P.R. We had an auction fundraiser downtown. We were also very lucky to get introduced to the Greenway Court Theatre, who was looking for something unique, and they offered us space to do the show. The biggest expense you have mounting a production is renting space, so that's a big burden we don't have to deal with now. There's a lot of things that we didn't have to work into the budget, because we were given the space at Greenway. Once things got rolling, they really started unfolding. I feel there's some great positive energy circulating around this show.
Luminous Birch
, presented by Greenway Arts Alliance, runs through May 10 at the Greenway Court Theatre, 544 N. Fairfax Ave., L.A. (323) 655-7679, ext. 100.
www.greenwayartsalliance.org
.