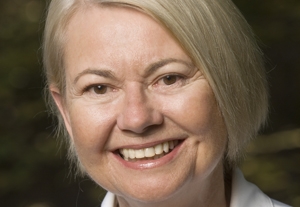 What kind of person would watch a then-unknown actor named Tom Hanks on a badly produced audition tape and choose him from among so many others to star in a series? Or put comedian Roseanne Barr in a series of her very own? Or be the guiding hand in creating "The Cosby Show," "3rd Rock From the Sun," "Grace Under Fire," and "That '70s Show"? Simply put, it takes someone with imagination and creativity, know-how, and a sense of what will play in the patchwork quilt of America. It takes Marcy Carsey, currently half of Carsey Werner Television, who is being recognized Nov. 1 by the Casting Society of America for career achievement.
As she tells it, Carsey acted as a child. As an adult, she worked as an NBC tour guide, then as a production assistant on "The Tonight Show," became a program supervisor at William Esty Advertising, worked as a story analyst and executive story editor at Tomorrow Entertainment, joined ABC-TV as a general program executive for comedy programming, and became senior vice president of prime-time series at ABC. In 1980, she went out on her own to pursue independent production, and in 1981 she teamed with her current ABC partner, Tom Werner, to form Carsey Werner.
So when she looks at actors auditioning for roles, she brings years of top-flight experience. And what does she hope to see, specifically, in those actors? "It's kind of like you know it when you see it," Carsey says, "something that fills the air with electricity that's built on a basis of work and talent and craft." She also hopes for "a fresh approach to a role, a very honest approach." Carsey has observed that some of the best actors "bridge the gap between who they are and what that character is." They seamlessly ease themselves into the role, although that's not a must when auditioning for her. "Sometimes brilliant actors need a minute to focus," she says, but she is astounded at how many of the best can instantaneously become the character.
Of the many great actors she has cast in her many great series, one who still stands out in her mind is Laurie Metcalf, whom Carsey cast in "Roseanne" as Roseanne's sister, Jackie. "It was probably my own lack of knowledge of actors coming out of Chicago," says Carsey, "but I had never seen Laurie, and when she came into the room and auditioned for one of the roles, I was so taken aback by the ease and authenticity of her reading, we then made her read for another role in the same pilot, and then I even said to her, 'Oh my God, who are you and where have you been? You can't leave the room!' She knocked our socks off."
On the other hand, actors sometimes ruin their own chances of being cast. Carsey says she empathizes, having auditioned as a kid. But "sometimes after an actor does a reading and is leaving the room, you can tell they feel they did not get the role. You can see on their face or in their demeanor they feel they're not going to get called back." She has a solution: "Look, if you want to do it again, tell me, or tell me what's going on, because we can help. If for some reason you're not feeling you did the right thing, you can always say, 'Can I start over?' "
But no matter what, Carsey is there to advocate for the actor. She recalls one instance when she worked at ABC: "An actor came in and gave a brilliant reading, but she did not look the part, so I asked her if she'd go into the ladies room and change clothes with me." The actor, originally "a beautiful, pulled-together, elegant woman," was given a second chance, this time looking like her character, a blue-collar worker. "The reading was so much better received, because the visual was so much easier to understand," Carsey reports.
On Monday evening, Carsey is being honored by the CSA. In speaking with the readers of Back Stage, she honors casting directors by saying, "I think casting directors are unsung, given their value to a production. They make us aware of actors we would never be aware of." Through casting directors, she says, she has met actors early in their careers, and she has met veterans she would not have thought of envisioning in a role. And she wants CDs to surprise her with choices. "In the pre-meeting with a casting director," Carsey says, "usually we'd say, 'Take any limits off this role that you think we might have.' " Unless the role calls for a specific age, gender, or ethnicity, Carsey wants her eyes opened.
And that's the kind of person it takes to bring class-act television to America.

On Nov. 1, the Casting Society of America will present Marcy Carsey with its 2010 Career Achievement Award at its Artios Awards ceremony, held at the Hyatt Regency Century Plaza Hotel in Los Angeles. www.castingsociety.com.