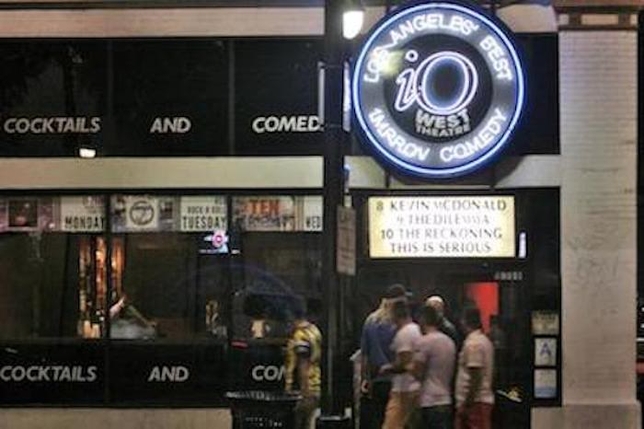 Don't be naive enough to think that the endgame is a steady job. If you're serious about the craft of acting, there's no final step. Just drop by Los Angeles' iO West (formerly ImprovOlympic West), where you can see regularly employed performers embarrassing themselves without fear.
Among iO West's players are Lucas Neff and Echo Kellum, currently in the casts of Fox's "Raising Hope" and NBC's "Sean Saves the World," respectively, who formed the group Odd Man with Nathan Caywood and Steven Fleming last year. They perform every other Saturday, with an upcoming performance on Feb. 8, at 8 p.m.
"It's just the raw creative process unfolding live, unedited, onstage—and that's thrilling," says Neff, who goes on to describe the group as a "pure, exhilarating joy-splosion."
"One thing I don't want to do is become a complacent actor, like, 'Oh, I've made it on a TV show so screw everything else,' " says Kellum, who has been a member of iO West since 2009. "TV shows come and go, but working on your craft and continuing to invest in yourself is so important."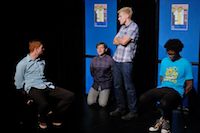 Both performers say that improv makes them better actors in myriad ways. "It just gets you out of your head," says Kellum. "When you have time to look at a script, it's impeccable how your brain works and is able to think about it and really dig into it."
Neff agrees that improvisation doesn't leave much time for actors to overthink things, saying that "it helps you tap more into your intuitive side as a performer."
There's also the improv community, a famously tight bunch. When asked about the community at iO West, Kellum pauses, searching for the right words. "It's all-encompassing of genuine, amazing people," he says, adding that because improv is a "very unselfish" form, it weeds out people with certain personality traits. "Everyone in the community is so supportive and so willing to go for anything," he says.
And improv has helped Kellum and Neff in auditions, particularly when Neff recently read for Pixar's upcoming "The Good Dinosaur." Given permission to go off book, Neff says that "the confidence in doing [improv] and the confidence of doing it regularly really paid dividends"—including being cast. For his part, Kellum says that improv has become an important tool in an actor's tool belt, because so many casting directors now ask about it.
James Grace, the artistic director of iO West, says that his advice would be to "get as much stage time as you can because performing is where you ultimately really sharpen your tools." He likens learning improv with flying a plane, saying "you gotta put your hours in to become a pilot."
Improvisation can be a vital tool for actors, but also help them get away from the sometimes rigidity of acting.
"You just become a little more accepting; there's a certain Buddhism to it," says Neff. "I think the attitude of improv breeds a happier person."
Rebecca Strassberg is the digital editor of Backstage. Follow her on Twitter @strassbooger.