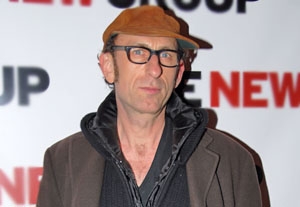 Though David Cale has appeared on Broadway ("The Threepenny Opera") and in films ("Pollock") he is perhaps best known for sharing the stage with himself. A solo performer who wrote and starred in such works as "Deep in a Dream of You" and the Obie-winning "Lillian," he is now onstage as writer, director, and star of "Palomino" at the Kirk Douglas Theatre in Los Angeles. Cale not only plays the role of Kieran, an Irish carriage driver in New York who begins romancing women for money, but several people of both genders who enter Kieran's world.
How he became a solo performer:
Cale knew he wanted to "change my life dramatically," so at age 20, he left England for New York to pursue a career in music. "I didn't think of being a writer or any kind of actor. But it sort of segued into writing my own songs, and then I started reading the words at poetry readings. They were basically little monologues that came from the songs. And performance spaces started booking me. And it became increasingly theatrical until the next thing I knew, I was doing one-person shows. It wasn't my intent; it just evolved naturally and organically."
Where the idea for 'Palomino' came from:
"I don't really know," he says. "There's a couple of things I can pinpoint: I played a carriage driver in a short film for a friend of mine and was essentially driving a carriage for a month while filming it. I felt intrigued by that world. Then a friend of mine in New York, years ago, had an affair with an Irish carriage driver. She would tell me stories about girls who flirted away with these guys and how they would run with it. So I just started writing, and it sort of took on a life of its own. It's largely from my imagination, with a little bit of me here and there and people I know here and there."
On film versus theater:
Cale has appeared as an actor in such films as "The Slaughter Rule" and "Two Lovers" and calls himself a movie buff. "I find acting in films very challenging and actually harder than theater. I've never not liked a film experience; I've been in plays that were tough." He cites the first play he appeared in, "Curtains," noting it was an excellent play and he had a great role but found himself getting restless: "I did get bored with it. And I never get bored with my own shows. I might have a difficult time with them sometimes, but boredom never creeps into the picture."
How he keeps his shows fresh:
Cale is performing "Palomino" eight times a week, and at 90 minutes in length, he says, it's the longest solo show he's ever done. "But each night, every audience is so different. Just yesterday was one of the most alive houses I've ever been in. It's so unpredictable, it stays alive. It's interesting to see where some things get a strong response on one night and nothing on another. I don't want to do the same show every night. I want to do the same script but not the same show. And I really try to listen to the audience as I'm doing it."
On writing and playing female roles:
Cale admits he never realized until recently how attuned he is to women. "Someone remarked the other day, 'It's nice that you're working with a woman lighting designer.' And except for one time, I've only ever worked with women. Even my stage managers have generally only been women." In "Palomino," Cale crafts several three-dimensional female characters. "I've always been around really interesting women. All my life, I've had really close friendships with women that have inspired me. For years, I found women more interesting than men. I think I have a trust of women that I don't quite have for men."
On being his own director:
"The first couple of shows I did, there was no director. It never occurred to me to get a director. It was just me and the lighting designer and the stage manager. The second show I did, 'Smooch Music,' was more complicated, but it still didn't occur to me. Then I did several shows with directors, to varying degrees of success. I thought one show was kind of ruined by it. But when it's worked, it's really worked. I worked with Tamara Jenkins; she directed 'A Likely Story,' and she was fantastic. The writing got better, the performance improved—she got me doing stuff I never would have thought of doing. But it's risky with me. It's easy to mess me up. I recently read an original draft of a script of mine that I then used a director for, and I know what it became. And the original draft is so much better than the final show, which very much had the director's imprint on it. At this point in my life, I just felt I wanted to do it myself with this show."
What's up next:
Cale is hoping to take some time to concentrate solely on writing. "Because I yo-yo between acting and writing, the tricky thing is that they're both full-time jobs. I'm looking forward to taking some time just to write. I get pulled away from writing constantly for acting stuff, and I just want to carve out a few months to go away and see what comes out of me." He notes that he's starting something brand-new and isn't sure if it will be a solo show or not. "I'm not sure exactly what it's going to be," he says. "Oftentimes I'll think, 'Oh, I'm going to write about a tree!' And I'll start walking towards the tree and see a gas station and end up writing about the gas station. I just follow my instincts."
"Palomino" runs through June 6 at the Kirk Douglas Theatre, 9820 Washington Blvd., Culver City, Calif. Tickets: www.centertheatregroup.org.