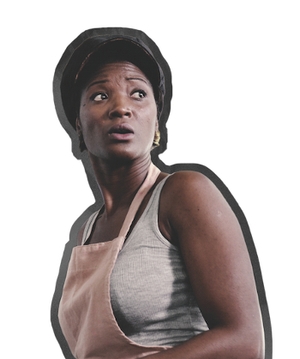 When the 2014 Independent Spirit Award nominees were announced in the best supporting actress category, one name stood out among awards bait June Squibb, Sally Hawkins, and Lupita Nyong'o—Yolonda Ross in "Go For Sisters," a film that barely registered when it was released.
That nomination is just the beginning of a remarkable year for Ross, who previously made a splash with her Gotham Award–winning turn in "Stranger Inside." Drawn to what she calls "harder" women, characters who are rough around the edges but still tender, Ross found a perfect outlet in the character of Fontayne—who's made too many mistakes to get it wrong again—in Academy Award nominee John Sayles' latest film.
An ex-drug addict fresh out of prison, Fontayne finds an old friend in her new parole officer, Bernice (LisaGay Hamilton); the two women were once so close people said they could "go for sisters." When Bernice's son goes missing, she looks to Fontayne for her street smarts and network of contacts to navigate the land of the lawless. Together with ex-LAPD detective Freddy Suárez (Edward James Olmos), the trio crosses into Tijuana to find him before it's too late.
That vigilante-mom-versus-criminals plot is just an excuse to investigate the careful rekindling of Fontayne and Bernice's friendship. "That was something that I really liked in the script, because [Bernice and Fontayne] were two friends that were extremely tight," says Ross. "I know I went through the same thing of being extremely close with somebody in school and then after you go your separate ways, you never hear from that person again."
To play Fontayne, the actor drew on personal experiences, her past role as an inmate in "Stranger Inside," and her own interests. "That's one thing I can say in developing characters: I like people and I like to understand how they function, so outside of everything you may learn in classes, human beings and seeing what we do, how we do it, how we think, I think that's the key."
To complete the reality of her characters, Ross cites music as a constant inspiration in her craft: Lenny Williams' "Cause I Love You" for Fontayne's past, and Pat Metheny's "Sueño Con Mexico" for her future and moving forward.
Ross is building on the buzz of her Indie Spirit nomination with the Sundance short "Afronauts," a role on Showtime's upcoming "Happyish" (starring Phillip Seymour Hoffman), and short film/music video hybrid "Breaking Night," which she wrote, directed, and starred in—and was executive produced by "Nebraska" director Alexander Payne.
"It really is a combination of going after people you want to work with and also them being aware of your work," says Ross about landing roles she cares about. "But if the part isn't well-written and the script doesn't really interest me that much, it's just going to come off as a cliché or a stereotype, and I don't want to play one of those. I don't want to play anyone's stereotype, no matter who you are."