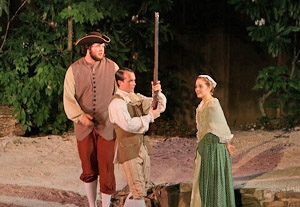 Jordan Reeves just wanted some credits to add to his résumé when he auditioned at the Southeastern Theatre Conference. He was a junior in college, majoring in theater performance. He'd never heard of Fort Harrod Drama and its yearly outdoor production, "Daniel Boone: The Man and the Legend." But his audition impressed the show's producers enough for them to offer him the role of James Harrod.
"What excited me at first was the chance to be in an epic play, playing a historical figure," says Reeves. "The show took place in Harrodsburg, Ky., and I would be portraying the character that founded that town. It was my first professional job. I was young, and someone wanted to pay me to act, so that was terrific. They also provided housing."
Outdoor dramas also provide a good deal of employment. According to the Institute of Outdoor Drama in Chapel Hill, N.C., there are 37 such productions nationwide, and they employ 5,000 actors, singers, dancers, and technicians. The first one was Paul Green's history play "The Lost Colony," which premiered in 1937 in Manteo, N.C.
Ryan Gilreath needed to complete a performance internship before he could graduate from college. He also attended SETC, where he earned a callback for "Blue Jacket," an outdoor drama in Ohio. Gilreath was eventually offered a role, which fulfilled the requirements for his bachelor of fine arts degree.
Andrew Dylan Ray had been out of college for a year and was strongly interested in stage combat when his college acting teacher suggested he audition for the outdoor drama that her husband had written and was directing. Ray landed one of the lead roles. "That was in 2004," he says. "From there I made connections, and people started knowing who I was. I've worked at Fort Harrod, 'Johnny Appleseed,' 'Blue Jacket,' and I currently work at 'Horn in the West' in Boone, N.C. I'm the fight director and I play the lead. This will be my sixth season."
Both Reeves and Gilreath did outdoor dramas for two summers. After you've been cast once, says Gilreath, if they like you, you're often offered a role for the next summer without having to audition. "They want to keep the people around that they know they get along with, so it will be a good summer," he says. "Plus, the more you learn, the more educated you are. If they can use you again, they won't have to re-teach anybody else."
Reeves believes that with the horses, guns, fighting, and sometimes even cannons, performing in outdoor historical dramas is not for the faint of heart. "I performed on one stage that was a half-acre and one that was four acres," he says. "It's not for the actor that just wants to be pretty under a spotlight. It is physical. You go through a lot of injuries. You have to be athletic to handle the stage combat, the horseback riding, and the fighting. You have to have a real grit to you to be successful in outdoor drama."
Ray, who now helps run the auditions for "Horn in the West," agrees: "I look for people that are going to be able to handle the physical run of doing a show every single night where they're running around, changing costumes, doing fights, and all the craziness that goes with it. We need people with big voices who can hit the back wall, but who still convey a deep emotional content and have a deep character that reaches the audience member 2,000 seats away. It's a good idea to audition with a Shakespeare monologue, because it's got the size of the character to it. Show us you can get really loud and still keep that sense of character, not just stand there and scream lines."
Reeves, who went on to grad school at the Brown/Trinity Rep Consortium and is the founder and artistic director of the Guerrilla Shakespeare Project in New York, says outdoor dramas helped him with performing Shakespeare: "It teaches you how to handle epic situations, to find the human in those situations so you can really live inside them. It teaches you the technique and the vocal work you have to have when you're performing for 5,000 people. A lot of Shakespeare in this country exists in the summer and outdoors. To find out if that's something you're interested in and want to do, outdoor drama is a way to experience that for the first time."
Fight Club
Reeves, Gilreath, and Ray agree that the stage combat training and experience was the most valuable thing they got out of outdoor drama. "Many certified teachers with the Society of American Fight Directors will do workshops over the summer," says Ray. "Actors in the casts can get training in weapons and their actor-combatant status from the society, so that's a big plus, something that can get you in the door at a lot of auditions, especially if you want to do Shakespeare or be a stunt person."
"If you're auditioning for something that requires fighting, whether it's TV, film, or stage, and the casting director sees that you've worked with the SAFD, that's a really good sign," says Gilreath. "They know you'll fight safely and be believable."
Reeves' introduction to stage combat came during his first summer at Fort Harrod. He has since worked as a stuntman and fight choreographer. "Some actors dance, some actors sing, and that's their skill," he says. "I use my fight experience as a skill basis to find work, to set myself apart from other people—that experience and that ability that I have to tell stories through movement and fighting."
Of course, performing outdoors for the summer is not without its challenges. "You pretty much only call the show if there's a really bad thunderstorm," says Ray. "You also get dirty. Really dirty. Everything has sand in it. All your shoes have sand. You never get sand out of your clothes or your hair. You're always sweaty and sunburned." But that's all part of the experience, he adds, and Reeves and Gilreath agree.
On his first opening night, says Reeves, "I walked on stage as a pioneer with a real gun in my hand, bending down to look for tracks, and there were real birds chirping and it had started to rain a little bit. It was alive and real. It didn't take a lot of imagination to create that world around me, because I was actually there."
"Another challenge is that you're around all these people, kind of jammed, 24/7, so there's a lot of drama and can be like summer camp," says Gilreath. "But also it becomes like a family. I've gotten many jobs and auditions through my 'Blue Jacket' connections."
According to Reeves, who still keeps in touch with friends from those two summers, actors who have done outdoor drama have an instant bond when they meet. "If you started out by sweating and rolling around in the dirt and the horse shit, you have a different understanding of what it is to build theater," he says. "You came from a very physical and visceral world, where you got paid very little and you worked very hard. You see it in the actors. They're willing and wanting to work hard. They're definitely not in it for the fame and the paycheck. That's not the kind of performer that you are. With my theater company, sometimes I'm in my theater until 3 a.m. doing stuff. I built those muscles and that endurance by rolling around in the dirt, putting on sweaty clothes, having to clean my gun every night and take off the body paint."
Unfortunately, many outdoor productions, including "Daniel Boone" at Fort Harrod and "Blue Jacket," have closed. Ray has a few theories about why. "There are a lot of pyrotechnics involved in these shows," he says, "and after Sept. 11th, the amount of money you have to spend to keep your license to do pyrotechnics and to use black powder went up tremendously, so a lot of the budgets and the costs of the shows went up. Then the attendance started to drop because people weren't going out to shows or going on vacations. A lot of them closed down in the mid-2000s."
Reeves thinks it has to do with the economy in general and worries about the future of the medium. "When I was working, people came from all over the state every summer and sat outside under the stars and they watched this giant story unfold," he says. "I think for a lot of people, it was their first introduction to live theater. All these outdoor dramas are telling the stories of America. A lot of American theater is based off of kitchen-sink drama and Chekhov and things that happened within the past 100 years, and there's not a lot of theater out there telling about the amazing history of this country like other countries have. England has it. Spain and Germany have it. Outdoor drama is one of the few ways in which we still do that. With the economy the way it is, it's a real shame that some of these places have had to financially close down because people weren't able to take their vacations, to take their trips out to see it."
Hope in the Land
But there may be hope. As noted, 37 theaters produced outdoor historical dramas in 2009. "The Lost Colony" is going into its 73rd year. "Tecumseh!" in Chillicothe, Ohio, is entering its 37th. "Unto These Hills" in Cherokee, N.C., is approaching its 57th season and "Horn in the West" its 58th. "We're starting to see another rise in attendance," says Ray. "The last two seasons I've been at 'Horn in the West,' we've gone up in attendance by 11½ percent and then 13 percent. You're starting to see people come back to outdoor drama."
"A lot of teachers in college told us [that] to be a good actor, you have to live life," says Gilreath. "My outdoor drama experience not only allowed me to grow as an actor and in life experience, but it acted as my internship, which was the final stage of my BFA degree."
"At the end of the day, the point is to not forget who came before us on the land that we're living in," says Ray. "That's one of the important things that I feel like people overlook as far as outdoor drama goes—the history of it. It's very educational." He adds, "I think that every young actor coming out of college should work in outdoor drama one summer, just for the experience and just for the tools that they'll learn doing it."