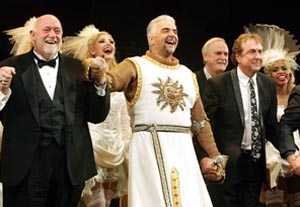 John O'Hurley might be one of the most quotable men in the world. As J. Peterman, the verbose catalog entrepreneur based on a real person on
Seinfeld
, O'Hurley used a booming voice and dramatic inflection to deliver some of the most memorable lines on the series and turn the character into a fan favorite. Now, as King Arthur in the touring production of the Tony-winning musical
Monty Python's Spamalot
(now in Los Angeles), O'Hurley frequently finds audience members coming up to quote lines from the series or the 1975 film upon which it is based,
Monty Python and the Holy Grail
.
But thanks to his charismatic turn on the first season of
Dancing With the Stars
and his day job hosting
Family Feud
, O'Hurley might now best be known as himself. When he's not singing and dancing onstage, O'Hurley finds time to pursue his other interests. An author and musician, he boasts a résumé that includes his own books, CDs, DVDs, and corporate training videos. One gets the impression the only thing he doesn't do is sleep. Case in point: He was touring with the musical
Chicago
, which closed in Washington, D.C., April 12, only to open
Spamalot
in Anchorage, Alaska, 48 hours later. Still, you won't hear O'Hurley complaining. "I've been really lucky; most of my career has been made up of No. 1 things:
Seinfeld, Dancing With the Stars, Family
Feud's been on for 31 years, and now
Spamalot
," he notes. "You have to pinch yourself and realize a lot of other scenarios could have taken place. I was fortunate to fall into these."
Back Stage
: How did the role in
Spamalot
come about?
John O'Hurley
: I was on Broadway doing Billy Flynn in
Chicago
, and while I was there, I went around and saw the other shows, and there were two I liked a lot. One was
Dirty Rotten Scoundrels
; the other was
Spamalot
. I was set to come to New York, and they had to close the show, so it was kind of a disappointment, but that's all right because at the same time they had just signed a deal to bring
Spamalot
to Las Vegas. So they said, "Would you rather do that instead of Broadway?" I said, "Absolutely!" So I ended up in Vegas for almost two years.
Back Stage
: You wanted to live in Vegas?
O'Hurley
: I love Las Vegas! What's not to like? The best chefs in the world have their own restaurants there, and you have all of it within three miles. It's elegant as can be. We were at the Wynn, which is the only five-star hotel in the area.
Back Stage
: You're well-known for your distinctive voice and do a lot of voiceover work, particularly in animation. Do you find they come to you, rather than you having to audition?
O'Hurley
: Yeah, they do. I play all the kings. I have 15 different cartoons I do, and if I'm not the mayor, I'm the king.
Back Stage
: Have you always had that voice, or did you have to learn how to use it?
O'Hurley
: Well, the ability to use your voice comes from training. The strange thing was, my voice was the last to change in high school. I was 16 years old and still talking like a girl. At the same time, in the late '60s, early '70s, you had all the great deejays on the radio, and they were kind of my unconscious mentors when my voice changed. When I moved into opera, I learned to use my voice.
Back Stage
: Starting out, was your plan to do musical theater, or did you want to pursue film and TV?
O'Hurley
: I always realized that if 30 things came from an agent's office, 28 of them were musicals. So it was about survival. But I think I always thought of myself as a television actor. But there was very little television when I was in New York in the early '80s. There was mostly daytime television.
Back Stage
: What did you learn from your experience in daytime TV?
O'Hurley
: You learn a lot of different things very quickly. One, the stillness needed for the camera, because it's such a close-up medium. And that sometimes so much less is so much more.
Back Stage
: Your best-known TV role is that of J. Peterman on
Seinfeld
. What was the process of booking the role like?
O'Hurley
: My show
A Whole New Ballgame
on ABC had just been canceled. Larry David's people gave me a call. His casting people knew me very well; I had auditioned for the show before. And they said, "Do you want to come over and do this guest-star role of J. Peterman?" I said no, because my show was just canceled and I was sort of licking my wounds and didn't want to jump back into the fray again. But my manager told me to just go over and have some fun. So I did. I went over there, and they handed me the catalog, and they said, "We want him to sound the way the catalog is written." I'd never even seen the catalog before; it was full of these long adventure stories about an Oxford button-down, and it reminded me a bit of a '40s radio drama, a bad Charles Kuralt. That's really the origin of the character. And the longer he stayed on the show, the more bombastic and absurd he got; he really became a kind of surreal version of Lou Grant. His relationship with Elaine was sort of a Mary Tyler Moore and Lou Grant taken to surreal levels.
Back Stage
: This was a hit show, and you were hesitant to go on it?
O'Hurley
: I was. It was just one episode, originally. I had never watched
Seinfeld
at the time. And it was a different style of humor for me. I remember the first read-through: We were finishing the table reading, and I kind of looked around and thought, "This is the No. 1 show? It's not even funny! The show I was just in that was canceled—that was funny." But sure enough, it was so funny the way the show was performed. So much was in between the lines, and that cast was such a smart group of people.
Back Stage
: Did you ever worry about being typecast?
O'Hurley
: The funny thing is, I do so many different things, from stage to hosting to writing to composing, I don't know how I would be typecast. If I was only doing Peterman, I suppose I could have been typecast. But it's tough to hit a moving target.
Back Stage
: Is it true you're business partners with the real J. Peterman?
O'Hurley
: Yes, he and I own the company together. He went bankrupt in 1999, about six months after
Seinfeld
ended. He'd lost his identity to me five years before. He just called me, and we'd become good friends by then, and he said he had a chance to get the intellectual property rights back; did I want to put the company back together and use our parallel strengths? I said sure. I'm a venture capitalist anyway, so I have several companies in addition to that, but that is certainly one of the more enjoyable ones.
Back Stage
: How did your involvement in the first season of
Dancing With the Stars
come about?
O'Hurley
: It was actually my wife that convinced me, but it didn't take much. I had seen the tapes of the British version of the show,
Strictly Come Dancing
, and I knew it was going to be a hit because it was just a fabulous show to watch and the dancing was really compelling. It had all of the elements of great television, including live music and beautiful costumes. There was nothing like it on TV. Still, I remember the first night of the show; they had to round up an audience. They were doing anything they could to get people in there. But I told the head of alternative programming at ABC on that first night, "I promise you, we're going to be over 12 million on the first night." And we were. They were hoping for 5 million.
Back Stage
: What was the experience like?
O'Hurley
: I loved the first season; there was a real kind of innocence to it. No one knew what it was going to do for any of them or if it could do anything. It was just a case of going in and learning how to dance. And it was difficult. They originally told me it would be three to four hours a week. It was seven hours a day, seven days a week. I would wring three T-shirts out. I lost 20-plus pounds and was probably in the best shape of my life. I tell people it was nine parts Marine boot camp, one part cocktail party.
Back Stage
: How did the show change your career?
O'Hurley
: It gave me my name back. I was known as Peterman up until that point. Suddenly I got my own name back. Also, there was no script; you were just yourself.
Back Stage
: There was a quite a bit of controversy from people who thought you should have won, instead of placing runner-up. They even had to air a follow-up dance-off, which you won.
O'Hurley
: Not since the hanging chads of Palm Beach County had this country been so divided. Of course it was flattering, but it was kind of much ado about nothing. Leave it to me to turn something like ballroom dancing into the WWF.
Back Stage
: Did you receive a lot of reality TV offers after that?
O'Hurley
: I had a lot of hosting offers and took the best one, which was
Family Feud
. But I knew at the time I really wanted to go back to Broadway. That's what led me to
Chicago
.
Back Stage
: And what do you enjoy about playing the role of King Arthur in
Spamalot
?
O'Hurley
: I think Peterman and King Arthur are essentially the same people, just separated by a thousand years. There's a sense of that lunatic poet that is driven by purpose and not logic. Here's a man who basically thinks it's a really cool idea to go stomping across a Hampshire field with the sounds of coconuts trailing him and happens to convince half a dozen other guys that it's a good idea, too.
Back Stage
: Do you like touring?
O'Hurley
: I like elements of touring. I like the idea of having an opening night every week. That's fun. And you go to see some cities that you otherwise wouldn't spend time in. I have my 2-and-a-half-year-old son and my wife, and we travel around like a little gypsy band. Once he gets older, we can't do it, so we're doing it now.
"Spamalot"
runs through Sept. 6 at the Ahmanson Theatre in Los Angeles. For tickets and information, visit www.montypythonsspamalot.com. For more on O'Hurley, visit www.johnohurley.com
.