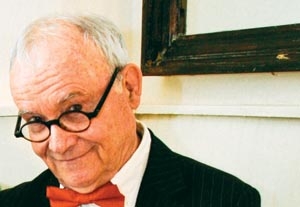 What might Buck Henry do differently if he could redo his career? "I'd be born later," the veteran actor-writer quips. "That means I'd be younger." Throughout our interview, Henry makes observations that are both tongue-in-check and literal statement of fact. He offers, for example, that he realized early on he wanted to be a writer because "they get to sleep late and have the most interesting girlfriends."
Known for his dead-pan style and edgy sensibility, Henry has a roster of credits that include writing the screenplays for
The Graduate
and
Catch-22
, co-creating and writing the series
Get Smart
, hosting
Saturday Night Live
numerous times, and starring on Broadway, most recently in
Art
and the Lincoln Center Production of
Mornings at Seven
. Currently he is appearing with Holland Taylor Off-Off-Broadway in Lisa Ebersole's
Mother
, a quirky family drama, "where the challenge is to be real without sounding pedestrian," he says. It is Henry's first foray into Off-Off-Broadway since he was a young actor. "And in those days there really wasn't any Off-Broadway," he says. Still, working downtown in Alphabet City evokes for him the heady experiences from his youth, not least working with "like-minded artists," which he believes was central to his development as an actor.
Indeed, Henry never trained formally and doesn't have any one method. When he started acting in his teens, "nobody talked about process," he recalls. Generally he builds a character from the outside in and creates backstories and finds personal parallels only for the more emotional moments, he says, adding slyly he has no problem building a role on the basis of another actor's persona or performance.
Henry's mother, Ruth Taylor, was a silent-film actor, and writers and actors were always part of young Henry's life. His parents introduced the New York–born Henry to Broadway plays when he was 4. Ever since, he recalls, "I've been looking at people, pretending to be someone else. I followed the careers of all the actors I was interested in. Without being coy about it, I watched the way Olivier did stuff, the way Walter Huston did things. And I was helped by friends of my family, saying things that I didn't understand at the time, but I did later."
One such observation centered on the way an actor in a play entered the room—had the character ever been in that room before? Years later, Henry saw actor Paul Lukas on stage in
Watch on the Rhine
. "They had left Germany, and they were hiding from the bad guys," Henry explains. "They've been taken to America, and they walk into a house. Lukas did something I had never seen an actor do, which is look around and actually try and take in the space and discover what that space meant to him." Lukas brought to mind a man struggling to discern if the foreign place was threatening or nonthreatening or a little bit of both, Henry says. "Assess where you are, which is what acting teachers always say."
Two Hats for Henry
As much as he loves acting, writing is the more defining art form for him. "It gives me a sense of being able to do what everyone else can't do," he says. "Acting came first, but I don't think of myself as a unique acting talent." He launched his professional acting career at age 15, when he toured with
Life With Father
on what was then known as "the subway circuit." These were touring companies of Shubert-produced Broadway hits that performed in Bronx, Brooklyn, and Long Island theaters and as far south as Virginia, though in theory these plays were slated only for houses reachable by subway, says Henry. He recalls the beauty and grandeur of these theaters that have since become movie houses.
After graduating from Dartmouth College, where he majored in English and earned a senior fellowship in writing, Henry did a tour of duty with the Army before returning to a New York that he says no longer exists. With several roommates, he rented an apartment on West 10th Street for $90 a month and lived on unemployment insurance for most of the year. In the spring and summer, he'd appear in touring shows and stock. He refused to apply for a day job—"I felt I'd rather be broke"—and in those days one could get away with it. "I lived at the Automat and weep at it not being there anymore," he says. "It was my kind of food. If only I could have a plate of rice with gravy and macaroni with baked beans, my heart swells. It was 30 cents."
Henry's first major turning point was joining the Premise, a West Village improvisational group in the early 1960s that also included George Segal. The company gained a following, which led Henry to work on
The Steve Allen Show
. That got him an agent and was followed by a stint with Garry Moore's variety show, paving the way to writing and performing on
That Was the Week That Was
, an early-1960s precursor to
SNL
.
"TW3
was fun, but not as much fun as
SNL
," Henry recalls. "For one thing it was only half an hour. And it was loaded down with network lawyers who said, 'You can't do this' and 'You can't do that.' We had a joke about a racehorse and they said, 'You can't do that.' And we said, 'What, the horse will sue?' And they said essentially yes. The horse has a reputation. We had to take it out."
Earning an Oscar nomination for penning
The Graduate
turned out not to be a watershed moment, mostly because Henry rejected potentially good opportunities in favor of doing ill-conceived projects for "friends, location, sometimes for money," he says. "Some of these ideas just looked good at the time."
Right now he prefers doing theater over anything else. "I'd rather be in a rundown theater than a brand-new sound stage," he says. "Of course the material is important, and there are some great things on television and film, but the process of filmmaking is no longer of any particular interest to me. I love the product and I enjoy the writing, but the process is so mechanical. Theater is the lifeblood. At its best it's infinitely more thrilling than any other form."
He suspects it's too late, but he'd love to tackle a Mamet play, especially Shelley in
Glengarry Glen Ross
. "I always want to play the roles that Alan Alda plays." Perhaps not coincidentally, he replaced Alda in
Art
. "It was sheer joy in performing," says Henry of the Yasmina Reza play. It's a three-character play, and each one has an aria. And it's 90 minutes without an intermission, which means you get out in time to eat dinner with your friends." Following
Mother
, Henry has no immediate plans, though he's tentatively committed to act in a series of webisodes, assuming the producers find financing. "If it happens, swell; if not, also swell."
A dream gig—or maybe it's a mock dream—musters enthusiasm. "I'd love to act in a huge, expensive movie, shot all night mainly in major European cities and the south of France," Henry says. "It would take four to six months to shoot and the last two months would be overtime and penalty."
"Mother" runs through Aug. 1 at the Wild Project, 195 E. Third St., NYC. Tickets: (212) 352-0255, www.theatermania.com, or www.mothertheplay.com.