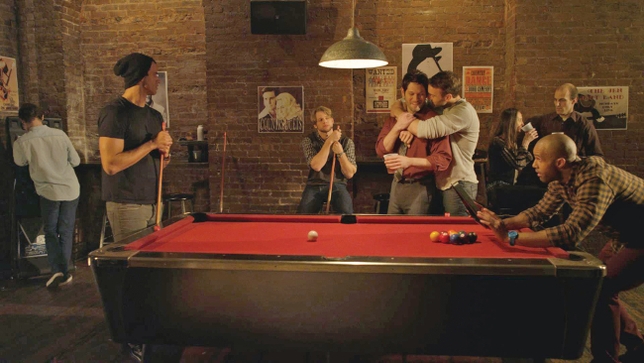 Quincy Morris turned a real-life breakup into a successful Web series, beginning with a few theater workshops and resulting in a distribution deal with Launch TV.
Morris, the series' creator, and director Jennifer Gelfer took a theatrical approach to putting together "In Between Men," a Web series that developed into a statement of Morris' views about the gay community and his feelings of exclusion from it. Morris says he didn't pitch it to the networks because "I didn't want it to live or die on somebody's greenlight." Instead, he took the theatrical approach and put it up onstage so that investors couldn't "deny that it's a good project." His strategy worked. At the first staged reading, Morris found an investor, which allowed him to shoot the entire first season, complete with 22 locations, all at once.
Before Gelfer joined the project as the series director and co–executive producer, Morris had cast the four main roles with the hope that the actors would help raise money for the campaign. "Jen blew our minds about how much she knew about the characters."
Gelfer's theater and acting coach experience helped Morris round out the cast. "I was casting off of looks— not whether they were good-looking, but how they would all look together," Morris says. "I didn't want them to be bad actors, but when Jen came in, it really became about the performance first." Gelfer adds: "You can see a difference in [the] work in the second season."
Without a large company or a big celebrity, marketing and building an audience was an important aspect of Season 1. Using their own website, as well as YouTube, Morris says, "We built our audience to about 2.5 million. We didn't apply a paywall until Season 2." Applying the paywall has been a balancing act for the duo. "No matter how cheap some people might be, some people don't like commercials," Morris says. They currently have episodes viewable for free with commercials, or commercial-free versions via the paywall.
Monetizing digital content hasn't been easy. "People will pay the same amount of money for music with less content," Morris says. "Because culture is used to buying [music], and not used to buying Web series, it was a harder sell at first." But he feels that habit is changing, and people are becoming more willing to pay for Web content. "People want quality content. People don't have a problem paying $8 for Netflix, or $8 for Hulu, so they might pay $8 for their favorite Web series, too. It's not as far-off a concept as it was, like, three years ago."
The future of the series is looking bright; Morris and Gelfer recently made a deal with Launch TV, which will begin airing "In Between Men" in a half-hour television format during prime time in the spring. "Getting in on the ground floor with Launch TV has allowed us to have substantially more input in creating our own destiny than we could with an existing meganetwork—which Launch will be one day," Morris says.