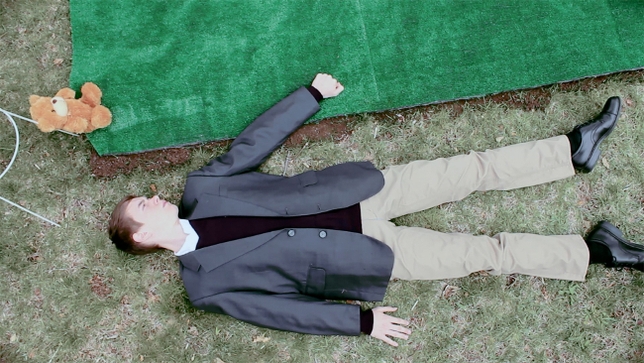 Michelle Elliott and Danny Larsen are not educators. They're not social workers. They're the creators of Web series musical "The Hinterlands," made in response to the growing number of suicides among gay teens outside major cities.
"We called it 'The Hinterlands' because we had read studies that said teens in rural areas or red-state America have a higher incident of attempting suicide than those who live in blue states," says book writer and co-lyricist Elliott. "The kids in red-state America, 25 percent of those gay teens attempted suicide; in blue-state America, 20 percent of gay teens reported attempting suicide. There's thousands and thousands of kids in the difference between 20 and 25 percent."
After the two musical theater writers saw the study and noted the influx of suicides in September and October, coinciding with the start of school, the video-making novices decided to create a series to give teens hope. "Living in a place where the culture is continually saying that you should be ashamed for your sexuality is emotionally draining, and they feel like less of a human being," says Elliott. "It was the impetus for setting it where we set it, and making it a Web series, and putting it out online for free."
Elliott and Larsen—who met at NYU's Tisch School of the Arts—conceptualized the series, then researched how to write, shoot, light, edit, and distribute their story. Larsen learned to be a cinematographer; Elliott learned to properly hold a boom mic; and the two worked together to write the series' lyrics.
"The biggest challenge for me as a writer was coming to grips with how to get a message across without sounding 'afterschool special,' " says Larsen, who writes the music. "I remember feeling a lot of pressure—what's the perfect thing to say to make them feel worthy? To make them feel like they don't have to commit suicide?" The two realized there would never be "the perfect line," and instead decided to build a character with whom young people could "empathize and relate."
That character became Paul (Connor Russell), a gay teen struggling to cope with his identity at a school where he's bullied and teased. Using "the power of song," the writers coupled music and original lyrics to create something that resonated with their audience. Since releasing the series, the two have received recorded renditions of their music from teens, countless emails thanking them for their work, and a sense of the future for what they created.
"We'd really like to work with educators to develop a curriculum or a lesson plan," says Elliott. "Teachers, social workers, or YouTube workers could share the series with their students or kids. [We want to find] ways to enrich the viewing experience, and a way for kids to make the art themselves."