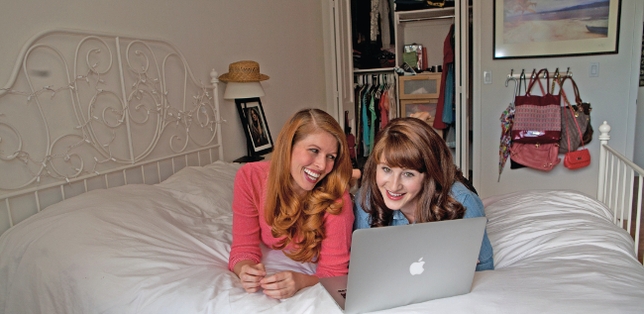 In the realm of online dating, one thing's certain: Your inbox will be filled with a lot of weird messages. That's something Stefanie Grassley and Julia Tokarz, creators of the Web series "It's Not Okay, Cupid!," learned quickly after joining OkCupid. The crazy messages came flooding in, and the two (who met at Upright Citizens Brigade) would send each other screenshots of them all day long.
Having wanted to collaborate for a while, Tokarz and Grassley knew that this was the project they had been looking for. "All of a sudden we just thought, We have to make this into something. This is too funny; it's too rich in material," says Tokarz. The format of a Web series seemed only natural, she explains, since OkCupid thrives through its huge online presence.
They worked on the concept for almost a year before the series premiered in December 2012. Each episode of "It's Not Okay, Cupid!" is based on a particular message either Tokarz or Grassley had received, and imagines what that date might have been like, had they gone.
Along with its concept, "It's Not Okay, Cupid!" (directed by Aldous Davidson, Stolis Hadjicharalambous, and William Alex Runnels) is impressive because it's entirely self-produced. Between the two of them, Tokarz and Grassley write, star in, fund, and edit the show. Tokarz currently works in television, film, and commercials, so editing is in her skill set.
"A lot of Web series use Kickstarter and stuff like that, but ours was done on a very low budget. We had this script and we kind of shopped it around, and we ended up using four years of connections that we had built with people, like comedians and directors. So we were very lucky in that sense," says Tokarz.
Grassley adds that the resourceful duo used every connection they could think of. "As far as location, we had former workplaces or friends' places, or I even just, like, contacted businesses through email, or stopped in and was like, 'Hey, I really like your business; I think it's a cool place. Is it possible for us to film something here?' And in that case, we did kind of a trade-off where Julia filmed and edited a commercial for the business."
The duo still funds the series themselves. Now, in the midst of its second season, Tokarz and Grassley are involved even more—with both of them acting in every episode.
"It just made sense for us both to be there—building our reels and having fun," says Grassley.
With the series a 2013 ITVFest official selection, and winner of various 2013 L.A. Web Fest Awards, its creators can be trusted (certainly more so than that message in your OkCupid inbox).
It's been all about connections and passion for the two. "Go out and help other people with their Web series for free and learn from them. From doing that, I realized I could do that, too, and you just have to make it happen," says Grassley.