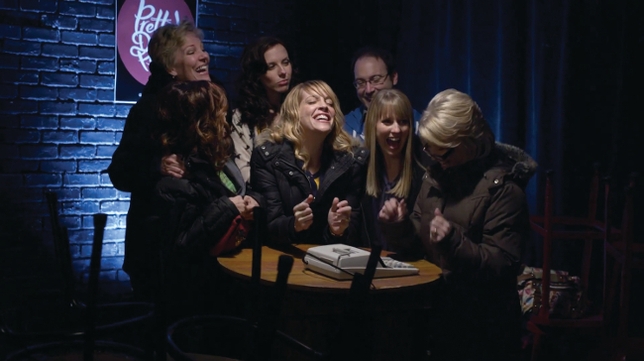 Gracie Moore is a firecracker of a mom who, when she decides the comedy scene is too inappropriate, forms an all-female comedy troupe in her neighborhood. She comes to life via Lisa Valentine Clark, an executive producer and star of "Pretty Darn Funny," a Web series that thankfully lives up to its name.
The show's premise was inspired by two things, says Jared Cardon, one of its executive producers and creators. With a background in comedy troupes, Cardon says he always wanted to do a series about one. The second source of inspiration for both Cardon and fellow executive producer and creator Jeff Parkin was their wives. "Jeff and I are both married to very strong, creatively talented women who are kind of take-charge types," Cardon says—the same type of woman as Gracie.
For example, in the Season 2 episode "Budget Cuts," Gracie comes up with creative (and hilarious) ways to save her family money so that they can afford a nice holiday card, unlike the over-the-top comic ones they've had in the past—one way being to take a glass of whole milk, fill half of it with water, and explain, "That is how you change one gallon of whole milk into three gallons of skim milk!"
Even with multiple Telly Award wins and International Academy of Web Television nominations, producing the second season came with some challenges. The first season went live in April 2012, after Parkin and Cardon worked on two independent films, another Web series, and a television show. Explaining their biggest hurdle, Parkin says, "These short webisodes are very different from half-hour programs. When you start looking at ways to tell a story in six or eight minutes—you want to have an arc for the characters, you want the audience to feel like they've gone through an experience, and you want to have several scenes. You realize just how tight everything has to be."
Other factors the team has to work around are time and budget constraints. With five children, Clark has limited time to devote to filming; with that in mind, the team found a way to shoot each episode in just a day, to avoid pulling anyone away from his or her family for too long.
But that's not difficult, since "Pretty Darn Funny" is a family affair: Parkin's son plays one of Gracie's children; Clark's husband plays Gracie's husband; and Cardon's wife is one of the writers.
Moving forward, it's likely "Pretty Darn Funny" will see a third season, considering Parkin and Cardon are rich with ideas.
"It's been tricky for us, and a challenge," Parkin says, "but a fun challenge."