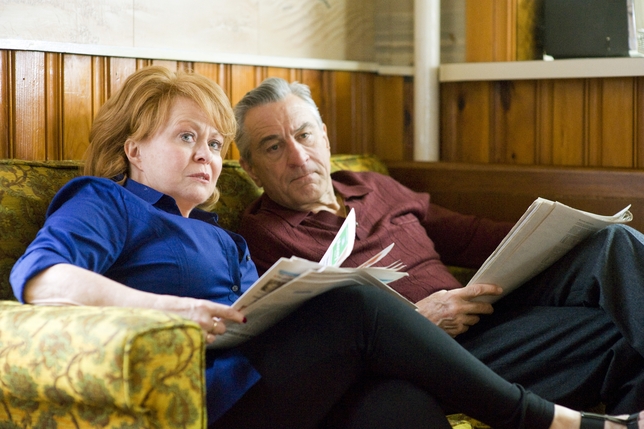 Australian actor Jacki Weaver's loveable and humorous portrayal of Dolores (Bradley Cooper's mother) in "Silver Linings Playbook" has earned Weaver her second Oscar nomination. In the midst of the "Silver Linings Playbook" success, the Academy Award-nominated actress also just booked a role on the CBS comedy pilot "The McCarthys."
While shooting "Silver Linings Playbook," she actually had the opportunity to meet Cooper's real life mom and was surprised to see that despite Cooper's height, his mother was short like she is. Creating the maternal relationship on screen with Cooper came naturally to Weaver. True to her character, she says some of her favorite scenes were watching Cooper and DeNiro and the father/son relationship they explored.
How did you get involved in "Silver Linings Playbook"?
Jacki Weaver: I was sent the script by my agent. David O. Russell has since told me that when we were both on the same circuit - when he was promoting "The Fighter"…and when I was doing the rounds with "Animal Kingdom"…he said he kept seeing me on the red carpet and thinking 'I want to work with her.' I was sent the script for "Silver Linings" when I was doing a play in D.C. at The Kennedy Center with Cate Blanchett and I was sent the script and asked if I was interested, and I said 'Oh, boy am I!' I thought it was the most wonderful script, but David wanted to meet me and he was in Philadelphia, so my husband and I drove to Philadelphia from Washington. The interview with David went for a couple hours. He wanted to be sure I could cope with the way he works because even though you do shoot a lot of scenes absolutely as written, he then likes to do what he calls "go off script," which involves a lot of improvising. And you have to be used to working that way and be comfortable with it. So this interview went on for ages and finally he let me go. We drove back to Washington and almost didn't make it back for the performance that night, so I got into quite a lot of trouble.
Then David wanted to talk to me again when I was in New York after we'd finished the run in D.C., and we did something I've never done before or since. We actually had a Skype interview…It was quite a lengthy process, but when they finally told me it was mine I was absolutely jubilant.
Was the improvising a challenge or is that something you're used to?
Weaver: Well, I've been acting for 50 years now, professionally. I've been acting a lot longer. My mother reckons I was acting when I got out of the womb. But because I've been working in the theater, I've probably only done about 25 movies but I've done more than 100 plays. And you have the luxury of the six-week rehearsal period…where you do go into improvisation sometimes to get to the heart of the scene or the character. You have the time to try every different permutation and then make your choice accordingly. Whereas in the movie, you don't always have that luxury of time and you've got to make decisions on the hop, on your toes, which is very good for quickening the brain, but it makes your heart pound and your adrenaline rush. It's good, though. It's stimulating and you can come up with some really great work that way.
What drew you to the project?
Weaver: It was the character, and then it was the story, and then it was David O. Russell. Not necessarily in that order. It was a combination of the three and then it was a bonus to find out that I'd be working with Robert DeNiro and Bradley Cooper.
Were you nervous about working with Robert DeNiro?
Weaver: Yeah, of course. I think any actor would be. My generation certainly has him on a huge pedestal. He is one of the grand masters of the craft, and he's proven himself countless times to just be, I think he epitomizes what a great actor should be. He's got it all. So I did have to give myself a talking to in the trailer on the first day and say "Listen, this isn't Robert DeNiro, this is your husband who you love and you're comfortable with." But luckily for me, he's such a generous actor and such a kind man that I was soon very much at ease and it was fine. Although every time they said cut when we finished a scene I'd think, "I just acted with Robert DeNiro!"
Did you talk at all about building the backstory?
Weaver: We did have the luxury of a sort of week's rehearsal and sitting around the table and discussing the characters before we started shooting, and David O. Russell did keep saying to us "Now you two are still very much in love after 30 years of marriage and you're still making love to each other twice a week and you both adore your son and I want there to be lots of familiarity between you."...We were helped too, by the fact that there was a novel too. But I think the character is a bit different from the novel. But the character is so well-drawn in the screenplay that it was no problem. I think they're very complex characters. They call David O. Russell the actor whisperer because he can get stuff out of actors that maybe some other directors can't.