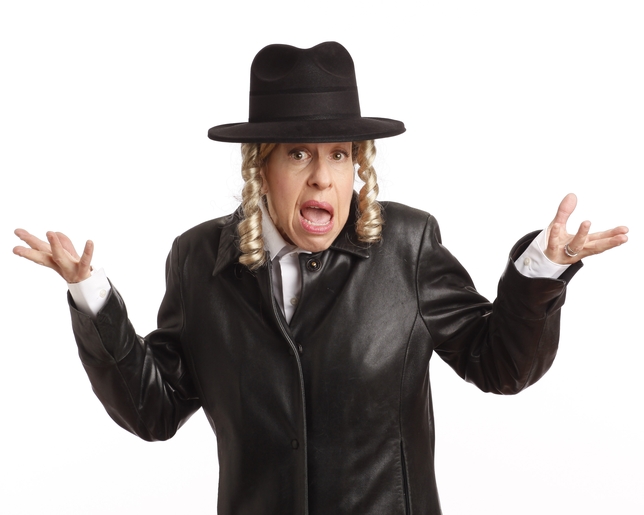 If you spend any time around Jackie Hoffman, be prepared to laugh. And we're not talking that slight little giggle. We mean belly laughs here.
The actress/comedian, known for her quick-wit and wacky characters, can make the most out of even the fewest lines. It's what brought her acclaim in scene-stealing appearances in films like "Kissing Jessica Stein" and "Garden State;" television shows like "The New Normal" and "Raising Hope;" and Broadway hits like "Hairspray" and "Xanadu,"
But it's on stage in her one-woman show, "A Chanukah Charol," that her brilliance really shines. Outrageous, eccentric, and oh-so hysterical, Hoffman will have you in stitches. Backstage sat down with our favorite Chanukah Scrooge to see how this all came about.
Where did the idea for "A Chanukah Charol" originate?
Hoffman: Michael Schiralli, the director, and I were trying to do a full length musical version of "A Jewish Star." We were telling my life story coming up in the ranks in show business with what we called three gay ghosts. It turned out to be kind of like "A Christmas Carol" meets "The Jazz Singer." Because we thought it was such a great structure for a show, we decided to make it holiday specific and really just work with "A Christmas Carol." We asked, "Who did a one-person version of 'A Christmas Carol' where he played everybody?" And it was a Patrick Stewart. So we came up with "Jackie Hoffman's A Chanukah Charol: Inspired by Patrick Stewart's solo staging of 'A Christmas Carol.'" One of the characters, I even narrate as Patrick Stewart!
That's hilarious! But the show's incredible personal, too.
Hoffman: Well, it's the most autobiographical show I've done. It deals with neurotic Jewish conflict, orthodox Jewish home, breaking into show business thing. But it's only autobiographical when it's necessary and really funny. I love ridiculous. And "A Chanukah Charol" definitely has that ridiculous in it, but a lot more heart.
There's not a lot of Chanukah shows out there to compete with.
Hoffman: No there's not! We did this last year, and people are like, "Well, why are you bringing it back?" and I'm like, "Well why are you bring 'Elf' back you fucking anti-sematic bastard!" Why is it like okay to bring every Christmas thing back? We're trying to start a Chanukah holiday tradition here. Because our people really don't get a lot of action. And the gentiles are eating it up as well. Don't worry – there's not a lot of Yiddish.
You call yourself an actor first before comedian, but were you always involved in comedy?
Hoffman: Well Second City was really my first transformative gig. I was there eight years. You have to pay your dues and tour with them before you get in one of their resident companies. I did it all. Getting up in front of audiences eight times a week and improvising eight times a week after the show – that really developed that hard, tough, Jackie Hoffman-skin that is so easily shattered.
How was life on the road?
Hoffman: Oh you know. If my colon could talk… and it often did…
Your improv experience can clearly be seen in your performances in "Hairspray," "Xanadu," and "The Addams Family" on Broadway. What's that creative process like?
Hoffman: I was fortunate to be in the original cast of all of those shows. When you're creating a new work, the gift that Second City gives you is the ability to be right on your feet. That's what I did. That's how I expanded the part in "Hairspray" and that's how I've gotten myself into a lot of trouble. But you know I've built an improv moment into every show I've done by being able to do it. And it also helps with writing. Even in "The New Normal," I'm like, "well how about this joke and how about that?' if I think of something. And they encourage it. They never use it! But they encourage it.
Yet you still find a way to steal just about every scene you're in.
Hoffman: I guess I just go to the extreme. When I first did the reading for "Hairspray," I had this one line about a dodgeball. And I just did it and everybody laughed. And director Jack O'Brien said to me, "Well, you really hit the ground running, didn't ya?" I just attack things with ferocity. Like the kid in the school play who wants to be noticed. Not especially good advice for actors, especially if they want to be good actors, but being good was never an issue. It was always being over-the-top, when I think I can get away with it.
Is it easier to do that on stage than it is on film?
Hoffman: Yes. Everybody always talks about the audience vs. non-audiences, and it's a huge deal. On stage, nothing beats a live audience. That's my favorite because of the interacting process. But on film, an audience can actually be a hindrance. "The New Normal" and "Raising Hope" are filmed without an audience, and I almost prefer it. When you film with a studio audience, there's that, "Okay laugh at the same thing again!" It's like a nine-hour taping, and between shots some poor bastard stand-up comic is handing out balloons and candy to people to try to keep them amused. And it's a weird scene. On stage is where it's at. Bebe Neuwirth used to always say at 'Addams Family' talkbacks, "This is a give and take process. You are a participant in this."
"A Channukah Charol" is playing at New World Stages, 340 W. 50th St. through Dec. 29.