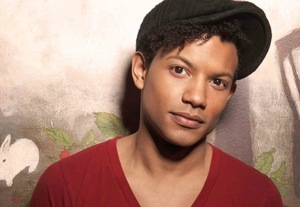 The first season of NBC's "
Smash
" has been a bumpy ride, to say the least. Over the last three months, the team creating a musical about Marilyn Monroe has had more bed-hopping, secret-keeping, and outlandish production numbers than anyone could possibly have imagined when the show was first announced. But while Debra Messing and Anjelica Huston are ostensibly the name cast members, it's
Jaime Cepero
's sneaky, conniving assistant Ellis that has captured America's attention.  We spoke to Cepero about "Smash," defending Ellis, and what the
May 14 season finale
has in store.
As jobs go, how is "Smash" measuring up? Everything you thought it would be?Jaime Cepero:
Yeah! It's been an incredible experience. I could never have imagined a better first time on television. I think a lot of us are getting a first shot at different avenues. It's been really cool and we're all on the same page as far as it's concerned, and we're all experiencing something new together. I'm working with a great group of people. It's rare that you find a job where everybody gets along so well. Usually you do a show and there's that one person…
Talk to us about Ellis. He's pretty evil. Why, exactly, is he so unrelentingly sneaky?Cepero:
Everything that he's done this far in the season has directly stemmed from his ambition to rise to the top. I think he's a really interesting character and cool to play because with the first episode, a lot of the characters were very defined, and he's the only character that really isn't that defined. It's been very interesting, because I feel like he's been written to push the story along and explain something that's important to the plot. I'm still figuring out as I'm going, and every week I get the script and think, "Oh this is helping me a little bit more, seeing what he's doing." Jaime and Ellis are very different people. And getting scripts every week is hilarious, because I'm doing something worse every week. And then I'm like, "How do I make sense of this as an actor and give it more definition for what he wants as an endgame?" It's been really fun to watch him grow as a character. And it's really fun to sink your teeth into a character.
And Ellis is even willing to sleep with Rebecca Duvall's manager, despite having a girlfriend.Cepero:
I think that's a really unique part of the show. You really get to see a lot of types of people on "Smash," especially with the gay thing. In the Broadway community, there are a lot of guys you meet and then they're like, "Meet my wife!" and you're like, "Wait. Really?" And there are guys who are super into football and you think they're straight for a while. We're breaking up a lot of stereotypes. I love that we're doing that, especially in the Broadway community. And as far as Ellis is concerned, it's very clear that the whole manager thing is a very calculated move. I don't think it's necessarily he's meeting this guy in the bar. It's very clear that it's a calculated move on his part, another way of getting ahead and more of that blind ambition.
Is that how you were cast as Ellis? Sleeping with the right people?Cepero:
I wish it was that easy! I'd never done television before, so the network really put me through the hoops. It was really intense but Theresa [Rebeck, the show's creator] and Michael [Mayer, who directed the pilot] were really bent on casting me, so Theresa wrote me some scenes of Ellis being conniving, so I could show another side of the character. So I'm really grateful for that. I kind of knew going in that he was going to turn into this.
Will we see you sing in the season finale?Cepero:
No, Ellis won't be singing in the first season. But we've talked about it for the second season. Every week somebody new sings, so it's been kind of like going around the table and everyone's getting a song eventually.
Can you tease us with what to expect May 14?Cepero:
By the end of the first season, there's one person who's going to end up playing Marilyn, and it might not be the person you expect. But Ellis is going to have a very critical hand in some drama that's happening backstage. My character has been referred to as Chekhov's gun by a lot of critics, and the gun has to go off at some point. There's going to be a bombshell and there's gonna be a lot of twists and turns that people aren't expecting. Every week when I got the script, I was like, "Oh snap!"

Mark Peikert is Back Stage's NY Bureau Chief. Follow him on Twitter: @markpeikert.