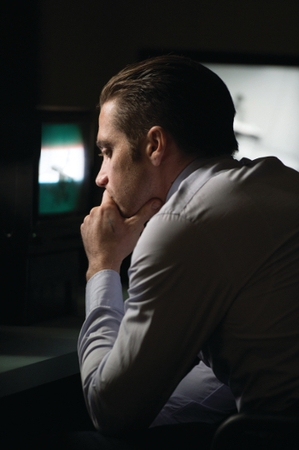 Jake Gyllenhaal's best performances have always come when his movie star good looks and charisma are subverted. Case in point: Detective Loki in Denis Villeneuve's twisting thriller "Prisoners." The bedroom eyes are transformed into a hangdog look of exhaustion; that smile becomes either a threat or an apology. And then there's Loki's eye twitch.
"It was an instinct that came up when I was initially reading the script," Gyllenhaal says. "Denis and I met at a diner in New York City, and I was like, 'I have this idea! Let me try it out.' And I started doing it. And he was like, 'Hmm.' " Gyllenhaal laughs. "He was terrified to allow an actor to do that, but it's a test to the faith we have in each other that it wouldn't be an actorly indulgence, that it would serve the story."
"Prisoners" is Gyllenhaal's second film with Villeneuve, after the two worked on the upcoming "Enemy" together. The story of two kidnapped girls and the two very different men who try to find them—Hugh Jackman's vigilante daddy and Gyllenhaal's weary detective—is, on the surface, a suspense movie par excellence. But lurking in the shadowy corners are questions and odd behavior; in this world, no one is totally innocent.
That ambiguity is one of the things that drew Gyllenhaal to the film. "Sometimes the actor says, 'There's not enough there,' and they see it as empty," he says. "But I see empty space as room for question marks. And question marks have room for a million questions. As an audience member, I love watching things that aren't defined, that I can use my own mind to define. I just thought it was such a cool idea. This is a guy who asks all the questions, so what if he's a question mark himself?"
Gyllenhaal also relished the chance to keep the audience guessing about Loki's real motivations, and that's where the eye twitch came in handy. "I could plant these things; I had an opportunity to sway the audience from what was going on in the plot," he says. "There were moments we could throw a wrench in the whole thing with some strange behavior of mine, and they wouldn't see what was in front of them."
That's just one way Gyllenhaal kept his law enforcement character from becoming, as he puts it, "depersonalized." "Just like people put a stigma and judgment on law enforcement as one thing and one thing only, people playing law enforcement can do that, too," he says. "The obvious way is as a straight-laced, anal kind of person who is obsessed with finding the answer. And I was less interested in that than someone who has their own thing he's ashamed of, joining the institution for a family he never had, and then ironically finds himself trying to put back together a broken family."
Making Loki a multifaceted man was vital to Gyllenhaal, and he and Villeneuve spent time together crafting a backstory for him that drew from some of the themes already in the script, such as the institution versus the individual. And though he had only one week of rehearsal before filming began, Gyllenhaal got a jump-start by doing research for months beforehand and even testing out the eye twitch while performing onstage in Off-Broadway's "If There Is I Haven't Found It Yet." He laughs remembering it. "It's cool because from stage, you can't see it so much. It's not so noticeable." He pauses. "But on screen, it's a big choice."