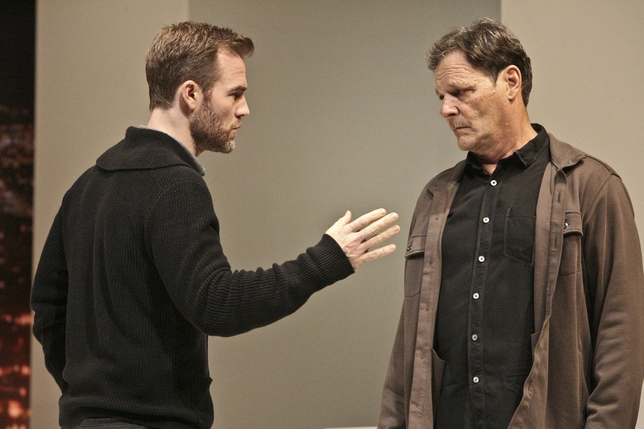 "Dawson's Creek" heartthrob James Van Der Beek has moved out of "Apartment 23" and back onto the stage. He began his professional acting career as a teen in New York City and is now returning to his theater roots in "The Gift," by Australian playwright Joanna Murray-Smith. "The Gift" tells the story of two couples (one older and one younger) who meet and bond at a resort and then meet again a year later at the older couple's home.
After "Dawson's Creek" brought Van Der Beek to television, he continued working steadily in the medium, most recently co-starring on "Don't Trust the B---- in Apt. 23" with Krysten Ritter. Van Der Beek barely wrapped his television show before he began rehearsals for "The Gift." Even though he was still shooting when he heard about "The Gift," he knew when he'd be available, and was excited to go straight from one project to the next. "Actor's dream," he says.
How did the role come to you?
James Van Der Beek:I pursued the role…I really love the TV show I've been doing. I was on a comedy, which was different, but I've been wanting to get back into something I could really sink my teeth into. And this play came along…It just felt like a great fit, so when I became aware of it I just went in and read for the director.
Sometimes even if you're at a point when you can get an offer…there's just something to starting that first rehearsal knowing that you were picked, as a opposed to someone talked the director into casting you…I just don't like the feeling that there might be a question in the director's mind to whether or not you can do this or whether or not you're the right person. You don't want that scenario where they say yes to you because they like your past work, but they're still not exactly sure if it's exactly the right fit. So that's one of the reasons I like going through that process.
So you like auditioning?
Van Der Beek: I do now. I mean, it's what actors do, really. I've discovered in the 20 years I've been doing this that as you gain a little bit of success, the things that you get offered are often things you've done before. So if you want to move the needle, if you want to try something you haven't done before, you often have to audition just to show them. In years past, I used to look at it as a test - as something I could either pass or fail, but now I've thrown that thinking out the window, and I just look at it as my opportunity to go in and live the character for a little bit…with that attitude it's made it a lot more fun.
What interested you about the project?
Van Der Beek: The guy's a conceptual artist, so it was a world that I didn't really know all that much about, so that was really exciting about it for me. But just the dialogue itself and the arc that Martin goes through. Then the proposition that these two younger characters make toward the end of the play is something that has audiences laughing, gasping in horror, clapping against, and huffing about. The reaction of the audience is audible…It's actually fun to run counter to the laughs. Most people on stage, myself included, have a tendency to gravitate toward the laugh and go for the laugh if you know there's one there. This is one of those rare circumstances where I get to play against it at every moment, and as much as the audience might want the laugh I feel like it's my duty to not let them.
How did you prepare for the role?
Van Der Beek: I read "Seven Days in the Art World" …very informative, very interesting. I picked up Stella Adler's "The Art of Acting," because she talks specifically about stage. There are tons of little gems in there that are helpful. And the great part about the rehearsal process is you can afford to put in [the time] and figure out what the details are that need to be built and that's the backstory that you need to figure out with your co-star. Jamie's very collaborative so it's been nice...It was fun to discover this along with other people and have a little more collaboration than maybe just sitting in a dark room alone.
Do you have advice for actors?
Van Der Beek: When I was in New York, buying Backstage, the paper version, way back in the olden days, and spending my spring break in high school in New York going on those open calls, those horrible open calls with hundreds and hundreds of people showing up and going in and signing in and showing up an hour before the thing opens and being number 297 and just waiting in the room, the one thing that I held onto then and the one thing that I hope that I can pass on now, is that you really are one great audition away from changing your career at any given moment. And oftentimes you know it comes in pieces, and it comes step-by-step, but I would say don't get discouraged by looking at how long it might be or how steep it might look. It's one of those crazy businesses where anything can happen. So I would just encourage everyone to leave room for the best case scenario.