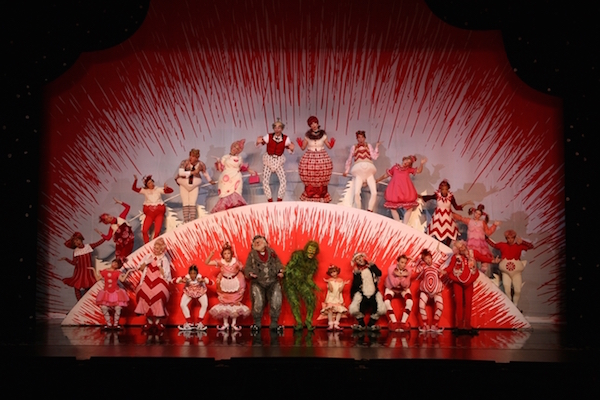 Amid a slew of holiday offerings that range from the new ("A Christmas Story") to the old ("The Radio City Music Hall Christmas Spectacular"), one holiday favorite is returning to town with its heart still gleefully three sizes too small. The Grinch himself will be slithering around Madison Square Garden through Dec. 30 with a production of "Dr. Seuss' How the Grinch Stole Christmas! The Musical." Broadway veteran Jeff McCarthy stars as the joy-stealing title character and spoke to Backstage about playing the Garden, audiences of children, and why the Grinch is green.
How did you get involved with "The Grinch"?
Jeff McCarthy: This kind of fell into my lap. I didn't audition or anything. They called and asked if I wanted to do it. I'd worked with Matt August [the director] before, and [bookwriter] Mel Marvin knew me and the producers knew me. It's a great relief not to have to audition because too often you bungle it!
Did not auditioning add pressure the first few weeks of rehearsal?
Jeff McCarthy: I find it relieves that pressure. I have great confidence in myself! Luckily, I didn't see [original Broadway Grinch] Patrick Page do it. So I had no previous conceptions about it other than the book and the Chuck Jones movie.
You've been doing the show in Boston. Will you have to adjust much to play the Garden?
Jeff McCarthy: We have to restage a little bit. None of us have been in the Garden yet. It's huge, but it will be a blast. And you can be as big as you want. Big is the name of the game here. Jim Carrey did it in the movie, which I haven't seen, but a filmic version of the Grinch defeats the purpose. I think big is where the fun is at.
How many shows a day will you be doing?
Jeff McCarthy: We just finished four on Saturday, but the most we ever do at Madison Square Garden is three. Four was a definite challenge; three is a good workout. This role, because it is wild and crazy guy that he is, it's fun to cavort and blow out all the stops. A little part of my brain has to say, "Pace yourself," but I forget that as often as I remember. I'll get offstage and be panting. The audience can't tell the difference, but it takes a toll on me. But now I know I've still got it in me.
Does it require more concentration to play for an audience of children? I imagine they can get pretty noisy.
Jeff McCarthy: I saw a little bit of the video of the other tour that's out and I heard children making sounds and whatnot, but it hasn't bothered me really. I guess because we're playing larger than life it sort of encompasses whatever goes on in the room. And late in the show, I get to walk to the edge of the stage and get to improv with the crowd of revelers. Up in Boston, I had breakfast in the morning at a place across the street and children coming with their parents would see projections from the show and they'd say, "That doesn't look like the Grinch," because they're all used to seeing Jim Carrey. So I went in that morning and thought, "I'll show them my Grinch, not the psychopathic Grinch of Jim Carrey." [Laughs] I'm sure it's great but they wanted to stick closer to the original book. I think the Chuck Jones film is the most loyal. I worked with Chuck years ago and his daughter is a good friend of mine, and she told me that Chuck chose the Grinch to be green. The original book was black and white with a little red here and there. And he also chose Boris Karloff to be the voice. And Dr. Seuss objected at first, but the rest is history.