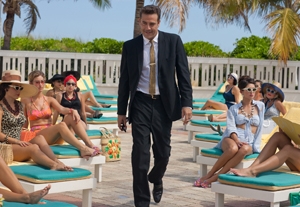 Although he grew up pretending to be John Wayne in his backyard, Jeffrey Dean Morgan never considered becoming an actor. A star basketball player in high school, he went to college to play but was sidelined by a knee injury. He moved to downtown Seattle in the midst of the grunge movement, making a living by selling his paintings in bars and coffee shops. In the early '90s, an actor friend who was moving to Los Angeles asked Morgan if he would drive a U-Haul truck from Seattle as a favor. What was meant to be a weekend trip became a permanent move that would change Morgan's life.
On his second day in L.A., he met a casting director who told him he should audition while in town. He auditioned for a Roger Corman film, "Uncaged," and booked a part. "I didn't even know what a mark was," Morgan says. "But I fell in love with acting. Then the struggle began."
At
Howard Fine Acting Studio
, Fine let Morgan take an introduction to acting and a scene-study class in return for "helping sweep up," and he kept auditioning. Over the next 15 years, he booked television guest star spots, TV movies, low-budget films, and even a series-regular role on the UPN sci-fi drama "The Burning Zone" but was written out after 11 episodes. "Those years were rough," he says. "Acting is a hard profession. More than anything it takes fortitude. You have to really stick with it. People don't like you all the time. You have to learn to sleep with yourself after people say no to you for years at a time. That's what I did. I stuck with it and by the time I was 35 I had no other options, no fallback plan. I was almost ready to call it quits - sick of doing a job and then being back on the unemployment line and trying to make ends meet. But I loved acting and didn't know what else to do. Then I lucked out all in one year."
In one month in 2005, Morgan booked three high-profile recurring roles: Judah Botwin, the deceased husband of Mary-Louise Parker on the pilot of "Weeds"; John Winchester, the father of Jared Padalecki and Jensen Ackles on the pilot of "Supernatural"; and Denny Duquette, Katherine Heigl's ill-fated love interest on Season 2 of "Grey's Anatomy."
"That year, I don't know, I've heard people say that I finally matured as an actor, which I didn't believe to be true, but maybe I matured in casting directors' eyes," Morgan says. "
Shonda Rhimes
, especially, saw something in me that no one had and then wrote to my strengths, for 'Grey's Anatomy.' That's the job I think really opened up a whole new world for me.
'Supernatural,' too, but I don't know if they were ever going to bring me back until Denny Duquette started blowing up on 'Grey's.' Then they were like, 'We need to bring that guy back! He might get us more viewers.' Then it just snowballed. The rest of Hollywood went 'Oh shit!' and wanted me at the same time. It was fantastic."
Now officially a successful leading man and the star of his own television series, "
Magic City
," Morgan is grateful to be where he is after 20 years of hard work. Looking back, Morgan wishes he had done some things differently. "Being humble and gracious goes a long fucking way," he says. "I was ego-driven and a bit of an ass. I think it hurt me. I think it hurts young actors today. It is a privilege to be in this business. If you are a part of this business, you are a lucky fucker. Respect it."
Believing in Magic
Morgan met writer-producer Mitch Glazer while starring alongside Uma Thurman in "The Accidental Husband," when Glazer was brought in to do a rewrite of the film's final scene. "He became a fan and always kept me in mind," says Morgan. He says he had no intention of doing a television series, but when he read the script Glazer sent him for "Magic City," a Starz drama series set in 1959, he fell in love with the idea and the character of Ike Evans—the handsome owner of a glamorous Miami Beach hotel who will do anything to keep his business and his family from falling apart.
"I read and I was like, 'Fuck, this is better than the movies I'm seeing; it's better than the TV I'm seeing,' " he says. "I met Mitch for lunch and within 10 minutes I was like, 'I'm the guy. I'm in. Absolutely. Look no further.' We fell in love that day at lunch, and the love story continues."
Much like Morgan's character the Comedian in the film "
Watchmen
," Ike Evans doesn't have a lot of redeeming qualities as a person. However, Morgan has a way of making all his characters endearing, no matter their personalities, by finding their "human" side. "I try to find something people will be able to relate to, which doesn't make it OK for them to do bad things, but you can understand why they do them," he says. "I think that's the most important thing any actor can do - make your character human. I always try to make the audience understand why my characters make their choices. Hopefully that makes them a little bit likable and more real."
Outtakes
- Other credits include "The Losers," "Taking Woodstock," "Fred Claus," and "Texas Killing Fields."
- Upcoming projects include the films "Peace, Love & Misunderstanding," "The Possession," "The Devil and the Deep Blue Sea," "The Rut," and the reboot of "Red Dawn."
- His favorite roles, besides Ike Evans, are Denny on "Grey's Anatomy," the Comedian from "Watchmen," and William in "P.S. I Love You."