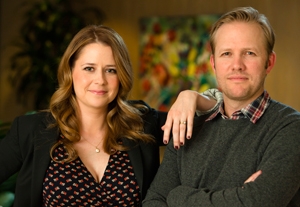 It's been four years since
Jenna Fischer
, best known as lovable Pam Halpert on the NBC hit "The Office, decided she was interested in producing a film for herself to star in. She met with several writers to talk over ideas and ended up falling in love with a pitch from Lee Kirk called "
The Giant Mechanical Man
." As the project developed, so did their relationship; the two married in 2010 and had their first child last September.
Now their cinematic baby is set to premiere at this month's
Tribeca Film Festival
and is being released by Tribeca Film on VOD and in theaters this spring. "The Giant Mechanical Man" is the offbeat tale of Janice (Fischer), a shy woman looking for direction in life, who falls for a street performer named Tim (Chris Messina) when they find themselves working together at the zoo. Malin Akerman plays Janice's younger and more successful sister, and Topher Grace appears as a motivational speaker who pursues Janice. It's been a long road and a labor of love for the pair to get the indie movie made, with production beginning on their credit card.
Lee, you weren't originally going to direct the film. how did that come about?Lee Kirk:
Well, a lot of time passed. It went through different incarnations with different people attached, and we had a director attached. But eventually, it just seemed like the logical thing, especially if we were going to do it for under a million dollars.
Jenna Fischer:
It was a long process of struggling and trying to get it noticed. We had people fall out, and then, all of a sudden, it magically came together.
Kirk:
When we decided to do it for less money is when it became easier to get it made. We dropped the budget to under $1 million. Also, there was something to just saying we were going to do it.
Fischer:
I remember saying, "We're open for business." I pointed to our kitchen table and said, "Here's our production company, right here. Let's set the phone up and laptop up, and let's start scouting zoos." And we did. It was a total "If you build it, they will come." If you call people saying, "We'd like to make this movie, we're thinking of making this movie," it's a totally different conversation than if you go to people and say, "So, we're making this movie; do you want to join us?"
Kirk:
You just have to get it moving. I was in Detroit scouting locations before we even had the money.
Fischer:
You have to be unstoppable. That's my personal philosophy, and it's served me well in life. Yes, I'm going to drive my Mazda from Missouri to L.A. to be an actor. I don't know how it's going to happen, but it's going to happen. Same with this movie: Yes, we're going to make this movie. I don't know how, but I'm not going to stop until it's done.
How long was the shoot, and how challenging was it?Fischer:
We shot in 19 days, and we were only allowed three days of overtime, so it was very tight.
Kirk:
It was challenging, but I was just happy to be making the film. I'm of the mindset that necessity is the mother of all invention. We had 19 days, and we were going to make it work. I thought we'd only get two or three takes on everything, so I told everyone to just be ready to go, and we probably shouldn't stray from the script too much for that reason. And everyone stuck to it -- though there were some amazing ad-libs from every actor. There was one day where we went 18 hours; that was really tough.Fischer: I can tell which day when I watch the movie. That day ends with my character on a date with Topher's character. He's supposed to be boring me to death, and I was sitting there, literally falling asleep. I was so tired.
Kirk:
The great thing is, all the actors had such great attitudes; it never became stressful for me in terms of that. I never felt a pressure that I was putting anyone out, which was amazing. That started with Chris and Jenna.
And how was working together?Kirk:
It went really well! We trust each other, which makes it a lot easier.
Fischer:
And we like spending lots of time together, so working together was actually a pleasure. And you gave me such great direction. There were a few times when you needed to elicit a certain response, and knowing me so well, he could give me direction no other director could give me.
Kirk:
It is a little awkward directing your wife in a make-out scene. There's no book to tell you how to do that.
Fischer:
Chris would not full-on kiss me; he kept holding back! We actually had to reshoot that scene.
Kirk:
It was the only scene in the movie we had to reshoot. It was apprehensive on all levels. I was, you guys were, you could tell the crew was kind of snickering. It was just an odd day of filmmaking. When we went back and did it, everyone had gotten it out of their system, and it was much better.
Jenna, why do you think you excel at playing these quiet, yearning characters?Fischer:
I don't know; maybe I just spent so much of my life being these sort of invisible people who were dying to have something happen in their life. There's so much inside of me that is Pam or Janice, even though my personality now doesn't reflect that. But my formative years -- the thing I feel we carry around with ourselves even as we age -- that girl is Janice. So it's so easy for me to tap into that place. That time of your life is easy to love in hindsight, when you know how it all turns out. But at the time, when you're lonely and in L.A. and you have no boyfriend or acting career and you're working as a caterer, it's a loneliness that stays with you. So my base is that girl. And I love that girl so much; I love bringing her to life. And I love that she gets to live her dream; she gets to marry Jim Halpert or be with Tim Tucker and live this artistic life.