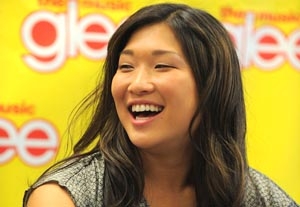 "If you say, 'You've made it,' then you kind of come to a standstill ,and I don't think any actor wants to do that," says Jenna Ushkowitz. 
A self-described "Broadway kid," Jenna has been onstage since the age of nine, having performed in major Broadway shows such as "The King And I" and "Spring Awakening." Now she's part of what can only be described as a cultural phenomenon: Fox's mega-hit "Glee," which returns on Tuesday, April 13.
Jenna plays Tina, a quiet goth girl who hides behind a stutter before finding her voice in the school's glee club. The show has developed a rabid following -- diehards are known as "Gleeks" -- but Jenna remains grounded and unfazed. In fact, despite spending most of her life onstage, she still admits to being "very shy."
Chosen as this week's Actor2Watch, Jenna will be featured in a series or articles, fun facts and social media tweets through this week for subscribers of
Girl2Watch.com
.
ACTOR2WATCH
:  What was your real break as an actor?
JENNA USHKOWITZ
:  I would have to say "Spring Awakening" as an adult actor. 
A2W
:    How did you get your SAG and Equity card?
JU
: I was five or six when I joined SAG, and Equity I joined when I was nine. 
A2W
: What kind of training did you get?
JU
: I went to performing arts high school, and I took dance and acting every day. Then, I went to Marymount Manhattan College and I have a B.A. in acting, with a concentration in theater performance and a minor in musical theater. I studied there for three years. Tim Howard was my main vocal coach there, for acting I had Kevin Connell, and Peter Minor was my acting coach outside of Marymount. 
A2W
: Tell us about the audition process for "Glee."
JU
: I was actually in "Spring Awakening" on Broadway at that time. Jim Carnahan, who was the New York casting associate for "Glee," brought us into read and put us on tape.  They sent the tapes out to L.A., and Ryan Murphy and Brad Falchuk got their hands on it and made a trip out to New York, and I got called back.
I sang for them in the room, and I read for them. They had me improvise for Tina, because in the pilot there's not really a lot to her.  There's not a lot of backstory to her character in the beginning. So they had me improvise with the stutter and kind of make her up. It was scary because I wasn't expecting that, but I just went with it.
They called me back to meet all of Twentieth Century Fox and Ryan Murphy and everybody. I went to L.A. on a red-eye, and I sang for them again and did the same thing I did in the audition. I had never tested for a network before. I had no idea what that meant. I had never really been to L.A. before -- much less by myself -- and you're navigating yourself around and trying to get to the actual building.
I went back to the airport, found out I got it at the airport, and then went home to New York. It was a whirlwind. It was the longest process, but the quickest process, of my life.
A2W
:    Tell us about your worst audition moment.
JU
: In my singing audition for "Glee," I had this cut and I kind of messed up a little bit, but you never let on in an audition that it's your fault. So I just kept going, and I guess the cut was not clearly marked like it should have been, so at the end of the audition the accompanist said, "You might want to get a better cut next time." But it just goes to show even if you have a bad audition, you never know.
A2W
:    Do you have any tips for novices or is there anything you wish someone had told you when you first started out?
JU
: Ask a lot of questions.  Don't be afraid to take risks and stand out.  It's a numbers game. And do
not
give up.