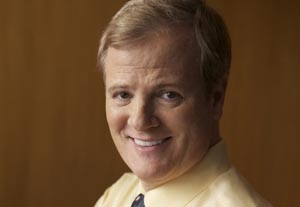 Kevin Butler
is not your normal spokesperson. The job title–toting
Sony
executive leads departments from Add More Awesome to Family Showdowns to First Person Shooter Relations and answers customer queries while highlighting PlayStation 3's many functions.
Just don't tell gamers he isn't real.
"It's like there is no Santa Claus," says actor
Jerry Lambert
, who plays the made-up Sony vice president Kevin Butler for PlayStation's "It Only Does Everything" campaign. "They get so disappointed. They want to believe this Sony executive is out there."
What started as four commercial spots, with only one aired, turned into a spokesman gig, a major advertising campaign, and what Ben Stiller calls "the funniest things on television." 
Sony originally wanted a young gamer type as the spokesperson, according to Lambert, but advertising agency Deutsch/LA convinced the company to keep Lambert on as Butler. Almost 100,000 Twitter followers and countless YouTube views later, the rest is history.
"Sony has a great sense of humor, and they've really pressed at the ad agency and me to come up with something that will hopefully sell the product and make them laugh," says Lambert. "It's been a blast to play."
Lambert is a self-proclaimed late bloomer. In 1992, he moved to Los Angeles from New York, where he attended the American Academy of Dramatic Arts, and was dropped from his original commercial agency after 10 auditions with no callbacks. He didn't land his first commercial—a spot for AT&T—until he was 40.
Success comes to those who wait. Lambert was the spokesperson for Geico from 2002 to 2005, playing a company executive, and he appeared in a slew of Holiday Inn commercials from 2006 to 2007. He became PlayStation's spokesperson in 2009 and is starting his third year as Kevin Butler.
"I didn't really picture myself being in commercials," Lambert says. "I love doing them. They're like little movies."
Lambert says having multiple campaigns air back to back helps with visibility, and although he is usually recognized as Butler, his consistent comedy work keeps him on casting directors' radar for other projects.
"It definitely opens the door in terms of sitcoms and comedy films," Lambert says of working in commercials. "I was shooting a pilot, and Ben Stiller was producing it. One of the first things he said to me was 'I love the PlayStation commercials. They're the funniest thing on television.'"
Lambert says adamantly that there is no difference between acting in commercials and acting in other mediums. "It's still acting," he argues. Creating Kevin Butler was not unlike creating a recurring character for a TV show.
"As the ad agency is writing the character, you discover more about the character," Lambert explains. "It's almost like doing a TV series where each week you get the script and you're like, 'I didn't know that.' You're learning about the character."
Because Butler has generated such a huge following in the gaming community, Lambert gave a speech in character at the E3 gaming conference in 2010. ("Kevin Butler is my religion!" one commenter responded on
YouTube
.) But Sony was initially nervous about Lambert's ability to perform live, he says.
"They were afraid I wouldn't be able to go out in front of a crowd and speak, not realizing that I was a stage-trained actor," Lambert remembers. "That's not always required of you to do that as a commercial actor. This has gone to another level."
Only one problem is left.
"When I sign autographs, I don't know whether to sign 'Kevin Butler' or 'Jerry Lambert,' " Lambert says. "He's part of the language of the gamers' world."
Watch Jerry Lambert as Kevin Butler below:
For more Kevin Butler spots, visit
Kevin Butler's YouTube channel
.