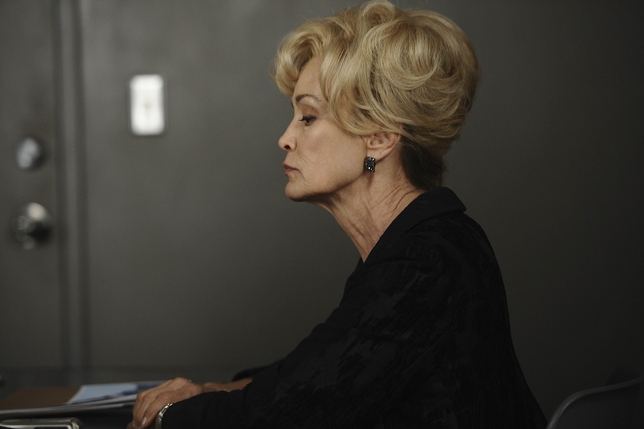 Two-time Academy Award winner Jessica Lange had nothing to prove when she signed on for the first season of FX's "American Horror Story." As scheming neighbor Constance, she ended up stealing the show—and winning a SAG Award and an Emmy in the process. Now she's the rigid Sister Jude on the second season, "American Horror Story: Asylum," a nun with a dark past who runs a mental institution with a cane and a sharp tongue. Lange had nothing to prove the first time around, but for the second season she had one person she wanted to please: herself.
When talking about the standalone "Asylum," creator Ryan Murphy had a question for Lange. Had she ever played a drunk? "And I said no," Lange says. "That's something I've always wanted to do. And that's how we ginned up Sister Jude's history, a long story about drink and bad luck."
Lange got her drunk scene to spectacular effect in the third episode, when a tipsy Sister Jude introduces 1932's "Sign of the Cross" to the inmates. In one vicariously embarrassing, hilarious, touching speech, Lange transformed Sister Jude from a hard-nosed villain into a figure worthy of sympathy.
Not an easy task when the character had previously blackmailed a woman into institutionalizing her lesbian lover.
As Lange points out, that kind of behavior goes hand-in-glove with the 1960s time period of the show. As for the series' more outré story lines, Lange admits to wondering if they've gone too far at times. "Yet no matter what you think, whatever incident, the truth is there is always, always, always some news item that supports that," she says. "And we're dealing with the Catholic Church here, and I think we've been very kind to the Catholic Church! When you think about the priest who molested how many blind boys? The horror of that, we don't even get close to. There's never anything in our show that hasn't been in the real world. Between the Catholic Church and the world of psychiatry, there are a lot of natural horrors."
Lange's career has long shown that she appreciates doing work that's "on the edge," as she says, and for that she may have found her artistic soulmate in Murphy. "We had these conversations about stuff that I really, really can sink my teeth into," Lange says. "Ryan is incredibly generous and really wants to do things that interest you. And he implicitly understands an actor; if you're doing something that's actually exciting, your work is always better." And, she points out, "when you say to him, 'Yeah, can I do another musical number?,' he'll come up with something for you."
Don't expect Lange to make a permanent home for herself on TV, though. She'll be involved with the third season of "American Horror Story" in some capacity ("We're still talking about what it's going to be," she says), but she's been spoiled by the miniseries quality of this series. "The idea of doing it year after year after year, the same character? I don't know how people do that," she says, though she admits to loving the "evolving process" inherent in filming a series.
"You have to be light on your feet, and I like working that way," she says. "It forces you to work instinctively, just out of the actual moment, whatever your first instinct is rather than thinking it through or preparing. Maybe it appeals to me because I've become a lazy actor. I don't know!"
No one but Lange would ever dream of calling her a lazy actor. Everyone else is too busy watching her performances, awestruck.