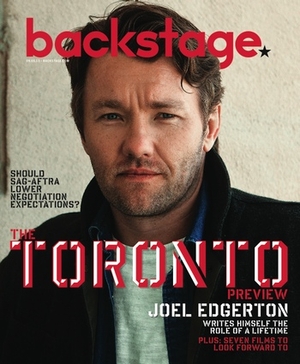 Joel Edgerton graces our cover this week, and the Aussie actor chatted with Backstage about writing, producing, and starring in the police drama "Felony," premiering at the Toronto International Film Festival. Check out a sneak peek of the feature below!
---
Joel Edgerton On His Prolific IMDb Page
If you believe everything you read on the Internet, Joel Edgerton is the busiest man in the business, with no fewer than five movies due out in 2014 Hearing this, the actor laughs. "No, no, there's a few things on my IMDb that should probably be taken down," he says. "It makes me look really prolific, but really I'm just hanging out and grocery shopping." Part of the problem is that a few films he was in talks for have been pushed or fallen apart, as is par for the course in Hollywood. "For a while I thought I was cursed because every movie I was sort of attached to seemed to fall over," Edgerton says. "I had a week of being really excited to do 'Black Mass,' and that fell apart. 'Double Hour' is being pushed, I think."
Edgerton is a firm believer that "the right movie happens at the right time." Some scripts he's been offered have been around for 20 years. "It's funny when you're offered a movie and hear it was originally meant for Michael J. Fox and Kelly McGillis. Recently, I was sent something that had so many incarnations that the original had someone like Paul Newman attached to it."
Edgerton has filmed "Jane Got a Gun," which reunites him with "Warrior" director Gavin O'Connor, and is prepping to shoot "Exodus" with Ridley Scott. He says that "Midnight Special" from director Jeff Nichols is "very much alive and kicking." One role you won't see him in, however, is the Tony-winning musical "Kinky Boots." Though Edgerton starred with Chiwetel Ejiofor in the 2005 film on which the musical is based, he has yet to see the show.
Recalls Edgerton, "Chiwetel and I are good friends, and when we first heard about the musical, I said, 'I didn't even know this was happening; did you?' He said, 'Yeah, they asked me to be in it.' " Edgerton laughs and says his ego wasn't bruised. "For a moment I was like, 'Come on!' But in fairness, I can't sing at all."