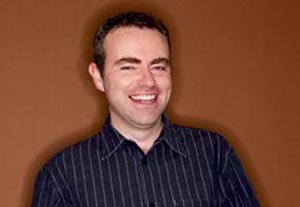 John Crowley knew he'd face challenges in helming Peter Harness' Is Anybody There?. The film is an almost comic meditation on aging and death. "It's happy and sad, and it must have a light touch which never veers towards whimsy," says Crowley. "It can skirt alongside it but never be submerged by it. And while it's also sad, it can never become sentimental. That's a tightrope."
Starring Michael Caine and child actor Bill Milner (Son of Rambow), the film recounts the unlikely friendship between an aging and irascible magician and a young boy whose parents own the retirement home where the old man resides. The youngster has become obsessed with dying and the possibilities of an afterlife.
The Irish-born Crowley, who was nominated for a Tony Award for his direction of Martin McDonagh's The Pillowman, says he's drawn to material that combines genres and is character-driven. And if there is action or violence, "it emerges from character, from an unresolved emotional knot in the story," he says, attributing his aesthetic to his years as a stage director, most notably at the Donmar Warehouse in London.
Still, he is keenly aware of the demands of filmmaking, having earned a British Academy of Film and Television Arts Award for his 2007 telefilm Boy A, which was also nominated for best drama. And his film adaptation of Harold Pinter's Celebration, starring Colin Firth and Michael Gambon, earned an Irish Film and Television Award acting nomination for Gambon.
Back Stage: Did you have Michael Caine or any of the other actors in mind when you read the Anybody screenplay?
Crowley: No, there was just something about the tone that fascinated me: the idea of examining growing old and dying through the eyes of a child. That was very interesting. And I had never seen a film set in a retirement home. And I felt that there were gentle and comic possibilities we could explore. But it always came back to emotional depth. We worked on the script for a long time before we thought of Michael. The casting director suggested Michael. We didn't have anyone in mind, and suddenly we went, "Ah, of course. It couldn't be anyone else.' The voice colonized the film. When the script was ready, we sent it to Michael. Very quickly he read it on the plane, and when he got off the plane, he agreed to meet me for lunch, and that was it.
Back Stage: You auditioned some of the actors, didn't you?
Crowley: The boy, yes. We did a huge number of auditions and saw endless kids and gradually whittled it down. I was looking for an old spirit in a young body. I was looking for someone who was very smart and who could understand comedy and not do cutesy. And have a certain melancholy about him. And Bill had that. He's just a natural screen actor. He has a way of communicating an internal quality to the camera which is pure instinct because he's not trained.
Back Stage: What would be the ideal John Crowley actor?
Crowley: I look for truthfulness and actors who can find wit in odd corners and humor in dark places.
Back Stage: How do you go about auditioning?
Crowley: The actor reads a scene or two from the script two or three times, and I get a feeling of what they're bringing to the scene and either draw out elements of that or try a radically different take on the scene.
Back Stage: You want to see if the actor can take direction?
Crowley: Usually it's not just about what's going on between you and the actor. It's more about, Am I understanding the scene and feeling it emotionally? When that happens, it's exciting, and it can happen quickly.
Back Stage: Does finding the right actor usually happen quickly?
Crowley: It does in auditions. But then the actual process of building it towards performance is reinventing the wheel. The audition is a form of performance. The audition shows how quickly an actor can get to a truth in a scene. But that's not the same as seeing a finished performance, where the actor sustains a role. There are some actors who are brilliant at auditioning, and there are actors who are rubbish at auditioning but they're great actors. And you have to spot that, see through that, and find the kernel of what the actor can do.
Back Stage: What do you bring to filmmaking as a theatre director?
Crowley: I place the actor at the center of the whole filming process—never let the technical end of the production run the set. And in theatre you quickly learn how to facilitate the release of truthful performances.
Back Stage: Do you think of yourself primarily as a film director now?
Crowley: It takes priority. I directed plays for 10 years, and I was directing three or four plays a year, and I began to run out of passion to direct that much theatre. What I like about film is that it takes that much longer to make and you shape them. But I like to jump between plays and movies.
Back Stage: If you're directing a play, what do you look for in an actor? Or is it pretty much what you look for in film actors?
Crowley: There's a difference. In a stage play, there's the element of repetition. An actor is doing eight shows a week, and that suggests almost an athletic prowess, which is to say you can put a nonactor in a film and get a great performance, but you can't put a nonactor in a play and get a great performance. And the big difference in acting for film and stage is that when you release a scene emotionally in film, you don't want to do it in rehearsal; you want to do it when the camera is rolling. You don't want to over-rehearse, whereas in theatre you want to crack open the scene in rehearsal and do it pretty quickly because that's only the first stage of the process. The next part is figuring out how you are going to repeat it. And then when the audience comes in, that informs the piece. During previews, you're still crafting a live performance. With a film, once the audience is there, you can still shape it by editing. But you're not working with live performers.
Back Stage: What is the key to being a good director?
Crowley: There are a number of them. Not minding being unpopular is one. You have to guard something which is virtual. In the theatre, that's the playwright's vision, and you have to articulate that and bring it to the world. That's true in film as well, but you also have to make sure that all of the other elements don't dilute that. But both theatre and film are about storytelling. How you do it is different. In theatre you deal with actors and characters and intentions and subtext and how stuff reaches across the footlights, whereas with film it's more fluid. You need the editing. There's an old adage: There's the film you write and the film you shoot and the film you edit, and if you're lucky, the one you end up with is the one you set out to try and make.
Back Stage: If you could redo your career, what would you do differently?
Crowley: There have been periods I've not been directing much, because I've been spending time in development, and now think I could have done more directing. Or I think I should not have done [one project or another]. But you can't really think in that way, because the ones that didn't go so well inform your choices the next time, and you really learn much more from things that don't work than those that do.