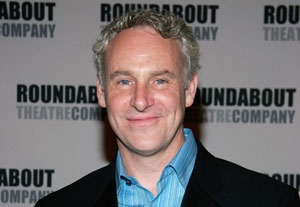 John Dossett didn't have to go far to join the "
Newsies
" cast. The South Orange, N.J., resident was initially drawn to the project because Paper Mill Playhouse, where the show premiered, was 10 minutes from his house.
Before taking on the role of newspaper magnate Pulitzer, Dossett knew the 1992 film from watching it with his son. Though he thinks the stage version, which opens on Broadway March 29, is better than the movie. 
An old hand at Broadway, Dossett relishes being around the cast's young energy, and hopes to set an example.
"It's so fun to see their unbridled joy in doing this," Dossett says. "I've been doing this over 30 years. I have a life that takes time and energy and money. These kids are just walking in and all they have to do is pay the rent, get some food, and their life is complete because they have this great Broadway gig."
Dossett talks with Back Stage about interpreting his character and tips for career success.
Back Stage: How did you get involved in "Newsies"?John Dossett:
I just heard about the audition. My agent called me and I said sure, because I was leaving "Mamma Mia." I really had no idea what I was getting into. The piece was in really good shape initially. Our director Jeff Calhoun is a visionary in what he has put together here. After the performances [at Paper Mill], I talked to people from all over the country who have been waiting for all of this show to be written. It kind of took on a life of its own. I haven't been as excited about a show since I did "Gypsy" with Bernadette Peters. I'm really honestly just trying to temper my enthusiasm.
Back Stage: You sound just as excited as the younger actors.Dossett:
I am! I moved here in '78, and I became professional in '79. I've been doing this a long time. And I've been very lucky to have been associated with some phenomenal shows and productions, but this one's really special. And I think it's going to be huge.
Back Stage: Do you say that about every show?Dossett:
No, I don't. Believe me, I don't.
Back Stage: How familiar were you with the 1992 film?Dossett:
Our son was just fixated on the movie. We watched it over and over and over. I haven't seen it in several years now, but when we were in rehearsal the first day, I was singing along with all the newsies' songs because I knew them pretty well. But my character didn't have a song in the movie. And he's kind of much different from Robert Duvall's portrayal.
Back Stage: How are you re-envisioning the role?Dossett:
I've done a lot of historical characters and a lot of characters that come from movies, and I never go back to see what they did. It's really a moot point for me. I just want to make it my own and go from there.
Back Stage: What is it like working with the young cast?Dossett:
It's fantastic. At Paper Mill, they have huge wing space stage left. When some of us weren't on stage, we would be in the wings just watching it and just soaking up the energy that was coming back from the audience. These kids are so talented and some of them are really kids. Probably for at least half a dozen, it's their first Broadway show, and for several it's their first Equity show. That kind of excitement, you can't manufacture. Because I remember back in '78, I was always one of the youngest people in the company, and now I'm kind of the old guy. I kind of embrace that and try to set a good example for the kids.

Back Stage: What advice would you give them on being a Broadway actor?Dossett:
Just be present and be focused and really engaged. Then you're really in the moment of whatever you're doing, and you can learn and you can grow. It sounds very basic, but that's what acting is. My part, although it's very important, I'm on stage hardly at all. I have a lot of time to talk to these kids. They teach me a lot of things, like with electronics and phones. When I knew I was talking with someone at Back Stage, I tried to think of when the last time I read a Back Stage. When I came here in '78 and you're non-union, this is how you got along. Thursday, you got your Back Stage, and you tried to plan out your week. We didn't have cell phones. We didn't have answering machines. We had services where you had to call the service all day if you missed a call, if your agent was trying to reach you, or if you had an appointment. It was a very different environment.
"Newsies" opens March 29 at the Nederlander Theatre, 204 W. 41st St., www.NewsiesTheMusical.com; $93–$137.