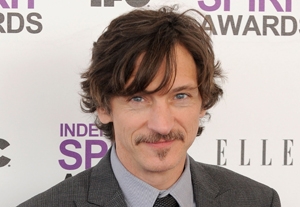 John Hawkes, the Academy Award-nominated actor whose career has spanned nearly 30 years and includes more than 100 film and television credits, has gotten attention in recent years for playing creepy, menacing roles in films such as "Winter's Bone" and "Martha Marcy May Marlene." At the same time, some of his best performances have been characterizations of mundane men trying to do the right thing for themselves and their families in films like "You and Me and Everyone Know" and the HBO series "Eastbound & Down."

Despite his films' differences in style and tone, Hawkes is helped by strong performances from child actors in each of the titles mentioned above. And in his new film, "The Playroom," which had its world premiere at the Tribeca Film Festival last week, Hawkes plays Martin Cantwell, a passive father who struggles to keep his dysfunctional family together as ugly truths are revealed over the course of an alcohol-drenched dinner party in 1970s suburbia. The night unfolds through the eyes of his four children, who are sequestered in the attic but sneak downstairs to spy on their parents' debauchery.

"One of the things that attracted me about this script was that it was the kids' story," Hawkes says of "The Playroom." "You don't see that often. I also was impressed with the fact that the kids were human beings in the script. They were interesting and funny and well-rounded. They're not the Hollywood version of kids, but just kids."

Newcomers Olivia Harris, Jonathon McClendon, Alexandra Doke, and Ian Veteto play the Cantwell children, with Hawkes' former "Deadwood" co-star Molly Parker as wife and mother Donna. Hawkes says that he does not feel qualified to offer his advice to inexperienced young actors on set, simply because he is so often impressed with their raw ability.

"Believe me, I've worked with some non-actors who I feel are fantastic, and I don't have anything on them," he says. "When I'm working with them, I'm just trying to keep up sometimes."

His sincere modesty is disarming, but Hawkes has also commanded attention opposite some of the best actors of his generation. He recently completed shooting "Lincoln," directed by Steven Spielberg and starring Daniel Day-Lewis as the 16th President of the United States in the final four months of his life. Hawkes plays the supporting role of Colonel Robert Latham, who he says is part of a trio with characters played by James Spader and Tim Blake Nelson. The cast also includes Sally Field, Tommy Lee Jones, Joseph Gordon-Levitt, Jared Harris, David Strathairn, Hal Holbrook, Walton Goggins, and Jackie Earle Haley.

"The first thing that excites me as an actor is a terrific script," Hawkes says, calling Tony Kushner's screenplay "the best studio script I've read in many, many years." The stellar cast and opportunity to work with Spielberg were obvious draws, as well, but he admits that the opportunity to act opposite Daniel Day-Lewis trumped almost every other consideration.

"I only worked one day with him, but it was fantastic," Hawkes says. "I must say, I don't believe I've met Daniel Day-Lewis. I spent 10 hours with Abraham Lincoln, which was thrilling in and of itself. But it never felt weird to me. I don't have a problem with an actor's preparation or process. Anyone who's put off by his intensity is probably afraid of their own shortcomings. He's the character when you meet him and work with him, but it's not weird to me, or silly, or obsessive in the least. It's his way to do extraordinary work." He adds, "I don't have actor training myself. I've been accused of being a Method actor, not even quite knowing what that is, but I loved his commitment to the project."

In addition to "Lincoln," which will be released in December, Hawkes earned early Oscar buzz for his lead role in "The Surrogate" at Sundance earlier this year, and also premiered "Arcadia" – another film with kid actors – at the Berlin International Film Festival. Next year he will co-star with Yasiin Bey (Mos Def) in "Switch," a pseudo-prequel to Quentin Tarantino's "Jackie Brown." ("Switch" is directed by Daniel Schechter, whose film "Supporting Characters" had its world premiere at the Tribeca Film Festival.)

"I'm just looking for a good story, hopefully in the hands of good people to tell it, and also a good role for me," says Hawkes when asked how he chooses his roles. He reveals that he was originally offered a smaller part in "The Playroom" years ago, when he was still living in Austin, Texas. He had mutual friends there with the film's writer-director Julia Dyer and her late sister, Gretchen.

"I was offered the role of the other husband, in the couple that comes over, and was fine with that," he says. "I just loved the script. So I guess I'd been on their radar a bit as a possibility to be part of the film for some time. It took a long time to get there, but it was worth the wait for sure."