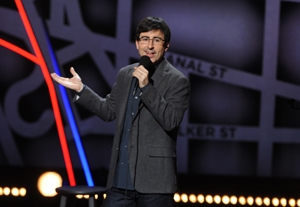 British comedian John Oliver has been skewering American media and politics as a writer and correspondent for "The Daily Show with Jon Stewart" since 2006, winning Emmys as part of the show's writing staff in 2009 and 2011. But when will the nativized New Yorker, who recently got his green card, become a U.S. citizen?

"It's still too early for that, both legally and emotionally," he says, then laughs. "You know, it would be nice to vote. It is taxation without representation at the moment."

In the meantime, Oliver is showing his commitment to comedy in this country by showcasing established and up-and-coming comedians on "John Oliver's New York Stand-Up Show," which returns for its third season July 20 on Comedy Central. Headliners include Hannibal Buress, Marc Maron, Michael Ian Black, Dana Gould, and "The Daily Show's" Wyatt Cenac, and the new season also features rising stars Leo Allen, Kurt Braunohler, Michael Che, Dan St. Germain, Emily Heller, Al Jackson, Hari Kondabolu, Ben Kronberg, Mike Lawrence, Jared Logan, Adam Lowitt, Adam Newman, Mark Normand, Iliza Shlesinger, Sheng Wang, and Andy Zaltzman. Oliver hosts each episode, introducing his fellow comics and performing his own standup.

Read our Q&A with Oliver to learn more about his eponymous show, and what it's really like to work at "The Daily Show."

At a taping of "John Oliver's New York Stand-Up Show" this spring, you asked an easy question of the audience and got a completely unexpected response, which was funny in itself because it made you react on the spot and change your approach. But how do you deal with your prepared and tested standup material being subverted at the very moment it's being preserved for TV?
John Oliver: I love that. And in fact we kept that in, in the editing. The beauty of that at the moment is it kind of knocks you out of the mindset of, "This is being recorded for television and for posterity, and it must be perfect." Which is inherently ludicrous because standup is an imperfect form, in that it is supposed to be interactive, even if that does not involve a constant back and forth discussion with the audience. But you respond to how an audience is responding in different ways. So I like to have moments in any standup set where you are literally asking a question without being 100 percent sure what answer is coming back, because it kind of knocks you out of yourself a bit and there's just something fantastic about that moment.

How do you curate the lineup for each episode?
Oliver: It's kind of a back and forth between me and Comedy Central, with us both suggesting people that we like and that we've seen over the year. It's a mixture between established names like Marc Maron or Wyatt Cenac, and much newer people like Michael Che, who I love. I guess this will be his first time performing standup on TV. That's one of the most fun things in the world, to get people their first TV spots.

Can you describe your audition for "The Daily Show"? How did that opportunity come up?
Oliver: I think Ricky Gervais had recommended me to Jon. I didn't know Ricky then, I was just working in England, but I think Ricky was aware of some stuff that I had done. As I remember, they asked me to write something and put it on tape, and then I came over, met them, and I have barely been back since. So it all happened very fast. I have a storage unit in London which still has my stuff in it from six years ago.

My typical week is that I'm here Monday to Friday, and I'll probably be shooting or editing or doing standup over the weekend. In hiatus weeks, I'll have "Community" or I'll be writing something else, and I have a podcast I do each week, so I'm basically tapped out for time. But I like it that way. I'm exhausted, but it's a happy exhaustion. I love it here.

What was the first "Daily Show" piece you did that stood out as a personal breakthrough, or made you think, "I guess they like me, and I think I'm going to get to keep this job?"
Oliver: I think partly that moment never comes. [Laughs] I mean, there's always a voice in your head that's saying, "You are terrible at this, and that is going to be exposed sooner or later. Congratulations on skating by so far, but your number is going to come up." That is an ever-present voice.

When I shot my first-ever field piece and I was interviewing a guy, the field producer involved was quite nervous. You know, you take out someone who has not done this before, and you kind of have to deal with all of their failures. And I think on the first tape change he took me outside and said, "OK, so you are going to be able to do this. But you're not very good at it at the moment." [Laughs] I thought that was a really honest and very useful thing to hear, because it calms you down. "Oh, so this is going to be OK, but it isn't OK now." That seems like a really great piece of passive-aggressive wisdom.

For the field pieces in particular, you have to think of the edit. You need to think of what you need to tell the story, so you have to have the person telling all the pieces of the story. You can't leave something out. So it's thinking both about yourself in the room at the time, and thinking about what you're going to need to tell the story later.

That must be particularly challenging for a standup comic because standup is supposed to feel like a conversation with the audience, but in fact it's more of a monologue.
Oliver: In improv, the whole thing is that it is a relationship between the two people, as a back and forth. In standup, you don't really want to be listening to what somebody is saying; you want to project your jokes into their face. And that's really not a good instinct with a "Daily Show" field piece, where it's supposed to be an interview. [Laughs] You can't just harangue someone and then drop an imaginary microphone on the floor and say, "You've been great, tip your waitress." That doesn't really work.

Traditionally, "The Daily Show" has used a lot of improv people like [Steve] Carell and [Stephen] Colbert, but they actually haven't used a lot of standups. I did sketch comedy, but I never did improv. So I've just tried to learn as I go.

The studio stuff's pretty easy to do. You just want to try and relax as much as you can, and react to how the audience is responding or what Jon's doing rather than just reading it. But the field pieces are the thing that are actually a very narrow skill set, which no one really has when you arrive here because it doesn't really exist as a job. [Laughs] It looks like being a journalist, and you have to tell a story like a journalist does, but then it has absolutely none of the inherent tenets of journalism that traditionally you would need to do it.

Has writing and performing for "The Daily Show" made you more personally interested in politics?
Oliver: I was quite politically minded before. I've always been interested in it, but I don't think I'd be a very good activist. I know I'd be an absolutely horrendous politician.

It's more to do with seeing inherent ironies in things that you see or that make you angry, and trying to process that into humor. That is something that I find personally quite cathartic and an interesting challenge. My interest still is really just in comedy. If I wanted to take a more activist or journalistic slant in work, I should probably just go be an activist or a journalist. But I'm happy being a comedian.