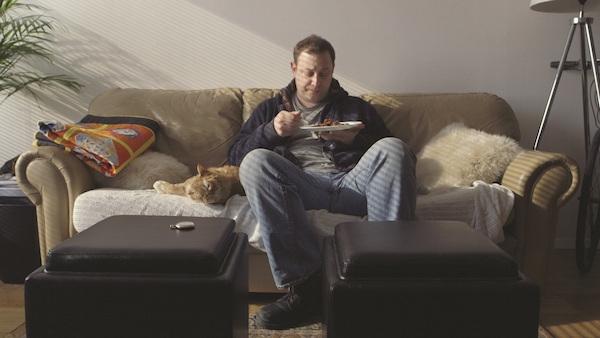 After shooting and editing several Web series, including "Off Off," "Internet Affairs," and "The Thing," busy NYC-based filmmaker John Painz directed "5AM," a short that made the festival rounds in 2013, and is now making a splash with his feature debut "Stuck."
Shot almost entirely in one apartment, "Stuck" follows agoraphobic John (played by Painz), who, unable to leave his home for over a year, works from home, finds an escape in cooking, carries on an affair with his former therapist, and is challenged by a new therapist to take baby steps towards his recovery and discover what's been holding him back.
Painz chats with Backstage about his casting process, being resourceful with a low budget, and overcoming the challenges of being an actor-director.
What was your casting process like?
Almost every actor we cast had been in one of our earlier projects or was recommended to us by someone we trusted. Our first hurdle was John's therapist, Dr. Morning. My producers and I decided to have a reading of an early draft and invited Satomi Hofmann, who worked on our TV pilot "Untitled Zombie Project," to come by. From there, the entire cast fell into place rather quickly. We'd met Katie Howe (Rachel) on the set of "8 for Vegas." She's a very talented stage actress, and "Stuck" is her first feature. Britt Genelin (Melissa), Brian David Sloan (Doorman), and Brian Linden (Dr. Holder) are all Axis Theater Company alumni (where our producer Lynn Mancinelli and associate producer Marc Palmieri are members). Galit Sperling (Lisa) and Lynn are members of the Carnival Girls Theater Company. All from previous working relationships, all friends of someone on the film, and all of them very talented and professional.
With your protagonist's background, did you speak to any therapists about how they would treat an agoraphobe?
I didn't speak with any therapists before making the film. I used some personal experience to guide the overall message and story. I did meet a mental health professional at our world premiere, and he said he was quite moved by the film and its characters. Having dealt (and still dealing) with agoraphobia, I sat back and tried to think of how to get someone in therapy to talk about their problem when they might not want to. I felt that if a therapist could get a patient to talk about his or her life in some small way, it might begin to chip at the larger issue, which could be the beginning of a successful doctor-patient relationship.
Conversely, have you heard from any agoraphobes or former agoraphobes who saw the film? If so, what did they think?
I have not. We've only recently started our festival run. I would love to allow people who are dealing with this disorder to have access to the film. It is quite possible that, if we do not achieve distribution, we will put the film out into the world to entertain and hopefully inspire people who are dealing with their own challenges. I will say, I look forward to the day when some agoraphobes do watch the film, and give me their take on it, the character, and the challenges he faced.
What were some of the rewards and challenges of shooting largely in one location?
This script could not have been a better first feature project for an actor-director. Seventy-five percent of the film takes place in one location: my old apartment. We were shooting about six pages a day over eight or 10 hours. This allowed us the opportunity to take our time setting up each scene's shots, keep a consistent style, and shoot for coverage. The challenge of shooting in one location is being able to keep scenes fresh so that you do not bore your audiences. You're reasonably limited to what you can do with the camera that you haven't already done. Keeping the audience confined in the space was an important part of the film's style, but it was necessary to allow for some ultra-wide shots so that we weren't adding claustrophobia to our audience's experience.
Talk about your background as a filmmaker and as an actor. What experiences prepared you to shoot this?
I'm actually a self-taught filmmaker, and I'm completely new to acting. In fact, I've only acted in my own projects. I've never been on an audition, and the thought simply terrifies me. I have such respect for actors in this city who continually grind day in and day out looking for their next role. I originally went to SVA to pursue comic book illustration in the early '90s, and fell into graphic design, which was my career for the last 15 years. I met Julie Sisson in 2010 and we became fast friends. We developed a Web series called "8 for Vegas." We had absolutely no idea what we were doing, but had a real blast, a fantastic team of friends working with us every Sunday for eight weeks, and in the end produced a nine-episode Web series. From there, every project has been a stepping stone. Our short film, "5AM," was my first real foray into acting. I wrote, directed, shot, edited, did the sound, and acted in the film. I was unemployed at the time, had camera and sound equipment just sitting there, so I took nine days, shot the short, and we got it into a couple of festivals.
What advice do you have for other actor-directors?
If you're going to act in and direct your own film, you better hire people who are going to understand your vision fully, and have the technical abilities to do what you see in your head. You need to take your time during pre-production to make sure you're all on the same page, and solve all of your set and scene problems before you get to set. Solving problems on set is one of the biggest time-killers there is. You also need to be able to trust these people to do their jobs. I find that, unless everyone is 100 percent on a scene, if the director isn't behind the camera, there isn't a director. You're acting, and your performance is what's important at that moment, but only for you. Everyone else is waiting on the captain of the ship. So, if there's a thing that's wrong on camera, your DP and AD had better have their act together to catch it, because the director is not watching the monitor. If there's something wrong on set that needs to be solved and you're on camera, your AD or producer had better be able to solve those problems without you. They also need to be confident enough to tell you when you're stinking up the place with your performance, because, odds are, no one else will.
What did you learn from this shoot that you will carry into your next project?
Using budget as a motivator to make one's story, characters, and plot unique and interesting was such a valuable experience. From there, I learned a number of equally important lessons while filming: Make sure you pay your cast and crew. Feed your cast and crew healthy food; giving them something that will sustain them will benefit the production in the long run. Hire good people. We had a fantastic team, and this was one of the easiest shoots I've ever been on, hands down.
Learn more about Painz and "Stuck," and follow the actor-director on Twitter @jpainz.
Inspired by this post? Check out our film audition listings!