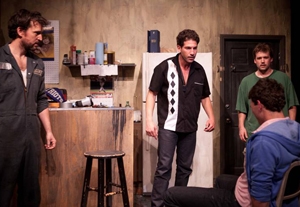 John Pollono has been honing his skills as a playwright and actor since he arrived in Los Angeles 10 years ago. Last year the New Hampshire–raised Pollono scored a critical and audience triumph with his searing dark comedy, "Small Engine Repair," which was presented by Rogue Machine in a world-premiere run beginning in April 2011 at L.A.'s Theatre/Theater. Now it has earned Back Stage Garland Awards for the production, for Pollono's script, and for the four-member ensemble cast, which includes him.
This fortuitous news follows previous honors for Pollono's labor-of-love project. It netted
Ovation Awards
from LA Stage Alliance for play in an intimate theater, acting ensemble, and director (Andrew Block). Recently it scored
Los Angeles Drama Critics Circle Awards
nominations for production, Block's direction, and Pollono's script. Finally, it has received
L.A. Weekly Theater Award
nominations for production, direction (Block), ensemble, and playwriting.
Pollono is in discussions for future productions as well as a film adaptation. How does a blue-collar boy from a New England burg react to such a career breakthrough? "I believe I have found my voice with this play, which has been more successful than anything I've written," he says. "It's not exactly autobiographical, but it's very personal in that it's based on composites of my friends and the place where I grew up."
Set in a gritty machine shop in New Hampshire, the play starts out as a male-bonding story with a slice-of-life feel and a lot of testosterone-charged bravado, à la David Mamet. The humorous reunion of three 30-something childhood buddies becomes more intriguing when tensions arise, and the narrative spins several surprises, leading to a Hitchcock-worthy twist.
Pollono believes that because his earlier forays into writing hadn't drawn from his life experiences, they lacked dramatic potency and honesty. "I started out writing screenplays about cowboys and detectives," he says. "When I was an English major in college, I started to take it more seriously. Then I went to film school. When I relocated to L.A., I started taking classes at a conservatory and doing scenes. That's what sort of opened me up to this world."
In class, Pollono met his then wife-to-be, Jennifer, and they started Jabberwocky Theatre Company in 2004. "We did several one-act plays, and I wrote, like, half of them," Pollono says. "Then I was hooked; I started writing a lot more. I wrote a really bad novel and a screenplay—just trying to figure my stuff out. I eventually began to discover that character-based dialogue—such as in 'Small Engine Repair'—is where I excel."
In 2006, when preparing the premiere production of his play "Lost and Found" in L.A., Pollono posted an Internet notice for a director. One respondent was John Perrin Flynn, a veteran director-producer in theater and television ("Fantasy Island") who was reactivating his passion for theater following the end of his series "Strong Medicine." The simpatico working relationship between Flynn and Pollono prompted the men to gain tax-exempt status for Jabberwocky. Joined by a core of colleagues, the company morphed into the highly adventurous Rogue Machine, which opened at L.A.'s Theatre/Theater in 2008. The company has since earned critical acclaim and several theater awards.
Pollono describes how "Small Engine Repair" grew out of the late-night series that his wife was producing at Rogue Machine: "That play was such a lesson for me … I had something I wanted to say with this play, and I gave myself license to do it provocatively. I felt it would help attract a more daring crowd for the late-night fare." Pollono, who took a role with the ensemble cast, was delighted to observe that the piece resonated with the open-minded late-night crowds. He notes, "Women connected with it on an even deeper level than men did. Women got that there was sort of a feminist story underneath everything that was going on."
Rogue Machine decided to move the production from the late-night slot and make it a main-stage offering. Pollono was surprised at how successful it became: "I knew the demographic audience I was writing it for would love it, but I didn't expect the broader audience to embrace it so strongly, especially the critics. Some people were coming back three-four times and bringing their friends. It was pleasing to have women come up and say they weren't put off by the way the male characters talked." Some resonant issues related to social-networking etiquette are also raised in the play, though such themes had not been Pollono's primary concern in writing it. "It wasn't my intention to write a diatribe against the Internet," says Pollono. "I just wanted to create thoughtful characters within a scenario."
What's next? While his recent focus has been on theater, Pollono continues to pursue film and television work. He says, "Theater will always be a part of my life and will always help keep me a better writer and actor. But I also love the bigger canvas. The past few years, my mantra has been to simply keep collaborating with people and doing stuff. I just finished writing my first TV pilot, which I sent out. Last year I started a really ambitious play that's way out of my comfort zone. It's a period piece that takes place in the 1800s in Boston, and it's very theatrical. It's been the most difficult thing I've written, but I'm sticking to it. I also have a couple of screenplays that I'm working on. There's a lot of great opportunities out there, and I just need to keep figuring out what's coming next."