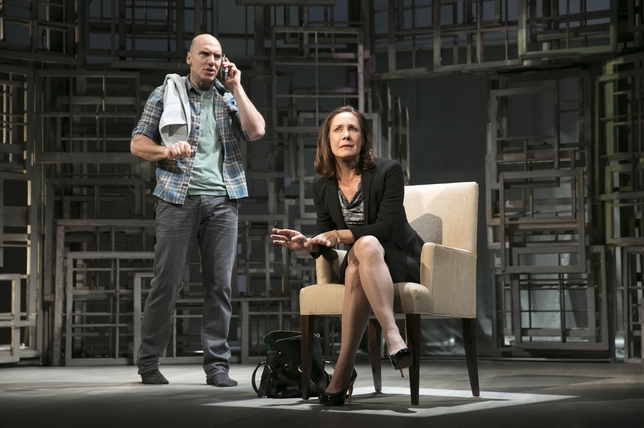 It's rare for an actor to get to take on the same role twice in the same production. But this season, John Schiappa not only gets to revisit his work in "The Other Place" on Broadway—following the show's 2011 Off-Broadway run at MCC Theater—he also has to juggle multiple parts. The production, starring Laurie Metcalf, is currently playing at the Samuel J. Friedman Theatre through March 3.
Schiappa chatted with Backstage about how he prepared to tackle the play a second time, and what he loves about new writing voices onstage.
What can you tell us about "The Other Place"?
John Schiappa: It's so difficult to talk about the show without giving it away! I believe the tagline is "Even brilliant minds can change," which always cracks me up. It's about this brilliant researcher who in the midst of her own research has her own challenges to deal with.
You're billed as "The Man" in the play. Can you talk about your characters?
Schiappa: What it comes down to is, it's about this woman who has her own struggles, and then her life takes a disorienting turn. I play a couple of parts. One is Richard Silner, her research doctor who's helping her develop this new drug, and who, according to her daughter, runs off. Then I play a nurse handler, a couple of little small things.
How is it playing multiple roles?
Schiappa: It's great fun. What's interesting about the play for me is it's quite a ride. It takes off and keeps going. I sort of just jump into the action and jump out. It's kind of like jumping on a moving train. It's an interesting exercise because you don't get really get any time to adjust.
As an actor, how did you prepare for your parts?
Schiappa: It's all just part of years and years of doing it. You have to know where you're coming from.
You started with this production Off-Broadway in 2011. What's it been like bringing it to Broadway?
Schiappa: It's really rare when you get a second chance on a piece, and not only just to get to do it again within a short span of time… For me, it's really great to be in the room again with all of these incredibly talented people and get to do what I love to do.
Were there any new things you learned about the character or any major changes you had to incorporate for Broadway?
Schiappa: Not really. I think there are little things that you learn as an actor. Because it was two years ago, I may have been discovering those things then but it's just a rediscovery. It's a deeper, richer understanding of what it was.
This play marks the Broadway debut for playwright Sharr White. As an actor, what do you like about working with newer writers?
Schiappa: A new voice is amazing. I think Sharr is really wonderful and amazing. He's extremely bright and sharp. It's really great to work with a playwright and kind of know where he was coming from when he wrote this.