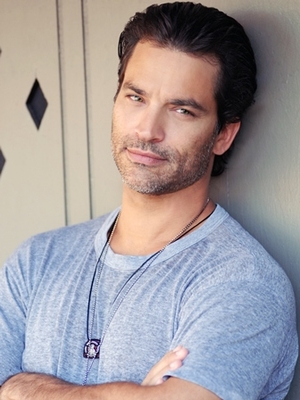 When Johnathon Schaech auditioned for the role of movie star Sean Walker on Showtime's "Ray Donovan" he felt like he nailed the audition. He'd made a strong choice, and the director only gave him one note: "Instead of playing it like Brad Pitt, could you play it like Tom Cruise?" He did and had everyone laughing, and he won the role.
The charming, down-to-earth actor is expecting a new addition to his family and is doing his best to keep busy with work until the baby comes. Having completed concurrent shooting on "Ray Donovan" and "The Client List," the actor is currently in New Orleans working on the CW's new mid-season show, "Star-Crossed." His film "Hercules 3D" is due out next year and he's branched out to digital media as well: His short in support of charity, "Epic School Battle," can be found on YouTube. He shares some of the advice he's received along the way, as well as insight on how to continue to grow as an actor.
Embrace the audition.
Schaech says he didn't always embrace the audition at the beginning of his career, but he does now. "I know it's a different animal, but if you apply your craft, you actually appreciate it a little bit more." Schaech also has a different perspective to offer on auditioning: "You are never auditioning for the thing you are auditioning for. An actor doesn't really understand it because they walk out of the audition and they want to know if they got it," he says. But Schaech is proof that an audition for one role can lead to something completely different; John Papsidera brought him in for "Ray Donovan" because he'd seen Schaech in an audition before and knew that he could do the role. "There have been many times when I've auditioned and I've actually won a different role in the same film."
Be inspired.
Schaech says "Ray Donovan" was the best-written thing he'd read, and knowing the caliber of the proposed cast, including Liev Schreiber and Jon Voight, he was immediately interested in the project. "I really wanted something that was going to inspire me, and those men inspired me. Every take was a different take. We were trying new things. We were making discoveries. The last episode where Sean's pitching Mickey...he did it 10 different ways. He had enough trust in his director, the writer, the creators that they knew where the storyline was going, but we were in the moment making something that was magical each and every time." The process of making a discovery is important to Schaech. "I'm always trying to create some sort of magic. I'm always trying to make something happen in that moment that is compelling or charismatic or unique or just telling the story." Schaech remembers struggling with a particular scene in a play with Sean Penn, and Penn's advice to "just try something new" is something Schaech has taken to heart: "If you can't accomplish your goal, change it up and try something new. It's that simple."
Be open to learning.
It might seem like a big transition to go from working with veteran actors on "Ray Donovan," to a younger cast on "Star Crossed," but Schaech is always open to learning and growing as an actor. Schaech says despite being the veteran on "Star Crossed," he learned a great deal from the younger actors, enabling him to give his best performance for the material. Schaech was more familiar with situations where "showing is better than telling," but Matt Lanter, a veteran CW actor, offered some helpful advice: "Matt kept telling me 'Listen, man, I've done these shows before. You have to say it; even if they show it, you have to say it. They write it there for a reason. To keep their audience engaged in the story.'"
Schaech says Aimee Teegarden also gave him some great advice. "She said, 'You know, the great thing about playing an Atrian [the aliens on the show] is that you get to do stuff that no one [else has]; you're defining what the Atrian is…his emotional level, his understanding of humanity, his feelings, his emotions…' and she was the one that guided me to even play with those elements."
Understand your material.
One lesson Schaech has learned in his career is to really know the material. "When I worked with Jessica Lange, she kept saying that you have to understand your material better to be a better actor. To be a great actor you just need to comprehend, so that's why I became a writer." Schaech writes to understand the writer's perspective and why things are written the way they are. Even if the writing never gets produced, it helps him understand the process.
Stay on the ride.
Schaech compares an acting career to a wheel. "I think that all actors find they go down and then they come back up if you work on your craft. They come back up to the top and then they go back down and they come back up and they go back down." Schaech says there was a point when he was having a hard time getting certain roles and getting opportunities. "I was told by Ray Winston at a dinner party just to hold off. He said 'Once you hit your 40s, man, a whole new crop of films and roles will come. All of a sudden you can play that statesman and father and that kind of stuff. A whole new turn in your creative life will happen." Schaech's current schedule is proof that the advice paid off.