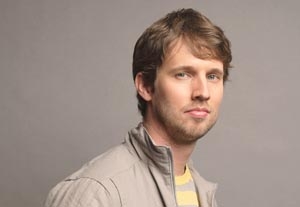 One of the biggest actor breakouts ever to happen at the Sundance Film Festival was Jon Heder's. In 2004, his feature film debut, "Napoleon Dynamite," screened at Park City and became one of the top comedies of the year, shooting the then-unknown Heder to stardom. He landed representation soon after the fest and booked roles in such films as "Just Like Heaven," "The Benchwarmers," and "School for Scoundrels" before starring in "Blades of Glory" opposite Will Ferrell.
Heder is working on the "Napoleon Dynamite" animated TV series for Fox. He majored in 3-D animation at Brigham Young University and loves bringing together his two passions. "For me, my artistic creative passion is creating characters," he says. "It comes natural because animation is acting. It's bringing life to a character. My skills in acting really led to my animation work and vice versa."
Naturally Goofy
Before Heder broke out at Sundance, he rose to prominence in his college's film department. Having only acted in school plays and home videos he made with his brother as a kid, he had no intention of pursuing acting professionally. "My oldest brother was always the one who loved being in the spotlight; he was always a lead in all the plays," says Heder. "I just remember thinking, 'I like the arts, but I don't know if this is something that I'm going to be big into.' " He began majoring in film and media arts at BYU, where a friend cast him as the lead in an early production project. "They were like, 'Let's get Jon,' because I think I was just naturally goofy," he recalls. "That started the snowball rolling. I was getting more attention from other students saying, 'Hey, I'm doing a short. Do you want to be in it?' and 'Hey, can I get you to be in this one?' It was like my own little Sundance—breaking out within my college community."
Because so many people wanted him in their films, Heder started thinking performing was something he could pursue. He took the required acting class for the film majors and really enjoyed it. "I learned a ton," he recalls. Then he started auditioning for plays and student films.
Dynamite Fate

Around the time he was taking acting more seriously, he met BYU film student Jared Hess. "Jared said to me, 'Hey man, you're funny; I've seen you around in classes and all these different projects. I think you have a sensibility that matches mine.' He asked me to be in his short film 'Peluca,' about this character Napoleon Dynamite he had come up with," says Heder.
Originally, Hess was not thinking of Heder for Napoleon but for a secondary character from the bowling alley scene. "[The person Hess had in mind for Napoleon] was like the real deal," says Heder. "In person he was funny, but he couldn't act like himself because he wasn't acting. It didn't work at all." So Hess asked Heder if he wanted to try the role. "I read the script, and I was like, 'Oh my gosh, I know exactly who this guy is,' " he says. Hess loved his interpretation and gave him the part.
After "Peluca" was a hit on campus, Jared teamed up with his future wife, Jerusha Hess (née Demke), to write the full-length script that would become "Napoleon Dynamite."
Riding Into Sundance
Heder says the most exciting part about "Napoleon Dynamite" getting into Sundance was the prospect of watching the film with a full audience in a big theater. "Everybody involved in the film loved the movie," he says. "But while we were making it, we didn't know if anybody was ever going to see it. We all thought it could be popular, but in order to be popular, you have to have exposure, and you need to be seen. It was still quite a bit before the days of YouTube and social networking, where you could really get word out. Our odds were even slimmer. So when we got into Sundance we were completely excited, because we knew there was a chance for something pretty cool to happen."
Heder adds, "The premiere was the best. All the people from the film were there, all the actors, my family, a bunch of friends from BYU, and we were so excited. For my wife and I, it was also like the fanciest place we'd ever been. We stayed there all week, and it was such a trip—all the photo shoots and everything. None of us had ever experienced any of that. But the premiere—having people clapping and hollering, whistling at the dance scene, well, at all the scenes—but like the crowning moment being the climax: It was magical."
Outtakes
-Originally from Fort Collins, Colo.
-Has a twin brother, Daniel, who appears on an episode of "Punk'd" to prank him
-Speaks fluent Japanese
-Was the voice of Reginald "Skull" Skulinski in "Monster House" and Chicken Joe in "Surf's Up." Other credits include "When in Rome," "For Ellen," and the TV series "Woke Up Dead," "FCU: Fact Checkers Unit," and "Dead Grandma."