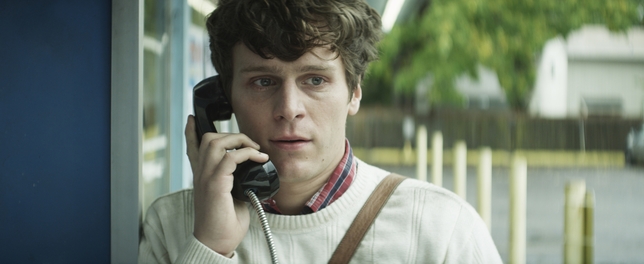 Jonathan Groff may still be known as the sexy lead in Broadway's "Spring Awakening" (or as the sexy singer on "Glee") but that may change with the feature film "C.O.G.," the first film adaptation of a David Sedaris story. Adapted and directed by Kyle Patrick Alvarez, "C.O.G." follows Groff as Samuel over the course of a few months in Washington, where he went to escape his family and enjoy an idyllic life of picking apples in an orchard. Of course, things don't turn out to be as pastoral as he'd hoped, and by the film's end Samuel has moved from an orchard to a factory to cutting slabs of jade into clocks, surrounded by a motley assortment of people both kind and selfish, friendly and cruel. We spoke to Groff shortly after "C.O.G." premiered at the Sundance Film Festival about his role, the future of gay movies, and why he may or may not owe his career to Backstage.
How exciting is it that you're the star of the first David Sedaris movie?
Jonathan Groff: It's crazy because we just finished shooting it in November and now we're here at Sundance. It's really the experience you want to have where it's like, Really? This is happening? We had no expectation to be here at all this year.

Was there added pressure because it was the first Sedaris movie?
The idea of it was, coming into it. But the actual doing of it was not. Once we were on set and working, I felt creative, excited, happy, inspired. And I didn't feel that pressure at all. So the anticipation I had about playing the role vanished when I actually got to do the work. Which is the case in life, generally.
And you learned so many new skills during filming!
How to pick apples. How to work in a factory. How to separate apples. How to cut jade. The apple thing, there's a very specific sack you have to put on. It's actually very difficult to get on and off. Thankfully for me it looked good if I didn't know what I was doing. And being in the factory, not really knowing which apples were which kind of worked to my benefit. So ignorance sort of worked in my favor!
What really struck me about the movie is that your character can be kind of a jerk, but you don't mind it. And that moment when he accepts Christ into his heart during church was very strange, but I loved that it wasn't explained. It was just there.
When Kyle and I first sat down, I was asking about that scene where he has his religious moment. And I was like, "Is it genuine? Is this really real or is he just putting it on?" That's how I felt when I read it. And he said, "I really hope that the movie makes people think and ask questions without necessarily answering or stating anything." It's a movie where there are religious people in it, atheists in it, my character at times is a real asshole. So it's a mix, like life, and shows you all of it without shoving an opinion down your throat.

And the sexuality, as well. It's a gay movie; the lead of the movie is gay, but the sexuality is sort of not the forefront of the self-discovery, which is another thing I loved about the movie. It's him struggling with his sexuality and figuring it out, but that's not the focus of the film. Hopefully we'll have more of that, where there are gay characters but it doesn't feel like we're making a statement about homosexuality. Like that movie "Weekend." I love that movie so much because it was two guys coming together and it felt completely universal. And I think this movie, too, any straight or gay person could go for the summer and have a self-exploration moment in Oregon.
But when will you have another self-exploration moment on Broadway?
I'm dying to! The last time I was on stage was a year and a couple months ago when I did "The Submission" Off-Broadway, and I had such a good time doing that play. There is really nothing like doing a play in New York. It's where my heart is, it's what I want to do the most, and I want to come back soon. But there's a lot of similarity between the independent film community and the Off-Broadway community. Because both are all people who are passionate about work, not people who are trying to be famous, but want to tell a unique story that maybe will make people laugh or think in ways that other projects don't. And when I was working on "C.O.G.," I kept thinking to myself, This is so great because it reminds me of an Off Broadway experience. It was such a great, scrappy, we're-all-in-it-because-we-love-it vibe.
And since this is for Backstage, any terrible audition stories you wouldn't mind sharing?
You know I subscribed to Backstage! Backstage is probably the reason I'm here right now. When I was a senior in high school, I worked at a theater where they hired New York actors. And they told me about Backstage and so I got my school in Pennsylvania to subscribe. And there was an audition for a tour of "The Sound of Music," and I got the job. Deferred my admission to college just to go on tour. And when the tour was over I moved to New York and then I got "Spring Awakening."
But bad auditions… Musical auditions are always the worst because you have to sing and act, and that's so stressful. Trying to sound good at 10 a.m. is the worst. I was auditioning for "The 60s Project," up at Goodspeed. Andrew Rannells actually got the role I was auditioning for. And I had to sing "Unchained Melody." And that note, it's like a G and it was early in the morning, and I cracked in a way that I'm surprised I still have a voice. It was the most epic crack. Like Bobby Brady. Then I was supposed to go back and sing the second verse, and the piano player just played it out and then stopped, and they were like, "Thank you." I was mortified.
And obviously dancing auditions were bad for me. You could go for the open singer call or the open dancer call, so I would go to the singer call and I wouldn't hear anything back from them, so I would call myself back to dance. And I would go back to the dancer call, and I'm not a trained dancer. I'm a singer who moves well. So that was a total crapshoot. There are a lot of embarrassing moments I remember. Like with jazzpants.