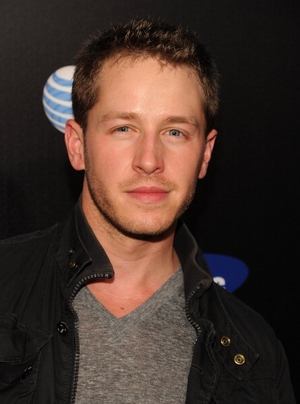 Josh Dallas is very busy on the set of his hit ABC show—as he puts it, "My life is 'Once Upon a Time,' all the time." The actor, who broke through with last year's "Thor," is calling in from the Vancouver set mere days before Season 2 premieres on Sept. 30. The job has kept him so busy, he was unable to reprise his role of Fandral in the upcoming "Thor 2," a part that instead went to Zachary Levi. But there are no hard feelings; Dallas couldn't be happier on the show.
What can you tell us about Season 2?
Josh Dallas: It's an exciting season. The episodes seem to be bigger, more complicated, more epic than last season. A big theme of this season, particularly for David, is redemption. He's trying to right a lot of the hurt he caused people. The curse is lifted, we all remember who we are, and we all remember what we lost. So there's a lot of complicated feelings going on this season.
How did you go about landing the role? Is it true this was your first pilot season?
Dallas: It was. I lived in London for about 11 years and had just come to L.A. two years ago. So it was my first experience with pilot season in L.A. I was reading a lot of scripts, and this one kept coming up. I didn't read it. They sent it to me twice, and there were just other things I was looking at. When I finally read it, I thought it was the most unique script I had read that season. It was so unlike anything I'd ever seen on TV, and I wanted to be part of it.
How quickly did it happen?
Dallas: I think I came in on the very last day of the casting process. I met with the creators, Eddie Kitsis and Adam Horowitz, and tested that day. I got it that evening, and started shooting the pilot a couple weeks later. It was a wonderful gift.
Just so you know, it's always that easy.
Dallas: [Laughing] Is it? Thank God! I might be doing this a little longer, then!
Playing a fairy tale hero, did you ever worry that it would be difficult to make him interesting?
Dallas: Oh yeah, of course. I think that's why I didn't read the pilot at first. I heard "fairy tales" and it wasn't what I was focused on. I'd just done "Thor," a big fantasy epic, and thought maybe this wasn't for me. I was thinking of Prince Charming in the Disney movies, and while he is lovely and sings very nicely, there isn't much to him in those films. It's a testament to the writers that the way they write for these characters is so interesting and different. It gives you an opportunity to take someone who's not a cardboard cutout and bring a real emotional depth.
How did a guy born in Kentucky end up training in England?
Dallas: I was involved with my theater program in high school and I was involved in a festival where I could audition for a lot of different schools. Mostly in America, but England happened to be there, and they saw me in a show. I auditioned for them the next day, and they ended up offering me the scholarship they give to one American every three years. It was an amazing opportunity, and they paid for everything. At 18, I hadn't been out of Kentucky all that much, let alone the country, so I jumped.
What was England like for you? Were there any big cultural differences?
Dallas: The biggest one was that here we say, "What's up?" or, "How's it going?" Over there they say, "You all right?" At first, I kept thinking there was something wrong with me. "What? I'm fine!" But they were very nice to me; they embraced my American-ness.
You're unable to return for "Thor 2" because of your "Once Upon a Time" shooting schedule. Was that a big disappointment?
Dallas: It was a bummer that we couldn't make it work out, but I've got the best job on TV. I call it Rich Man's Problems. I'm sad I won't be continuing adventures in Asgard, but it feels pretty good to be Prince Charming-slash-David.
Have you ever met your replacement, Zachary Levi?
Dallas: I have! I met him for the first time at Comic-Con this year. He seems like a really great guy, and I wish him all the best with "Thor 2." I think he's going to do a smashing job with it. I think he'll bring a lot of fun to Fandral.
"Once Upon a Time" Season 2 premieres on Sunday at 8/7c on ABC.