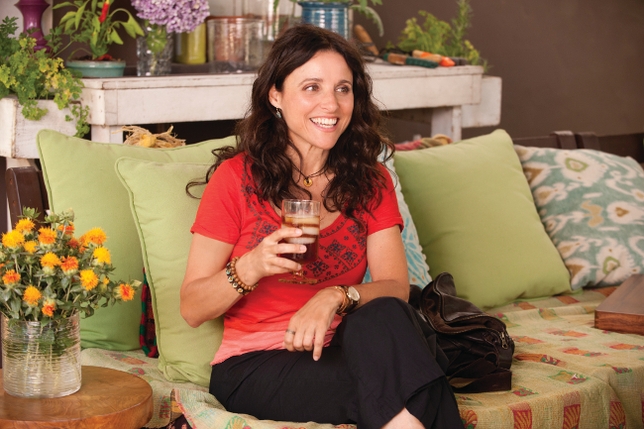 Anyone prone to understatements might be tempted to say that Julia Louis-Dreyfus is having a good year. She made Emmy history by earning her 14th nomination for actress in a comedy, beating Lucille Ball in terms of nominations and then tying Lucy for wins when Louis-Dreyfus took home her fourth statuette. And she impressed even her most ardent admirers with a leading turn in Nicole Holofcener's melanchomedy "Enough Said," opposite the late James Gandolfini.
Best known for her work in more ensemble-driven projects, this was Louis-Dreyfus' first truly leading role in years—and she wasn't immune to the pressure inherent in that.
"It didn't even really occur to me until after we made the deal, and all of a sudden I was like, Oh shit! I'm starring in this thing!" Louis-Dreyfus says with a laugh. "There was a moment of terror. It was fleeting, but there was a moment of, Well, hope I don't fuck this up! But I couldn't allow myself to go there because that can be completely paralyzing. So I let that go and just focused on the work at hand, breaking it down into manageable parts, as my son's third grade teacher says."
Louis-Dreyfus says it helped that "Enough Said" was also writer-director Holofcener's first foray into focusing on a single character, adding that the collaborative environment Holofcener fostered put her immediately in her comfort zone. "I couldn't do it by myself, nor would I be good at it. I think the process of working with other people toward a common goal is a thrilling one and a very happy endeavor," Louis-Dreyfus says.
As single mom Eva, whose daughter is about to leave for college, Louis-Dreyfus is a bundle of tension and fear. Somehow she simultaneously falls into a relationship with single dad Albert (Gandolfini) and a friendship with his ex-wife (Holofcener regular Catherine Keener), pumping the latter for information about the former and self-sabotaging spectacularly. As Louis-Dreyfus points out, judging Eva could have been "easy," so she took pains to approach the role from a sympathetic place.
"I understand," she says. "She cannot afford to give herself and take the risk and be vulnerable under these circumstances. And she thinks it's some sort of insurance policy. And in fact, I won't say it's a death sentence, but it's not far off."
The beauty of Louis-Dreyfus' performance is that, even as we squirm while watching Eva unconsciously attacking Albert for the same reasons his ex-wife once did, we get it. Holofcener peels back the layers of slapstick and mistaken identity to show the uncomfortable and painful results, leaving Eva to look like a sad, scared woman. The moment when Eva's duplicity is discovered is an excruciating one, where Louis-Dreyfus' face crumbles and she scuttles away from the scene of her embarrassment. And though Louis-Dreyfus has few peers when it comes to comedy, the emotional honesty of her work in "Enough Said" is astounding and something we've never before seen from the "Veep" star, a shift in tone she was eager to undertake.
"I was completely psyched to have the opportunity to do something like this," she says. "The work was an utter thrill for me to take on because, to be honest, I felt like, Oh wow, I get to do this now and it'll be fun because people haven't gotten to see me do this!"