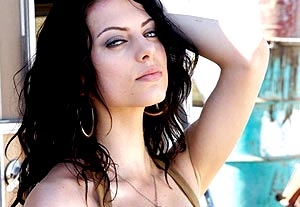 "I'm a prairie farm girl," says Julia Voth. Indeed she is, and a whole lot more.
From a small town in Saskatchewan, Canada, Julia left the cold and snow behind and moved to Japan to pursue a successful modeling career. There she appeared in numerous campaigns, and was chosen to be the face of Jill Valentine in the "Resident Evil" video game series.
After a move to L.A., Julia soon landed her first acting role as Trixie, a down on her luck stripper in "Bitch Slap," a "post-modern, thinking man's" throwback to exploitation films that opens this Friday. Still not content, Julia is also about to publish her first book of poetry. Yes, poetry.
Chosen as this week's Girl2Watch, Julia will be featured in a series or articles, fun facts and social media tweets through this week for subscribers of
Girl2Watch.com
.
ACTOR2WATCH: Tell us about when your first read the script for "Bitch Slap." 
JV: When I read the name "Bitch Slap" I called my agent and said, "I don't do soft porn."  And then he's like, "Read it. You don't have to like it." And then I read the first 20 pages and I was hooked. I called him back and said, "I need to read for Trixie. I need to be Trixie. So do whatever you've got to do. Pull your strings, get me in that room to read."  And he did ,and here I am. This is my first role acting job ever.
A2W: What kind of training did you get?
JV: I started studying acting as soon as I moved to L.A. When I got the job, I had my dance training, and we did a lot of fight training, and intense work with my acting coach, really digging deep into Trixie and finding out where she came from, and also doing a lot of character study on my own. I relate to her a lot on some levels, obviously not the stripper part, but there's a beauty in being so young and naïve, so I really tried to embrace that.
A2W:  Do you have any advice for other models that want to break into acting?
JV: Don't let anyone tell you can't act. People think that models are bad actresses because they think that they're beautiful mannequins that just stand there. That's so not true. When you're a model you have to portray different characters for photographers. If you can't do that, then you're not a good model, and you're not a good actress for sure.
A2W: Tell us about your worst audition.
JV: It was for a small just guest star on CSI or something. I literally went in there and went, "Uh duh, hold on, let me do that again." I couldn't speak. I was like, "I'm so sorry.  I'm just going to..." They're like, "You're fine, it's okay."  I'm like, "Excuse me. I need a moment." 
For some reason, my tongue just wouldn't work that day. I don't know what happened. It was one of those auditions where you're like, "Am I even an actress?  Why am I here?" We all have our moments when we don't shine as bright as we hope to, but it's a learning process. Auditioning is so terrifying, it gets the best of us.
A2W: What would be your dream role?
JV: My dream role would be someone anything that Meryl Streep can do. "Julia and Julia"—I thought that was beautiful. She just had the essence of her. To truly become someone, invoking emotions like happiness and sadness and everything in between, that's what I want to be able to do. There's a reason people reference Meryl Streep all the time, it's because she's so amazing. My goal would to be something like her.