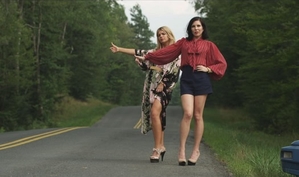 June Diane Raphael is the comic's comedic crush. Writer-director Leslye Headland raved about her during an interview about "Bachelorette." She's popped up on everything from "New Girl" to Ken Marino's "Burning Love." And now she's at Sundance with her movie "Ass Backwards," co-written with and co-starring Casey Wilson ("Happy Endings"). A lady-buddy comedy about two friends who go on a roadtrip back to the scene of a disastrous beauty pageant from their pasts, "Ass Backwards" slayed audiences at its Sundance debut. Over the course of a wide-ranging conversation (and one email exchange), we spoke to Raphael about the movie, celebrating with Skinnygirl margs, and the importance of diehard comedy fans.
On her in-development pilot "Walk of Shame," co-created with Wilson: Every episode opens with a walk of shame, and then flashes back to earlier in the week so you can see what led to it. So it's like a walk of shame procedural. Like "Law & Order"! But it's really about that time in your life in New York City where you're so broke and your friends are your whole life. Casey and I were doing insane things, like sleeping together in a waterbed and renting out our second bedroom. And the other person was always right. Always. So it was, "He isn't calling you? He's just scared by how beautiful you are."
On clowning: I took a couple of classes in clowning, but that was more like Lucille Ball kind of slapstick, not Ringling Brothers. But we had to do things silently, and the teacher would do this running commentary. "Does this make Clown sad? Oh, Clown doesn't like that, does Clown?" Always "Clown." Never a name.
On finding out "Ass Backwards" made it into Sundance: We thought we were going to find out the Wednesday before Thanksgiving, so we weren't even thinking about it yet. And so Casey and I were working in our separate apartments and talking over IM when I got a call from our producer, sounding very somber, who told me to get Casey on the phone. And so we're all on the phone and the producer says, "We got into Sundance!" and, no joke, Casey and I screamed on the phone for 10 minutes. And then we realized that just after our producer said Sundance, she dropped out of the call. We called her back, but you just can't recreate that kind of excitement. But Casey and I had Skinnygirl margaritas that night to celebrate.
On working with Casey Wilson, a relationship blessed by an astrologer: I think the main way we complement each other is that we make each other laugh! I don't think there is anything more important than that. She's practically my other husband. We rotate on winning an argument. If someone draws a line in the sand about their point of view, it's usually respected. (We write on the beach and literally draw lines in the sand.).
On diehard comedy fans: Comedy fans are the best fans. They embrace and support you doing low-budget work and will follow you to the end of the earth! Without them, we probably couldn't have a "Burning Love" or a "Children's Hospital." I think their support allows those of us who work in that space to take bigger risks and put it all on the table. What more could we ask for?
On her worst audition: I was sitting in line and everyone before me was getting 20, 25 minutes in the room. So as more people came in, I would turn to them and say, "Guys? Guys! Just a heads up, everyone's getting 20, 25 minutes in there." And then I went in, read it once...and that was it. I had to walk out past all the people still waiting... I didn't say anything to them.