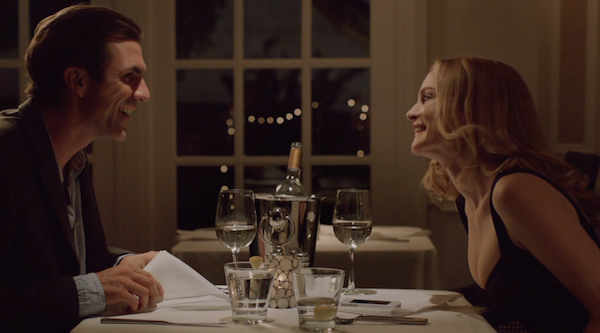 This year's Tribeca Film Festival connected Backstage with the actor-writer (and newly credited) director Angus MacLachlan. Best known for writing the 2005 film, "Junebug," and the short "Tater Tomater," MacLachlan's new film, "Goodbye to All That" (which he both wrote and directed), made its premiere on April 17.
Starring Paul Schneider ("Parks and Recreation," "Lars and the Real Girl"), "Goodbye to All That" follows Otto, who's forced to get back into dating after his wife suddenly ends their marriage via a session with her therapist.
With a stellar supporting cast including Melanie Lynskey, Heather Graham, Anna Camp, Celia Weston, Heather Lawless, Amy Sedaris, Ashley Hinshaw, and Audrey Scott, the film—both funny and touching—tells an important message.
"Everybody wants to be seen and known and loved," says MacLachlan, "and I think a lot of men in particular can be disconnected from their feelings and just go through the motions and just love someone, but not really know them deeply, or really know what's going on. You've got to look at yourself and the problems in yourself because it's going to affect you and the people around you."
And for the task of delivering this delicate message, MacLachlan knew he needed just the right actor. So instead of doing auditions, he sought out the talent he wanted.
"I'm an actor myself and I always hated auditioning," he says. "I feel like if you see an actor's work, and you talk to them about the piece, I don't really need to see you do these lines."
MacLachlan was very familiar with Schneider's work when he imagined him for the principal role of Otto, thinking specifically of his performances in "George Washington," "All the Real Girls," and "Bright Star."
"You needed somebody who was attractive enough that you could believe that all these woman wanted to go to bed with him, but he couldn't be too slick, 'cause then it would be kind of smarmy… but you had to believe he could be an athlete… and also not quite conscious of what's going on, and funny. And you know, Paul has that. What I like about him is that he always feels like he's thinking, like there's always something going on in his head—in an alive kind of way."
MacLachlan's friend and star of his 2005 film "Junebug," Celia Weston ("Modern Family"), signed on to play Otto's wife's (Melanie Lynskey's) therapist—the small role that serves up one of the most memorable scenes in the film.
Having worked with him before, Weston has nothing but praise for MacLachlan. "In my experience, directors who've been actors… you feel like you're in such safe hands or that you speak the same language and you understand what's helpful and you understand what's intrusive. So I knew he was going to bring that to it, and then watching him… I'm going to get teary-eyed…" Weston says. "I was so impressed at how astute he was. I could see on his face when he was asking for something, and I thought, You know, a director could not have asked for anything better than that."
And as a first time director, how could MacLachlan ask for anything better than that?