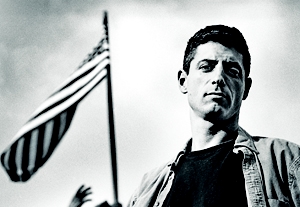 Marc Wolf
did not create a solo show for himself because he needed an acting vehicle. As he tells it, his multi-award-winning "Another American: Asking and Telling," now playing Monday nights through Aug. 30 Off-Broadway at the DR2 Theatre in New York, largely emerged from his impulse to do something more political with his career. (The piece was first produced in New York in 1999.) But even before he started the project, he had been toying with the idea of leaving acting altogether to work for civil rights full time. But when he saw Anna Deavere Smith's multicharacter solo piece "Twilight: Los Angeles," he had an epiphany. Assembled from hundreds of Smith's transcribed interviews in the aftermath of the Rodney King trial and verdict, the docu-theater made Wolf realize he had not gotten the acting bug out of his system. He also saw the genre as an entertaining way to explore a complex political issue and flex his acting muscles. "I knew I could play a lot of characters," he says. "I was always a character actor."
It didn't take long for him to find his topic. The plight of gays in the military made him angry. He felt the "Don't ask, don't tell" policy silenced soldiers about their identities, and that horrified him. "I had a sense that no one knew their stories because these people were not allowed to tell them," he notes. "At that time, no one was doing solo documentary performance about gay issues, and I felt this issue was especially suitable to this form. I could become the voice and mask for people who were not allowed to speak up for themselves. Also, military language is a motivating theatrical language that would do very well on stage." Wolf moves seamlessly from character to character: an effeminate Vietnam vet, a tough Midwestern Jewish lesbian officer, and many others, each expressing strongly or reluctantly held views on gays in the military.
It took Wolf three years to pull together the piece, traveling to 25 cities and interviewing more than 300 gay and straight members of the Armed Services. He has performed it across the country and is now in his current revival donating a portion of the proceeds to various charitable organizations, including the Elton John AIDS Foundation and GMHC (Gay Men's Health Crisis).
'Letter to the World'
A New York City native who grew up in Englewood, N.J., Wolf always had an activist bent. But along the way he discovered the joys of acting while in a community theater production of "Godspell." At Williams College in Williamstown, Mass., he majored in theater and political science before launching an acting career in New York. He appeared Off-Broadway and had a gig on the soap "Guiding Light" for several months, playing a "kind of Richard III role," he says. "I made a lot of money during that time." That income coupled with teaching gigs and grants made it possible for him to forge "Another American."
Still, getting gay—and straight—military personnel to talk was not easy. Most of the interviews came about through personal introductions, word of mouth, and ultimately establishing what Wolf dubs a "chain of trust." Some subjects were terrified. "In the military, they're trained not to talk about certain things, and it is internal training too," Wolf comments. "So they have to open up a place they've been taught not to open." He says his interviewing technique was conversational and personal, telling the interviewees about his own coming out and the issues he faced as a gay man. He asked informed and leading questions, but his own openness made them more forthcoming: "Instead of saying, 'Who hurt you?' or 'What bad things happened to you?,' I'd say, 'What made you join the military?' It's an elemental question, and it opens up other issues."
Wolf's skills as an actor helped him to listen, be sensitive, and, most centrally, discern "that person's energy, the story that captures his being," he says. "I had a great acting teacher, Wynn Handman, who asked, 'How do you nail a character to the stage?' And his answer was to discover their 'Letter to the World,' which is the title of an Emily Dickinson poem. That was my motivation with every interview."
Editing and especially structuring was a complex task, Wolf concedes, crediting director Joe Montello with helping him forge "its emotional arc, that I can't verbalize but know is there." Wolf defines the performance as "doing living sculptures." Because there are no costume changes or props, he is all the more dependent on his body and voice to mold, shape, and define characters and keep them discrete. "It's finding where each person's energy is coming from, and that's hard," he says. "But once those are worked on, they live where they live, and I call upon them. In performance the challenge is to make those moments as dangerous or as fun or as unexpected as they were in the moment when I did the interview."
Preaching to the Converted?
With any political theater, there are questions about purpose and effect: Why are you doing it, and are you changing anyone's mind? Wolf says his audience is not monolithic in its view, pointing out the gay movement emerged from the civil rights and peace movements and that many gays and lesbians continue to have an anti-militaristic slant. They have little interest in—or sympathy for—the whole topic, wondering why anyone would want to be in the military anyway.
"Some go to the military because they're drafted, and some go in and don't know they're gay and by the time they come out they're invested in their careers," Wolf answers. "People say, 'Don't you feel you're preaching to the choir?' And my response is, 'There is no choir.' There's the perception that the gay community is totally behind this issue, but it's not true." He adds, "I would hope after seeing my show, audience members will feel free to speak out next time they face any form of discrimination in their lives."
To date the most striking response he encountered occurred after a performance at the McCarter Theatre in Princeton, N.J. "There were some people hanging out with me backstage, and in the crowd there was a guy in his mid-50s who was just standing there very quietly," Wolf notes. "Finally he said, 'I was in Vietnam,' and then everyone got silent. 'When I was in Vietnam I had a friend who came out to me,' he continued. 'I ran the other way and never looked back. I have no idea what happened to him and didn't think of him until seeing your play. I hope he's okay. I now realize in that moment when he came out to me, he trusted me, and I let him down. I could have been a supportive friend.' "
Clean Air, Clean Water
Wolf is currently working on a three-character play that started life as a solo show. He was commissioned by the McCarter and awarded a National Endowment for the Arts/Theater Communications Group grant to develop "The Road Home: Remembering America," a piece exploring how Americans across the country felt toward New York City with Sept. 11 as a backdrop. Wolf is looking forward to finishing his draft and getting it up on its feet, but he has no interesting in acting in it.
Still very much the political activist, he plans at some point to write a play about environmental issues, a topic that's always been deeply meaningful to him. "That's something I'm passionate about," he asserts. Now more than ever.

"Another American: Asking and Telling" runs through Aug. 30, 2010 at the DR2 Theatre, 103 E. 15th St., NYC. Tickets: (212) 239-6200 or at the box office.
Bio Brief
- Won an Obie, Helen Hayes Award, and GLAAD Award for "Another American: Asking and Telling"; was nominated for the Drama Desk and Outer Critics Circle awards
- Has performed "Another American" at the Mark Taper Forum, Seattle Repertory Theatre, Trinity Repertory Company, and the Baltimore Stage Center, among other venues
- Appeared on "The Sopranos" and "Law & Order"