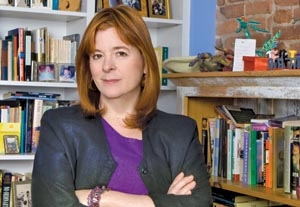 Theresa Rebeck has no problem being a populist. In March, the writer penned an editorial piece for the Los Angeles Times in which she defended plot and structure against those who accuse her of being a "crowd-pleaser"—as though that were a negative. "I think people have been way too cavalier about entertainment," Rebeck says. "Why can't a work engage the heart and mind and also make people come out saying, 'That was so much fun, I want to go back to the theater next week'?"
Perhaps no modern writer has managed to balance critical acclaim with popular appeal in so many mediums as Rebeck. In television, she wrote for
L.A. Law
and
NYPD Blue
, for which she won a coveted Peabody Award. Her first novel,
Three Girls and Their Brother
, now available in paperback, tells the story of three wealthy New York teenagers who achieve sudden fame and manages to be both breezy and insightful. And, of course, there's her stage work, including
Spike Heels, View of the Dome
, and
Omnium Gatherum
(for which she was a Pulitzer Prize finalist). Last year she made her Broadway debut with
Mauritius
, starring Bobby Cannavale and F. Murray Abraham. And June 6 her new play,
Our House
—a biting indictment of reality television and the cult of celebrity—will have its New York premiere at Playwrights Horizons' Mainstage Theater.
So Rebeck is fine with calling her work accessible, even if some theater artists frown on it. "There are several writing programs right now that somehow fell in love with these ideas of postmodern theater, and there are a lot of young writers being taught that this is exciting and theatrical, when in fact what they're not being taught is to respect the center of the play," Rebeck notes. "You can deconstruct things, but every single choice should be made with an eye toward making a play work in a solid, rigorous way." She mentions fellow playwright Steven Dietz (
Private Eyes, Halcyon Days
), who contacted her after her op-ed ran. Recalls Rebeck, "He said, 'When I was younger, everyone praised me for being experimental. Now I get praised for writing great plays. You want to know what the difference is? I didn't know what I was doing then.' "
Literary Thief
Rebeck was raised in Cincinnati, and her interest in theater was developed at an early age. "Molière and Arthur Miller affected me at a very young age. In adulthood, I became overwhelmed by Chekhov. Those are my big theatrical influences." More recently, Rebeck says, she's taken a shine to the Bard. "We all steal from those who came before us, and lately I've started to steal from Shakespeare," she says. "He's so godlike that I think we can feel overwhelmed by him, like I need to worship him from afar. But there's such interesting structural things he does."
Interested in acting and writing, Rebeck put the two together. At 16, she came home and told her mother she wanted to be a playwright. "She looked ghastly," Rebeck says with a laugh. "Like she didn't even have a clue what to think of that." Still, Rebeck confesses to many years of wandering without clarity. While attending graduate school at Brandeis University, she made a living writing magazine articles and considered pursuing her Ph.D. in English. One day, she snuck down to the theater department to audit a playwriting workshop. "As I sat there, I had an overwhelming moment where I thought, 'You, Theresa, are actually better than they are.' I knew I was; I'd done enough to know there was a muscle there. But I had not given myself permission to pursue it," she recalls. "I said, 'What these people have that I don't is the courage to do what they want to do. Dream your dream.' So I decided then and there to be a playwright."
She was working as a legal secretary in Boston when she landed her first agent: Esther Sherman with the William Morris Agency. To this day, Rebeck is unsure how it all came together. "Someone at William Morris had either seen or read a play of mine and recommended me to someone who passed but thought Esther would like me," Rebeck says. "I had no idea anyone there even had my stuff. But I got this call out of the blue; this growly voice said, 'Hello, this is Esther Sherman. I love your work.' I truly thought it was a friend of mine playing a prank on me."
Rebeck was with Sherman for five years, until the agent died. Rebeck is currently repped by CAA and by Loretta Barrett of Loretta Barrett Books Inc., whom Rebeck says she was "fortunate" to find. "She really took me on and believed in me and believes so much in my potential as a novelist," Rebeck says. "It makes such a difference to have someone who fights for you." 
After she built a solid rep in theater, her agency urged her to pursue writing in film and television. "I was a playwright, and my husband was a stage manager, so the idea of making money writing was very appealing," she says. "It was sort of on-the-job training; I kind of tumbled into it." She admits to being a "deer in the headlights" on her first show, a short-lived sitcom called
American Dreamer
with Robert Urich and Carol Kane, but soon worked on
Dream On
and
Law & Order
:
Criminal Intent
. She wrote the screenplay for
Harriet the Spy
and received a story credit for the box-office flop
Catwoman
—an experience she manages to have a sense of humor about. "I think the only thing left from my draft was a couple names of characters," she says. "It was actually a fun and interesting idea when I was working on it; I don't know why they tossed all that out. I'm embarrassed my name is on it, but at the same time, every three years or so, I get a check out of nowhere for $6,000. So I'm happy to have that."
Practice Makes Perfect
Asked about her process, Rebeck simply says, "I write a lot." She takes few days off and usually writes for hours at a time. "I've learned it's like practicing piano," she muses. "If you practice a lot, you get really good. I feel like many people don't take the practice aspect as seriously as I do. Also, I'm an insomniac who doesn't know how to turn my brain off."
In addition to
Our House
(now in previews),
The Understudy
is set to open at the Laura Pels Theater at the Roundabout in the fall. In addition, Rebeck expects her second novel—an "inheritance mystery"—to be published in the winter and recently began work on the first draft of
Women's Studies
, a new comedy series for HBO. But she takes any praise of her craft with the required grain of salt. "When people tell me I'm a prolific writer, it's a nice thing to say," she notes. "But I think to myself, 'Yeah, but I don't do anything else.' "