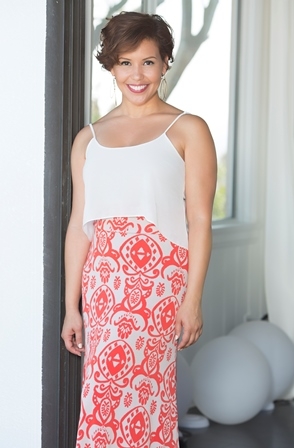 Justina Machado is no stranger to television, but NBC's new comedy "Welcome to the Family" is a change of pace for the dramatic actor. The theater-trained, Chicago-born actor headed to New York to be on Broadway and in films. She managed to achieve that goal with roles in "In the Heights" and "A Free Man of Color," but she has been consistently working in L.A. Although she initially didn't want to move to L.A., she says, "I love exactly what I'm doing right now. So if I have an opportunity to go back and to do something I would jump at it, but everything is pretty good."
With roles in two new series, "Welcome to the Family" and "Murder Police," Machado is on top of her game. "Welcome to the Family" centers around two families who are thrown together by a teenage pregnancy. Machado loves playing Lisette, the mother of the soon-to-be teenage dad. "It's the most free I've ever felt doing anything... I feel very comfortable with her and very free with this character and the writers and creators have allowed me to bring a lot of myself into her," she says. Machado also completed her first voice-over role on FOX's midseason animated series "Murder Police," which has also been an exciting experience for her. "It's the greatest job in the world because it doesn't matter what you look like when you go to do it, but you can't rely on your body and your facial expression," she says. Machado shares what she's learning from these new opportunities.
Jump in.
Machado joined "Welcome to the Family" at the last minute. Ricardo Chavira had already been cast, "So basically I just had to go in and read with Ricardo and then literally two hours later I had the job. It was pretty awesome," she says. "And the next day I was at work." Despite the lack of prep time, Machado wasn't anxious or stressed over the audition. "I was like 'Oh, this is so great. I love this part.' I didn't care about the deal," she says. "Usually you get stressed out about like, 'What's the deal. What is this?' It just felt perfect." She felt like the part was made for her. "It just really felt like great writing, stuff that I understood. Like I made the joke with my manager and one of my best friends that it really did fit like a glove."
Chemistry comes naturally.
Chavira and Machado had already worked together when he did a few episodes of "Six Feet Under," but that didn't guarantee they'd have chemistry together. "You never know if that's going to happen… I knew that I liked him and I knew that we got along, but we'd only done a few episodes together, but it just kind of happened," she says. "He's an easy person to get along with. So I think anybody who would have gotten this part would have been fine with him because he's pretty great."
Appreciate the moment.
Early in her career, Machado says she, like many actors, was always just looking for the next job, the better job. "I was never satisfied with anything I had. I was never present," she says. "So because of that, I lost out on celebrating all the greatness that was happening all around me and to me." Along the way she learned valuable advice: Appreciate every moment and experience and learn and grow from it. "Never just say 'Oh, this is just a guest star.' 'Oh, it's just a co-star.' 'Oh, it's just this.' Because then that's exactly what it's going to be," she says. "[Actors] have to be proud and celebrate and be in the moment. And of course we want the next job. Of course we want those things, but it will come. It's inevitable. The most important thing is to be present with what you're doing at that moment."
Stay calm.
Machado admires actors' bravery. "They walk in and they bare their soul and they're amazing," she says. However, she says it's important to remember that and stay calm when auditioning. "I think whatever makes you calm is what you have to do. I mean, unless it's drugs or drinking. Don't do that." Separating the audition from the outcome can also help. "They can smell desperation…You have to walk in there and just like play. Just remember. Just have a good time. Just play and do the best that you can possibly do... Of course that's really difficult to do. It's easier said than done, but if you can fake yourself out for that little bit of time you know you might have a great experience, but definitely just look at it as a performance. They're so lucky to see it."
Keep it honest and funny.
"I love going to work and laughing and figuring out how to make a joke work," she says. "Figuring out how to be as honest as you can possibly be and still make it funny." Machado's long list of credits features mainly dramas, so "Welcome to the Family" has been exciting and challenging. "It's not something that I don't know how to do, but it's definitely more calculated," she explains. The challenge is to find the honesty in the moment as well as the rhythm of the comedy. "You have to think more," she explains. "It's really easy for me to read a dramatic script and know exactly what I have to do, know exactly where the moments are, and where the transitions are." For comedy, Machado has to study it. "You really have to go 'OK, here's the joke. OK, they have a joke here. OK, here, this is the funny part. OK, what do I hit here? Which word do I hit?' So it's more calculated, so that's the challenging part, but the exciting part too because your brain is working so that's fun."