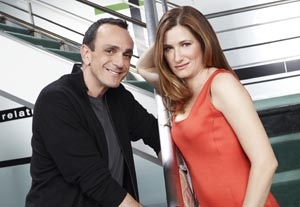 Where you've seen her:
Though she spent seven seasons as lovelorn grief counselor Lily Lebowski on "Crossing Jordan," Hahn has recently been garnering attention for her comedic turns, including playing Paul Rudd's hippie ex in "Our Idiot Brother" and a pregnant client in a tender storyline on "Hung." But it was in 2008 that the Yale grad got to show her range, appearing in "Step Brothers" as John C. Reilly's frisky paramour and in Sam Mendes' period drama "Revolutionary Road."
Now playing:
Hahn has taken on the female lead in "Free Agents," a new NBC comedy based on a British series, which pairs her and Hank Azaria as co-workers tentatively inching toward more. This despite their own issues: He's just getting out of a divorce; she's not over the death of her fiancé.
Getting cast:
"It was a crazy offer situation," Hahn reveals. "You know that old adage where you never want to be a member of any club that will have you? I definitely had that feeling at first, like there must be something wrong with it if they asked me." Though she enjoys the "nomadic life of an actor" and wasn't sure she wanted to get back into series television, Hahn was convinced after meeting with producers and viewing the British series: "I thought, as an actor, there is just no way I can say no to this. It was a once-in-a-lifetime opportunity." Asked how it feels to be promoted to leading lady, Hahn replies, "Maybe I'm in blissful denial, but I feel like the show is really an ensemble. So I don't feel, like, a leading-lady pressure. Aside from getting a big supply of Spanx, it feels like another gig."
Dying is easy:
Despite recent roles, including one in the upcoming comedy "Wanderlust," Hahn says she never saw herself as a comedic actor prior to "Step Brothers." She'd previously worked with director Adam McKay in a small part in "Anchorman" and says she auditioned three times for the role. "Once I was on that set, I realized what a remarkable skill it is to do comedy," she recalls. "And I was blessed to be witness to these incredible comics. I still feel I have a ways to go, but I'm really excited by the unexpected career turn."