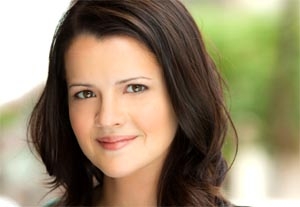 Rose Hemingway doesn't think Daniel Radcliffe is the type to get people fired, but you never know. In a recent interview, Radcliffe claimed that he had three successive actors dismissed from the role of Rosemary—the love-struck secretary who falls for Radcliffe's corporate climber, J. Pierrepont Finch, in the new Broadway revival of "How to Succeed in Business Without Really Trying"—before Hemingway got the part.
"I'm pretty sure that was a joke, but I could be wrong," Hemingway says with a laugh. "There might be something that I don't know."
She could be wrong, but probably not. Hemingway has, after all, been circling Rosemary for some time. She first auditioned for the role back in 2009, when director Rob Ashford—whom Hemingway worked for that year in the Donmar Warehouse production of "Parade" in Los Angeles—was assembling a reading of "How to Succeed" with Radcliffe. She booked the gig. When casting began for the full Broadway production, she auditioned several times, finally landing the part once again last summer.
"How to Succeed" marks Hemingway's Broadway debut, and the third Main Stem iteration of the classic musical about a window washer and his fast rise to top of the office hierarchy. The current version is drenched in the visual style of the early '60s—when the original Broadway production was staged—with secretaries dancing around in smart, bright dresses and young executives hoofing it in pinstriped suits. The era's attitudes toward gender also loom large. Hemingway's first big number of the evening is "Happy to Keep His Dinner Warm." The title sums it up; Rosemary wanders the stage dreamily, imagining a life in which Finch is a big-shot businessman, and she is, well, happy to keep his dinner warm.
"It has some of the most ridiculous lyrics, but it's meant to be funny," Hemingway says. "She has this ideal in her mind of how amazing it's going to be. It's like if you imagined, 'All I want is this brooding, angsty, artsy guy. Our lives are just going to be perfect. We're going to be broke and we're going to live in Brooklyn, and everything is going to be fabulous.' Then you get that and you're miserable because you're broke and you live in Brooklyn with this miserable guy. But you romanticize it."
Hemingway adds that though Rosemary may be a romantic, she's no fool. "It's important that she won't keep any guy's dinner warm," she says. "She wants to keep a man's dinner warm who's going to work his little butt off to be a tycoon."
Hemingway came to the role with plenty of chops, having taken acting and singing lessons since childhood and served a stint on the national tour of "Mamma Mia!" before appearing in "Parade." But she spent nearly a year out of work as she auditioned, then prepared for Rosemary. Once the job was lined up, she researched material on women in the early-'60s workplace and studied the script for clues to that would help her create a background for the character. She also took "a lot of dance classes," work she now calls ironic, "because I don't really dance at all in the show."
Hemingway may be one of the few "How to Succeed" cast members who doesn't have to kick her heels up night after night, but she's no less thrilled to have the job.
"I feel like I won the lottery to get to play this role in my debut, and to play the role opposite Dan and to get to work with Rob Ashford in a production that I think we're all really proud of," she says. "All the stars aligned. For me it feels like I'm the luckiest girl in the world."
"How to Succeed in Business Without Really Trying" is playing at the Al Hirschfeld Theatre, 302 W. 45th St., NYC. Tickets:  (212) 239-6200, (800) 432-7250, or www.telecharge.com.