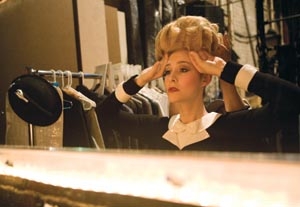 Backstage at the Helen Hayes Theatre, where
39 Steps
is playing, actor Jill Paice points to a rack of costumes, including shoes and hats. She's explaining what's involved in those quick costume changes, which are an integral part of the show.
"I may run off the stage wild-eyed, but the dresser very calmly says, 'Take off your shoes,' at the same time he's unbuttoning my coat, and then undoing the clasp of my harness—as Annabella I'm wearing a harness—and then he's telling me to start changing my makeup," Paice says. "I also have a wig change, and all of it has to be done within two minutes, which is actually a lot of time in quick change."
Everyone in the four-member cast plays multiple roles. Part of the show's appeal and humor stems from watching the actors seamlessly move from character to character, accompanied by quick costume changes, usually offstage. So, backstage, often more than one actor is dropping one costume and slipping into another with the help of at least one dresser and one person on wigs. So far, Paice has had no major costume mishaps—caught zippers or the like—though once she ran into the set wall after morphing from German spy Annabella Schmdit into British ingénue Pamela. "It was dark and nobody in the audience saw what I did," she says. "You get to rehearse in costumes, but quick changes are not rehearsed. They're talked through, and then you're doing them."
Inspired by Alfred Hitchcock's iconic espionage film classic, Patrick Barlow's adaptation has elements of farce, keystone comedy, and story theater. Paice, who recently came on board to replace Francesca Faridany, also plays Margaret, a dowdy Scottish matron. "I have 40 seconds to change into Margaret," Paice notes. "That's the big challenge. The dress comes off, the shoes come off, the wig comes off, and all of the makeup comes off. I put on a new dress, a new sweater, and big rain boots. On my head I'm wearing a handkerchief that has braids attached on either side."
Paice describes the action backstage as a kind of choreography, suggesting only half-kiddingly that theatergoers should buy tickets to the event but adding that the dressers are the actors' lifelines. Paice is no novice to quick changes. Her most rigorous preparation was on a national tour of
Les Miz
in which approximately 25 actors playing a host of characters crammed up against one another backstage, changing costumes. Still, the fastest quick change Paice ever made was as Scarlett in a West End musical version of
Gone With the Wind
. "I was in my widow's weeds, wearing a big black hoop skirt pinned up to the neck," she recalls. "I was also wearing a hat. I had to race off the stage, drop the hoop and get out of everything, put on my poverty clothes, and mess up my hair, all in 23 seconds."
Crossover Artist
Best known for her Main Stem star turns in
Curtains
and
The Woman in White
, Paice says
39 Steps
represents a departure for her on several fronts, not least because it's the first straight play she has tackled on Broadway. "For an actor to cross over, it's a big deal," she says. "You can easily become boxed in and be only identified with musicals or plays." In some ways she has found
39 Steps
easier than a musical. "There's less stress and pressure if you don't have to sing," she says. "If I want to go out afterwards, I'm not so concerned about protecting my voice. I've never done anything quite like this, though it's just as physical as a musical." Whether she's doing a musical or straight play, Paice throws herself into the role, insisting that overanalyzing and fretting doesn't lead to a good performance. Good acting is about listening and reacting, she says.
An Air Force brat who spent most of her youth in Dayton, Ohio, Paice always had her sights set on a singing career. She majored in musical theater at the Ohio (Berea)–based Baldwin Wallace College, where she had her first revelation about what makes a good performance. "It was my sophomore year and something clicked," she recalls. "I understood acting in a way I hadn't. I think I had my heart broken. I lost my first boyfriend. Suddenly I understood how life's experiences could be brought to the stage, though that awareness probably surfaced in my singing first." Of all her training, improvisation has proved especially useful in "keeping you alive and on your toes and ready for anything to happen on stage"—a skill she finds especially useful in
39 Steps
.
She has worked fairly steadily in regional theater, tours, Off-Broadway, and in the West End, where she starred in
The Woman in White
and
Night of 1000 Voices
, as well as her role as Scarlett O'Hara. She says the latter was her most challenging role. For starters, it's a part universally identified with Vivien Leigh. Comparisons were inevitable, though Paice maintains she got over that quickly and learned an important lesson: not to agonize over whose shoes she's filling. The role also demanded she be on the stage virtually without a break and, most trying, undergo Scarlett's heavy-duty emotional journey at each performance.
It was a turning point for Paice in another way too: believing in a show while critics and audiences were not jumping up and down. The discrepancy between their views and hers raised self-doubt. "You have to learn to overcome those feelings when somebody is negative about a production you love or if that production doesn't do well commercially," she says. "After
Gone With the Wind
, I felt older. I even thought about quitting the business."
But after three months of traveling—a necessary breather—she was back onstage at Washington, D.C.'s Signature Theatre, starring in
Ace
, earning a Helen Hayes nomination. One fundamental reason she couldn't leave the business, Paice acknowledges frankly, is that she doesn't know what else she could do. To date, she has not appeared on television or in film, and that's okay with her. She contends what she loves about the stage is the live audience and eight performances a week. At the moment, her thoughts are on
39 Steps
and getting in shape, which includes two physical therapy sessions a week—"a preventative measure"—doing a physical warm-up nightly, and then running a scene on stage with her fellow actors. She's the first to concede
39 Steps
requires limber actors. Indeed.

"39 Steps" is playing at the Helen Hayes Theatre, 240 W. 44th St., NYC. (212) 239-6200. www.telecharge.com, www.39stepsOnBroadway.com