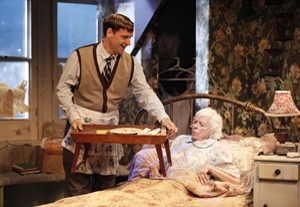 "Listening" is the key to good acting, according to Helen Stenborg. Co-starring Off-Broadway at the DR2 Theatre in Morris Panych's "Vigil" gives her the chance to exercise that talent. This two-hander centers on the evolving relationship between a misanthropic young man (Malcolm Gets) and his dying, estranged aunt Grace (Stenborg), who barely speaks.
While the 84-year-old Minneapolis native has never played a silent character before, her preparation for this part is basically the same as for any other. There is one major difference: She will not share certain elements of Grace's inner life with Gets or the director, Stephen Dimenna. "Sometimes they ask me, 'What are you thinking?' That's my secret. But it's interesting: If I change my thoughts, I'll get a different reaction from Malcolm." She adds she is able to offer variety in her silent responses, by registering his change of mood.
At this point in her six-decade career, Stenborg notes, acting is largely intuitive. Her technique is drawn from a lifetime of performing experiences coupled with the significant observations made by teachers and directors. Among these: Good acting starts with following the playwright's intent, the director's vision, and the actor's skills at fleshing out the character. Comedy, she says, is harder than drama: "It has to be done seriously, and there are so many forms, from farce to comedy of manners." She adds it's not uncommon for actors to look for the laugh lines and worry about getting a laugh. "That's death," she comments bluntly.
For her, good drama does not meaning crying on stage. "Many young actors believe there is nothing more wonderful than tears," she says. "I used to believe it too, until a director told me, 'If an actor is crying, it's almost a guarantee that the audience won't. It's the actor's job to make the audience cry, not be crying himself.' " That said, Stenborg recognizes that everyone has a different method, and she respects that.
Stenborg came to New York in the early 1940s and launched her career with tours and summer and winter stock. Her Broadway credits include "The Crucible," with Liam Neeson and Laura Linney, "A Month in the Country" with Helen Mirren, and "Waiting in the Wings" with Lauren Bacall and Rosemary Harris, for which she received a Tony nomination.
Perhaps, her favorite role was wife to the late actor Barnard Hughes, a Tony and Emmy winner (for "Da" and an episode of "Lou Grant," respectively). He was not only a distinguished actor, Stenborg emphasizes, but also a terrific husband and father to their two children: director Doug Hughes and actor Laura Hughes. The couple was honored with lifetime achievement awards from the Drama Desk in 2000. He died three years ago, but during their 56-year marriage, they were an iconic theater couple. Indeed, on their 50th anniversary, when they were performing in "Waiting in the Wings," at the curtain call Bacall announced the occasion to the matinee audience—most of whom were gray-haired ladies themselves. They went wild, says Stenborg. She feels strongly that having a personal life outside of a career is essential for actors.
Setting Priorities
The couple met after World War II in 1945, when they both were performing in an American Wing hospital show. Stenborg recalls being immediately struck by Hughes' stunning talent, though it "was a terrible play," she says, laughing. They dated for five years before deciding to marry.
"We would have married sooner, but I wanted to be sure that he was more important to me than my career," she says frankly. "I also wanted to get the acting out of my system so I'd be comfortable leaving the theater at least for a while to have a family. I do feel that if actors plan to marry each other, they have to keep their priorities straight. One career is going to have to be more important than the other."
Hughes' career took precedence over hers, and Stenborg has no regret spending seven years raising their kids, though she occasionally took a role that did not require stretches of time away from home. She recalls Hughes spending many months touring and believed at least one parent should be at home all the time.
"I somehow felt that if my kids were going to be mixed up, it would be because of us, not because of a nanny, who was raising them." Her daughter, Laura, has also taken time out of her acting career to raise the son she had with husband, John Gould Rubin, who is a director.
Interestingly, Stenborg wasn't too worried she'd be unable to get back into acting after taking a sabbatical. On the contrary, she felt she'd have greater opportunity than ever. "I was not glamorous or a young ingénue," she recalls. "I was a character actor and didn't have to worry if I lost my looks I wouldn't have parts." Maturity has only brought her more roles, and she has never suffered from typecasting on stage, film, television or her 16 years at the O'Neill Playwrights Conference. She says she picks her projects on the basis of the script in addition to the quality of her role ("It's a combination," she notes). At this point in her career, if she thinks the play is dreadful, she'll pass. Stenborg emphasizes that there have been times when she has taken projects she did not admire (including background work and a TV pilot that never got off the ground).
Indeed, she advises young actors, "If you have an offer to work, take it. Don't turn it down because you think maybe something better will come along, unless you have a lot of money and can afford it. You learn from everything you do, and one thing leads to another."
Stenborg feels her turning point was in the plays of Lanford Wilson—"The Fifth of July, "The Hot L Baltimore," and "Talley & Son," (for which she won an Obie)—at Circle Repertory Company. Stenborg was also proud of her performance in "Wit" with Kathleen Chalfant, whom she views as one of the best actors around and now a close personal friend. Her most challenging role was Mary Tyrone in a Portland, Maine, production of "Long Day's Journey Into Night." She says she would have liked to try that one again.
The part she wished she had a chance to play was Amanda in "The Glass Menagerie." "I played Laura and Barney played Tom," she recalls. "In fact, our daughter, Laura, was named after Laura in 'The Glass Menagerie.' And she played Laura in a production at Hartford Stage, and she was wonderful."
Stenborg is troubled by the "tunnel vision" that many young actors have about their careers. She admits it is more competitive and expensive to survive than when she was starting out but remains convinced maintaining other interests outside of acting is essential—from having hobbies and being well-versed on a range of subjects to visiting museums and volunteering. Most of all she wishes actors were more familiar with theatrical history. "It amazes me that many actors today have never heard of Katharine Cornell, the Lunts, or Helen Hayes."
"Vigil" runs through Nov. 15 at the DR2 Theatre, 103 E. 15th St., NYC. Tickets: (212) 239-6200. http://vigiltheplay.com.