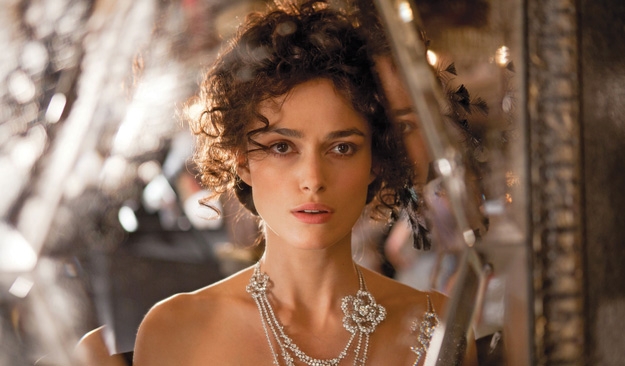 Keira Knightley has done well with a combination of corsets and director Joe Wright. The pair originally teamed up for 2005's "Pride and Prejudice," which earned the English actor her first Oscar nomination. They reunited for 2007's "Atonement," another heralded period piece. Now they are bringing Leo Tolstoy's "Anna Karenina" to life, with a script by Oscar-winning playwright Tom Stoppard. But there's a twist; this retelling of a woman trapped between her husband (Jude Law) and her young lover (Aaron Taylor-Johnson) in 19th-century Russia is filmed largely on stages, with set pieces moving in and out of the scenes and the actors moving in a stylized fashion. It's a fresh take on familiar material—one Knightley admits she had some uncertainties about at first.

Had you read "Anna Karenina" before?
I read the book when I was about 19. My memory of it was it being a beautiful sweeping love story, and I remember thinking she was totally innocent, and I was totally on her side. Then I read it again last summer and thought, "Fuck, this isn't what I remember at all!" I don't know that she's the heroine; he's kind of holding her up to be condemned, I think.

When did you find out the film would be shot in a stylized manner?
I signed on to it before they'd even done an adaptation. And Tom's first draft was a straight telling. Then Joe had gone over to scout locations in Russia and England. For years, he has been talking about wanting to do something stylized, and I think that trip changed some things. He realized the amount of money it would have cost to get people over to St. Petersburg was too much for our budget of $30 million. And the Russian locations he found, people would say, "We've shot seven versions of 'Anna Karenina' here." And in England they'd say, "We've shot three Keira Knightley films here." I think it was kind of depressing everybody. So it was about 10 weeks before we started shooting he brought me around to his office and said he had something to tell me and showed me these concept drawings and sets. I know that my first reaction was "Oh fuck."

What sort of preparation was involved in the stylized movement?
We did three weeks of workshops on the movement. We did massive movement-based improvisations that would chart the course of all the relationships, and that was something I'd never done before. It was extremely technical. You're spinning into a shot where the camera is also moving and they're reflecting you in the mirror and you've got to time the teardrop to fall exactly as you twist in while you're having an emotional breakdown. It was exhausting.

You're taking a break from serious roles for a while I hear?
After I shot "Anna Karenina," I thought, "I've been playing incredibly dark creatures that pretty much die for the last five years, and I've really got to put something out there that's a little bit more positive." So this year has been the year of pure entertainment. I have a film called "Can a Song Save Your Life?" that's very lovely. Then a pure piece of Hollywood entertainment in the form of a Jack Ryan thriller. I just needed a year of not dying.

You did a comedy this year, "Seeking a Friend for the End of the World," but even that was kind of dark.
My mom even said, "Jesus Christ, you do a comedy and you die in it. What's wrong with you?" But the dark ones are the ones I always like doing the most.