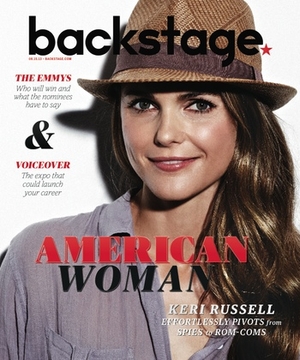 Keri Russell, star of the FX series "The Americans," graces our cover this week, and she chatted with Backstage about her new romantic comedy "Austenland" out Aug 16. Pick up a copy of the latest issue on newsstands on Thursday, and check out a sneek peak of the feature below!
---
Keri Russell On Having Audition Nerves
Even the woman who kicks convincing ass on "The Americans" is terrified of auditioning—but she's gradually coming to terms with it.
"The most soul-stealing experience of my lifetime," Russell calls it. "I still get so unbelievably nervous that it sort of stuns me from doing anything, which is a wonderful asset as an actor, just being mute and numb." She says that she's finally, grudgingly, accepting that she will always get nervous and that her nerves will always be a part of the process.
"I try to find one moment that I can click into. Just one. I don't have to find every moment," she says. "And I stopped beating myself up about it because I've been in the room enough where I've seen the process, and a lot of the times it's not about the perfect read. It's just what fits. Maybe that person's voice goes well with that one. It's not always who's the best actor or who's prepared. You have to give yourself a break. You go in, you do the best you can, and then you let it go. I think being nervous is ok. It means you care. If you're not nervous, you don't give a shit."