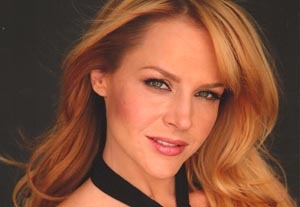 Julie Benz is a woman of many talents. She's played a shady FBI operative (Roswell), a plucky missionary (last year's Rambo), and a centuries-old vampire with a penchant for Catholic schoolgirl uniforms (Buffy the Vampire Slayer, Angel). Currently, she's spending her days as the emotionally fragile Rita, the girlfriend-turned-wife of serial killer Dexter Morgan (Michael C. Hall) on Showtime's hit series Dexter. Yet for all her talent in the acting realm, there's at least one thing Benz is most definitely not good at. "I have to sing in next week's episode," she says, laughing. "I can't sing! I'm hoping there's a rewrite on that one."
Does that mean she's practicing in the meantime? "No, you know what? Rita's just going to sound like me," she says. "It's not like they're asking me to be a phenomenal singer; it's, like, a singing along to the radio kind of thing. It's totally embarrassing for me to have to sing in public. But Rita likes to rock out a little bit."
And who can blame her? For the past three seasons, Benz's Rita has been on a whiplash-inducing emotional roller coaster, evolving from damaged doormat to iron-willed survivor. "She started out as this very fragile woman and has managed to grow self-esteem through the love of a serial killer," says Benz, chuckling. "Unbeknownst to her, of course."
Recently, Benz—who also stars in the Lifetime movie Held Hostage, premiering July 19—took a break from shooting Dexter's highly anticipated fourth season to chat about connecting to characters, auditioning, and the joys of finally being liberated from false eyelashes.
Back Stage: How much input do you have on Dexter? Do you ever offer up suggestions for the character?

Julie Benz: I don't give much input into the character, because I really feel that they've tailored the role to me. I feel that our writers are very intuitive. They're very much in tune with who I am as an actress and what I do, and they pretty much write the role for me. As far as plot points and stuff, I like being in the dark—I'm probably one of the few actors that doesn't ask, "So what's in store for the new season?" I love getting the scripts. They were handing out new scripts last week on set. Oh my God, I raced over and grabbed mine! It's very exciting.
Back Stage: The writers have really put Rita through a lot. As an actor, how do you connect to her?
Benz: This is a character I can relate to on many levels. In Season 2, when Dexter had an affair, I think that's something we can all relate to: We can all relate to being rejected in some way by someone we care about. The majority of my work, the majority of how I approach Rita, is I really just try to be as relaxed as possible and work off of Michael.
This last season, when he proposes to me, I had no plan on how I was going to react to that. Right when we started to rehearse it, I got filled with all this emotion, thinking about the journey this woman's been through and then to have this man that she loves so much propose. It was so overwhelming; magic happened. It was one of those moments where I keyed right into Michael and really listened to what he was saying. Even though he stole the speech from a psycho killer, it doesn't matter! I didn't know that! [Laughs] I think that's what makes her so lovable: She doesn't know these things. She bought the speech.

Back Stage: I understand you really fought to play this character. What was your audition process like?

Benz: It was long. In the very beginning, I pre-read for the casting director. I know so many actors won't pre-read, but I loved the script so much, I was like, "Of course." They originally had me read for the role of Rita and for the role of [Dexter's tough, foulmouthed sister] Debra. In the very, very beginning, I thought I was Debra. I just wanted to swear on TV—this woman gets to say "fuck"! I was totally excited about it. And it was just like shoving a square peg into a round hole. This was not a fit at all. I worked my ass off on that character, and with Rita, I really didn't have to work at anything. With Rita, I just was and am. I could just be. It felt too easy, in many ways.
Then they had to go through the process of auditioning for casting directors and producers and producers again. I tested for it, and Showtime thought that I look too pulled together to play this damaged woman and struggling mother of two. So after my test, I got a call from my manager, who said, "We just got the funniest note for you. They want you to come back with no makeup on, not looking attractive." I went back the next day, and they didn't even recognize me. Our director at the time thought I was wearing a prosthetic. I was like, "Do I really look that awful without makeup on?" [Laughs.] But it was so refreshing. Season 1, I had a five-minute hair and makeup call. For the first time, I knew what it was like to be a guy. It was great: taking that mask off and just being able to be this raw, real woman. I had come from working on the WB, where when you're on your deathbed you have false lashes and lip gloss. It was a relief in many ways to strip all that away and not to have to worry about that.
Back Stage: Speaking of the WB, here's a final, silly question. Rita is so different from Darla, the vampire you played on Buffy and Angel. What do you suppose Darla would think of Dexter?
Benz: I think she'd kill him. [Laughs.] No contest. She's a vampire! She's got superpowers! She would just suck the blood right out of him. She might turn him into a vampire: He'd be a fun playmate for her. And then he might kill her.