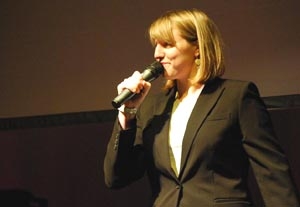 With a journalism degree, a steady 9-to-5 job, and a Williamsburg apartment,
Kylie Jane Wakefield
seemed to have most of the things any 22-year-old would need.
However, after taking her first improv class at the Upright Citizens Brigade in January, her aspirations became something far more laughable.
"I've always been scared of being on stage, but every time I've been on stage I loved it," said the Baltimore native.  She recently graduated from UCB's Improv 201, and is doing standup around New York City.
Describing her style as "silly, awkward, sarcastic, and cynical," Wakefield cites Amy Pollard, Tina Fey, and Andy Kaufman as some of her influences. She uses her distaste for the world around her to bring about laughs.
"I don't think it's possible for any person who claims to be 'happy' to do comedy," said Wakefield. "It's a comedian's job to tell the truth."
Wakefield, who studied journalism at
Purchase College
, said that her field of study has helped feed her comedic pursuits.
"You can't be afraid in either profession. They definitely complement each other in a weird way," she said. "Journalists say things that people aren't willing to say, and so do comedians."
Since graduating, Wakefield moved to Williamsburg, Brooklyn. She got a job as a production assistant at a television network, but left after several months. Wakefield cites her lack of passion for the television world as her reason for departing.
Though Wakefield is happy to have more time for comedy, she admits that quitting her job came with some internal repercussions.
"The number-one feeling was guilt," said Wakefield. "There was a New York Times article about how we mooch off of our parents and do what we want in this generation. Those things make me feel guilty. Our parents were almost married and had 9-to-5's when they were our age. I felt selfish quitting."
Wakefield lives with her boyfriend, comedian Danny Lobell. She said that no competitive jealousy exists in their home, as she is just entering the craft that Lobell has been honing for roughly 10 years.
"We're both a little crazy, because you have to be in comedy," said Wakefield. "Sometimes it clashes, but sometimes it's excellent."
Wakefield maintains a blog titled "
Living with Lobell
," which highlights her experiences in New York City through pictures, words, and videos. A recent post, titled "
Doing What I Want To Do
," sums up the reasoning behind her bold leap out of 9-to-5 land.
"There is only so long that someone can suffer until they burst. I was on the verge of a breakdown," wrote Wakefield in the blog post.
Wakefield currently works a seasonal job at an upscale dog merchandise store (she calls her pets the "center of her world") and does some freelance journalism work. Her comedic goals include performing consistently on an improv team and eventually being able to live off her comedy work alone.
"Don't waste another minute of your life, you're not benefiting anyone by getting a job," said Wakefield, when asked what advice she would give to any young, aspiring performer.
"I quit because I know that somewhere out there someone would love my production assistant job. Money comes and goes, that's a horrible reason to do things in life. Just go after what you want to do."